End of November communications Manager of the Superbike team Mirjam Davidse contacted the video team to help them out with the presentation of Electric SuperBike 5.0 on December 8th. As they first had booked a room in the Waaier for a physical presentation, due to new corona measures they had to swap to an all-digital event within a week.
After a call with the video team, it became clear the Studio 200 would fit their needs, and off they went in preparing their content. Manager Mirjam Davidse got a crash course in creating a television show. She now had to pre-record the individual presentations, video clips, visuals, and scripts. Mirjam and her team used the DIY-studio to rehearse and fine-tune their scripts.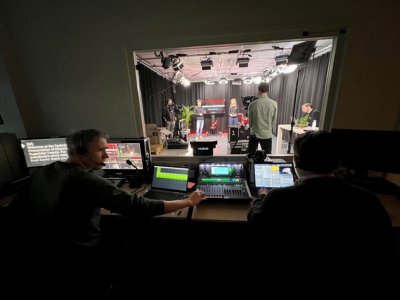 Finally, on the 8th of December, all came together. The video team prepared the studio, with the help of the SuperBike team. We even had the actual SuperBike as a prop in our studio. A last short rehearsal was done just an hour before going live. An absolutely outstanding performance of the SuperBike team. The result was a 1,5 hour well-prepared and informative show.
Curious to see the result? Click the link below and enjoy the recording of the live stream.