A national system of deposits on cans will be introduced starting 1 April 2023. As with bottles, there will be a € 0,15 deposit on cans (e.g. of soft drinks, beer, and mixed drinks). You will recognise the fact that a deposit has been paid by the deposit logo on the cans.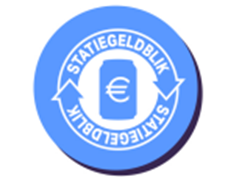 Change in the separation of waste at UT
What used to be called PMD waste (plastics, metal, and drinks cartons)  will change into PD waste (plastics and drinks cartons). This means that metal cans no longer belong in this section of waste. Please return metal cans to a collection point (make sure they are not flattened and the bar code is legible!) or throw them in residual waste starting 1 April 2023, so that they can still be separated in the processing of residual waste.
You can find more information on the separation of waste at UT here: utwente.nl/waste