On this page you find tips and recommendations for interviews and media appearances for researchers.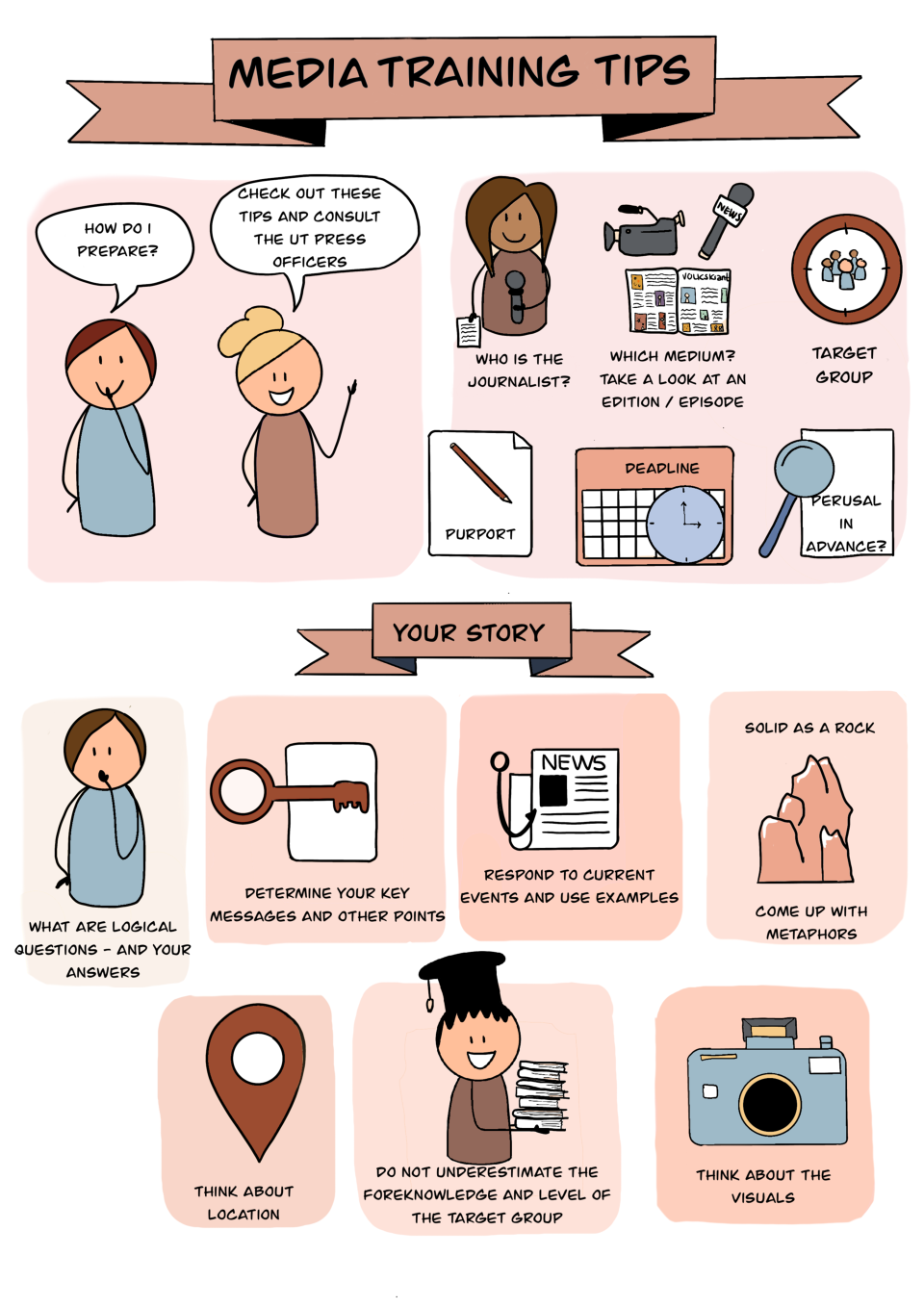 In advance
What kind of thing are you dealing with? (journalist, medium, target group, purport, other possible parties, deadline etc.) Watch a previous edition / episode of the programme or medium.
Tip: before you do an interview, make clear agreements about prior inspection. You have a right to correct factual errors; however, this is often impossible for sound or video recordings. Make agreements, too, about specific mentions (and ensure that the University of Twente is named).
Questions and answers
What are the logical questions to expect? And what will your answers be? (Include the questions you'd rather not be given.)
Determine your core message.
Determine the other important points that you will definitely want to make in the interview.
Tip: be topical, and use examples.
For intrinsically difficult material: think of a good metaphor.
Don't overestimate the educational level and background knowledge of the target group.
The interview
Present yourself as a researcher (that's why you were approached!).
Name the University of Twente (if this hasn't been done already).
Written press: take the time for an interview, and make sure you're somewhere you won't be interrupted or distracted.
Written press: before you begin, quickly confirm the agreements on prior inspection to identify any factual errors and correct draft texts.
Don't let yourself be ambushed by aggressive interview techniques. Take your time to give an answer, and if necessary call back at a moment that suits you.
Open the interview with your core message.
Structure your speech; illuminate those aspects you want to convey (summary).
Don't try to discuss too many aspects at once; keep things clear and strong.
Dare to be incomplete.
Avoid jargon, abbreviations, and technical terminology. 
Correct the journalist as quickly as possible if they try to put wrong words in your mouth.
Be careful with doubt. If there's something you don't know, or you think that a certain theme might be a sensitive issue, say that you'll get back to them. It is always possible to give supplementary information by telephone later, after you've found the information you need.
Don't make judgements of other parties.
There is no such thing as 'off the record'. Everything you say can and may be used. The interview is only over when the journalist has left. So be careful with incidental questions (e.g. during photography).
Use metaphors / visual and comparative language to make your subject come alive. Give attention to possible future uses and applications.
Don't let yourself be cornered. Journalists will sometimes ask tricky questions in the hope of getting a yes or no answer. Simply give a nuanced answer if that is what is needed. Stay true to your own formulations.
Be yourself. Show what it is that you find enjoyable, interesting and fascinating about your work.
At the end of the interview, summarise the key points of your message.
Ensure a clear closure.
Give thought to photographs / image material that could be used.
Additional advice for radio and tv interviews
Keep your message clear and concise.
Don't talk too quickly, even if the questions are coming thick and fast.
During the conversation, be alert for moments at which you can switch to your own story.
Don't go on the defensive. Give an active answer, and fall back on your core message where possible.
Give some thought to an appropriate location.
Remember, a TV appearance can take up a lot of time.
Not live? Then there is often a lot of repetition. You may also be asked to include the question in your answer.
Keep your hands free during an interview. Holding a pen, paper, or anything else in your hands is a distraction.
Don't look at the camera; look at the journalist.
Ensure that your attitude and facial expressions are in agreement with your answers.
Adopt an upright, open attitude and posture.
Be yourself.
Clothing: avoid busy patterns or designs.
Try to have the interview end on a positive note.