Monday 30 January 2023
More and more students and staff at the University of Twente travel by train within Europe. To reduce the CO2 emissions caused by travelling, University of Twente wants to stimulate this further. Today the new Train Map is presented, where you click on your destination to see what the recommended mode of travel is. The new map is an improved version the static Train Zone Map that was introduced last June.
Complete picture
The Train Map offers a more complete picture of how a destination is reachable by train. It divides cities into three categories: those where train travel is the default at UT, those where it's recommended and those where the train is considered a challenging option. The distinction between these categories is based on the distance, travel time and number of transfers. "The new train map offers an easy overview of all travel options" says Machteld Roos. "Part of International cooperation can be done online, but it also requires physical meetings. With this tool, it becomes even easier to compare your travel options and take the sustainable option whenever possible. Together, we can use this tool to do our part to reduce our collective emissions from travelling."
Another advantage of this map is that it's easy to keep up to date: feedback can easily be processed. As travel times and emission data changes, the SEE Programme team will keep the map up-to-date and work to improve it further.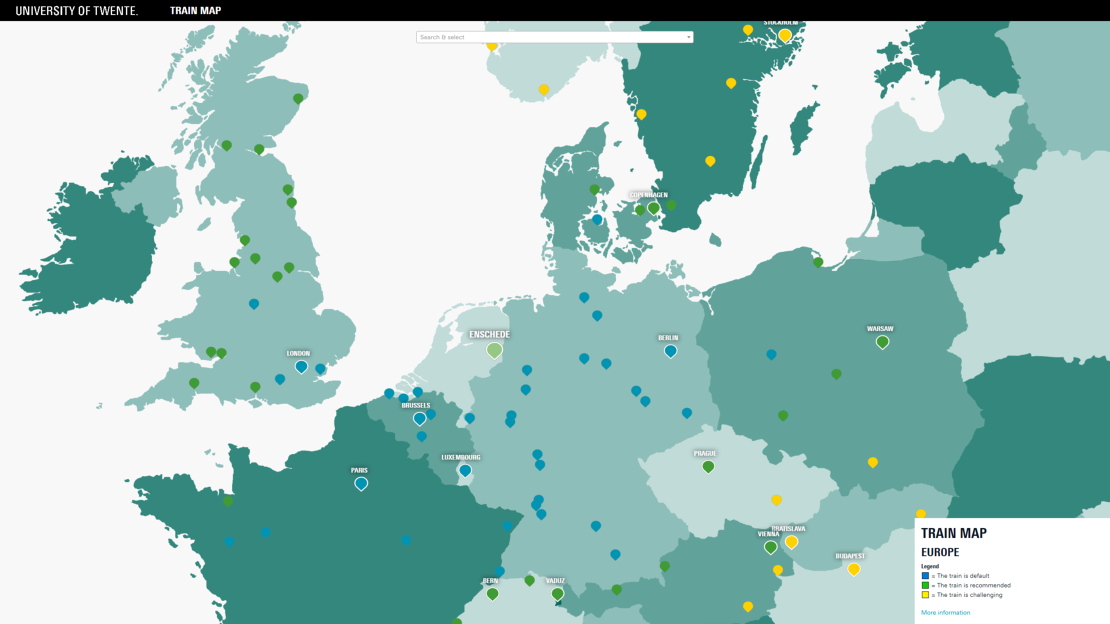 Comfort and travel time
UT wants to lower its CO2-footprint with 50% in 2030 (compared to 2019). Less air travel is an essential step to achieving that goal. Travelling by train causes far less emissions than flying, especially on short distances. For example, a trip from Enschede to London by train emits more than 80% less than a trip by plane. Of course, travel time, comfort and perhaps other, personal factors also matter in the decision of what mode of transportation to choose. Therefore, the map also compares travel times -including travel time to and from the airport and time to check in- and time that you can work on the train. The map makes it easy to compare these factors and make an informed decision. For a complete picture, it also includes the car (both fossil-fueled and electric) as travel options.
Next phase
Implementing a Travel Check is the next step: a decision tree in which all information relevant to on whether to travel and on how to travel are visualized in a decision tree structure. In this Travel Check both business travel and commuting will be addressed. The Train Map and Travel Check will be integrated in the booking process of the UT Travel Unit, so travelers can make an informed decision about the best mode of transport every time they book a trip.
About the project
The Train Map project initially started late 2020 as an assignment for a BSc thesis where students looked at how to stimulate the UT community to take more sustainable modes of travel. One of the students, Joshua van der Meer, continued working on the project at UT. Joshua: "It was great to continue working on this project after my thesis and see it implemented in practice. I am looking forward to the next phase, in which we will expand on what I built during my research."
The application has been developed by LISA as a pilot project to test the low code application development platform Mendix. This platform enables the development of a dedicated application in a relatively short space of time on a limited budget.
Feedback
Do you have questions or feedback about the Train Map? We would like to hear from you, so that we can continue to improve the map. Please send an email to sustainability@utwente.nl.