Of all UT-authored peer-reviewed articles that were published in 2021, 97% is open access. That is an increase of 28% compared to 2020.
According to the UT Policy on Open Access (OA), all UT-affiliated scholarly publications must become OA, preferably immediately with a licence for reuse, but at the latest six months after their first online publication date.
Of the articles in 2021, 71% was OA immediately with a licence for reuse (28% in DOAJ-listed OA journals; 43% in other journals: hybrid or non-DOAJ) – the preferred route. The other 26% was opened in UT Research Information – the back-up route – mainly thanks to the new Open Access Procedural Regulations.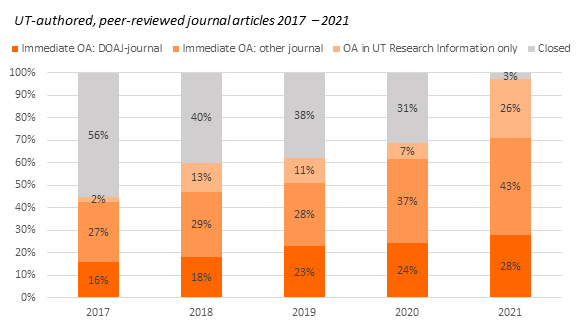 Open Access Procedural Regulations
The Open Access Procedural Regulations are based on Article 25fa of the Dutch Copyright Act. Thanks to these regulations, the final published pdf of UT-affiliated articles, conference papers, and chapters in edited collections can become openly available in UT Research Information six months after the first publication date. Eligible publications in UT Research Information will automatically become open after six months, unless an author opts out for one or more publications. UT authors must upload their publications to Pure. The University Library does the rest.
Any questions about open access?
Visit www.utwente.nl/openaccess or send an email to open-access@utwente.nl.