Hybrid working, a combination of physical and digital collaboration will become our way of working at UT.
This page provides you with concrete instruments, relevant workshops, tips & tricks for bringing hybrid working into practice.
UT's hybrid working principles
Your position, team, faculty or service department influences the choices you make in hybrid working. Therefore there is not a one size fits all guideline of approach. It requires customisation and appropriate agreements between you, your team and manager. To start this conversation we have eight basic principles for hybrid working at the UT. Intended to provide you direction and the freedom to experiment in the coming period, in finding a future-proof way of working that suits you, your team, the work and your well-being.
Working on campus is the foundation
Meeting on campus regularly is essential for well-being and community building
Working from home is an option, not an obligation
While acknowledging individual preferences, we focus on the needs of the team and organisation
Regard for the well-being of our students and colleagues is at the heart of how we work together
Teams get maximum freedom for organising hybrid working, with which comes responsibility
We invest in workspaces both on campus and at home
We ensure privacy and security in the workspace, both on campus as well as at home and online
Tips & tricks 
Besides providing you with background information and the guideline for hybrid working at UT, we also try to support you with practical tips and tricks. The tips and tricks will be expanded over time and are intended for everyone and applicable in all kinds of different situations; managing a project group, a work meeting with one or more colleagues, participating in work- and/or research group even up to the coffee break.  
Development offer
Besides the specific tips & tricks you found above, hybrid working will bring more changes for some employees than for others. Also adapting/switching to this new way of working and thinking will take more effort for some colleagues than for others. Therefore, also take a look at the different training possibilities we offer as standard at the UT that might fit your personal (learning) needs.
If you feel you need more or other support; let your supervisor know.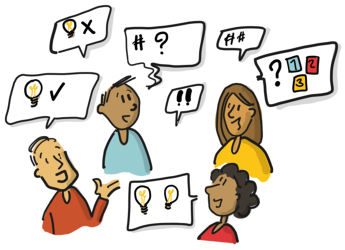 frequently Asked Questions
We understand that everyone has questions about hybrid working. Below we list the questions we hear a lot with the answer. 
Is your question not listed? Please contact...
Hybrid working is something that we do together. Do you have a question and can't find it in the FAQ? Then you will find below the contact details of people to whom you can go with your question.
Related links
There are various aspects involved in Hybrid working; for example, it is important to be mindful of your own physical and mental health and to ensure your office is set up properly. Find related information below
For ideas, comments or changes to this page, please email webteam-hr@utwente.nl