Monday 25 September 2023 14:30 - 15:30
On the heat dissipation in micro-electronics and advanced thermal control devices
Timm Swoboda is a PhD student in the department Thermal Engineering. Promotors are prof.dr.ir. G. Brem from the faculty Engineering Technology and prof. dr. M. Muñoz Rojo, Spanish National Research Council (CSIC), Instituto de Ciencia de Materiales de Madrid (ICMM).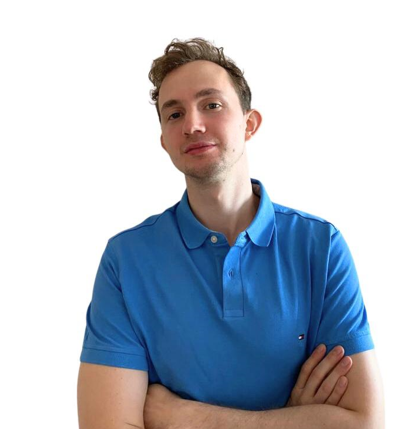 Future and current technologies aim for the improvement of our energy conservation, conversion and harvesting capabilities. Heat, as a form of energy, is essential to generate electricity in thermodynamic processes but it is also behind the limited efficiency or performance of some technology. For example, heat is a limiting factor for the performance of our electronic devices or low grade waste heat is the major source of losses in multiple thermodynamic processes.
Within this context, my thesis will address aspects related with heat in two different domains. On the one hand, I will obtain fundamental understanding of how heat affects specific types of nanostructured electronic devices and how to use this knowledge to improve their reliability. On the other hand, I will focus on how to make progress on heat management to increase our energy conversion, management, and storage capabilities.
Regarding heat in electronics my thesis will concentrate on the thermal characterization of resistive random access memories (RRAM). RRAMs are promising for new computing forms, like neuromorphic circuits. These devices are based on the formation and breakdown of electrically conductive filaments (CF), which are accompanied by a significant local heat generation. Particularly, I will study TiO2 RRAMs with a calibrated scanning thermal microscope (SThM) to quantify the effect of heat generation of CF in operation. I aim to gain deep insights on the electro-thermal switching mechanism of RRAM devices and how it affects their performance variability.
On the other hand, my thesis will also focus on the design and application of solid-state thermal diodes as advanced heat management devices. These devices possess promising properties for heat control in multiple applications ranging from thermoelectric and nanoelectronics to heat storage systems. Thermal diodes can control heat in a manner analogous as how electrical diodes control electricity. It means that they display an asymmetric heat flux along the device depending on the temperature gradient direction. In that context I will develop a finite element model (FEM) of a novel solid-state thermal diode design that presents state-of-the-art rectification factors. Finally, I will analyze the potential of implementing this device for energy storage applications.