Thursday 22 September 2022 14:30 - 15:30
Can process intensification change the future of biodiesel?
An Huynh is a PhD student in the research group Sustainable Process Technology (SPT). Supervisors are prof.dr.ir. E. Zondervan and prof.dr.ing. M.B. Franke from the Faculty of Science & Technology (S&T).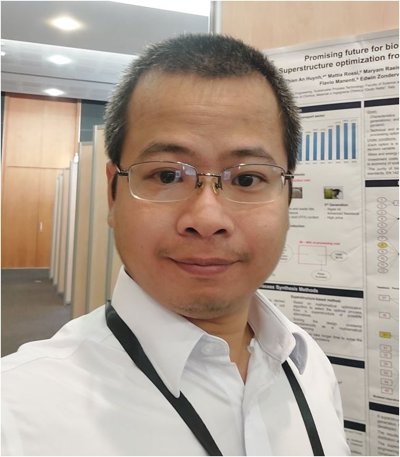 Can process intensification change the future of biodiesel? presents the answers for improving biodiesel production with process systems engineering tools such as membrane reactor modeling and superstructure optimization.
A novel membrane reactor model with dynamic functions of reversible and irreversible fouling and a new dynamic membrane cleaning model have been developed for biodiesel production. The models can be used to capture the cyclic behavior of the membrane reactor and identify an optimal operating cycle that balances cleaning costs and production capacity.
The superstructure model is a network of different alternative options and brings the optimization of biodiesel production from equipment level to process level. An optimal route to produce biodiesel from tallow with reactive distillation and heterogenous acid catalyst is found by solving the superstructure optimization problem. The impacts of different uncertainties such as the prices of feedstock and products, and the production capacity on the total profit of a biodiesel refinery are analyzed. From the technical assessment with the superstructure, process intensification technologies such as reactive distillation are important for biodiesel production in particular and the process industry in general.
The thesis discusses the potential of process intensification and digital twin applications in the energy transition of the process industries. The digital twin offers high quality and dynamic models which can be used to develop, test, and improve not only the process intensification designs but also their operating conditions. Therefore, the combination reduces the investments for prototypes and pilot plants as well as the costs of adjusting the physical equipment, allowing a prosperous future for biodiesel.
About author
Thien An Huynh was born in Ho Chi Minh city, Vietnam, on 18th November 1987. He received a bachelor's (2010) and a master's degrees (2018) in chemical engineering from Vietnam National University Ho Chi Minh City – University of Technology. His PhD research started in the University of Bremen, Germany under supervision of Prof. Edwin Zondervan from November 2019 to August 2020. On 1st September 2020, he became a PhD candidate of the Laboratory of Process Systems Engineering in the Sustainable Process Technology group of Faculty of Science and Technology (TNW) at the University of Twente. His research is to improve the biodiesel production with process intensification technologies and superstructure optimization under supervision of Prof. Edwin Zondervan and Prof. Meik B. Franke. From September 2020 to August 2022, he participated in 3 international conferences, supervised 4 master students and published 3 conference proceedings and 2 journal articles:
Huynh, T.A. and Zondervan, E., 2021, "Dynamic modeling of fouling over multiple biofuel production cycles in a membrane reactor", Chemical Product and Process Modeling, pp. 20200093, https://doi.org/10.1515/cppm-2020-0093
Huynh T.A., Raeisi M., Franke M.B. and Zondervan E., 2021, "Novel Dynamic Cleaning Model for Cyclic Operation of Biodiesel Membrane Reactors", Chemical Engineering Transactions, 88, 883-888, https://doi.org/10.3303/CET2188147
Thien An Huynh, Vincent Reurslag, Maryam Raeisi, Meik B. Franke and Edwin Zondervan, 2022, "Superstructure Optimization of Biodiesel Production from Continuous Stirred Tank and Membrane Reactors", Proceedings of the 14th International Symposium on Process Systems Engineering – PSE 2021+ June 19-23, 2022, Kyoto, Japan, page 109-114, doi: http://dx.doi.org/10.1016/B978-0-323-85159-6.50018-X.
Thien An Huynh, Mattia Rossi, Maryam Raeisi, Meik B. Franke, Flavio Manenti, Edwin Zondervan, 2022, "Promising future for biodiesel: Superstructure optimization from feed to fuel", Proceedings of the 32nd European Symposium on Computer Aided Process Engineering (ESCAPE32), June 12-15, 2022, Toulouse, France, page 595-600, doi: http://dx.doi.org/10.1016/B978-0-323-95879-0.50100-4
Huynh, T.A. and Zondervan, E., 2022, "Process intensification and digital twin – The potential for the energy transition in process industries", Physical Sciences Reviews, doi: https://doi.org/10.1515/psr-2022-0058