Friday 28 October 2022 12:30 - 13:30
Industry 4.0 in Purchasing and Supply Management: Defining Future Roles and Skills
Vincent Delke holds a position as a researcher at the Faculty of Behavioural, Management and Social sciences (BMS) at the University of Twente. He conducted his PhD research with his supervisor prof. dr. Holger Schiele from the  University of Twente in collaboration with his co-supervisor prof. dr. Wolfgang Buchholz from the Münster University of Applied Sciences. During this research phase, he focuses on the development of professional procurement skills and suitable education methods to train these skills. Here, he especially addresses how the increasing digitalisation, concerning Industry 4.0, purchasing professionals responsibilities and skill requirements.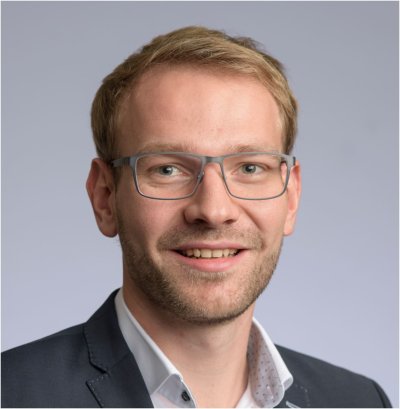 Recent technological advancements associated with Industry 4.0 are driving a paradigm shift in the economic and social spheres. In a business context, these changes are altering the roles, responsibilities, and skill requirements of professionals in a wide variety of fields. A key area that is being impacted by new Industry 4.0 technologies is the buyer–supplier interface between two companies. The role of purchasing and supply management (PSM) needs to adapt to these changes. This move towards Industry 4.0 in a PSM context requires an increased focus on the specialisation of PSM practitioners and their ability to adopt such new technologies. To develop the field's understanding of how best these changes can be implemented and harnessed, the dissertation focuses on two main research questions:
·     How does digitalisation, Industry 4.0, shape PSM professionals' skill requirements?
·     How can future PSM professionals be educated continuously?
These research questions are addressed in four research objectives explored in seven articles, that are shaped into the chapters of this work. These chapters are organised in line with the common thread running through this dissertation.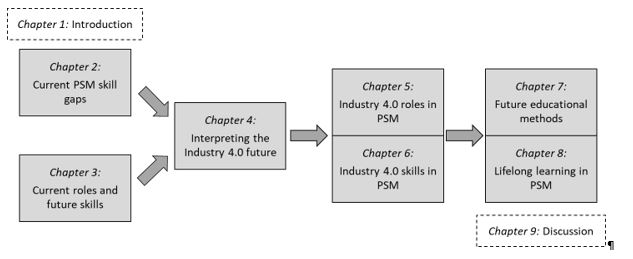 The common thread running through this dissertation
The first research objective addresses the competence requirements and skill gaps of today's purchasing professionals. This research objective was approached in two chapters of this dissertation. Firstly, chapter 2 aims to answer the research question: What are the causes of changing skill requirements in PSM? Therefore, previous publications addressing PSM-related research have been studied, and data from a multinational European survey have been used to identify skill gaps. These skill gaps address the difference between the buyers' skill level and the assumed importance of the skill required to perform their tasks. Results show that current PSM professionals feel underqualified to extract the full potential of stakeholders in the supply base. The findings distinguish three buyer profiles – the junior, senior, and executive buyers –and identify skill gaps concerning innovation sourcing, sustainability, and the influence of Industry 4.0 on PSM. These skill gaps must be resolved through adequate educational methods to increase the buyers' performance. Educational professionals are charged with responding to the challenge to train current professionals and future PSM students.
Furthermore, a second study uses a World Café method with 81 PSM professionals to answer the research question: How do skill requirements change for existing PSM roles? Here, the future skill requirements of two existing roles in purchasing, the buyer of direct materials and the buyer of indirect materials, were studied. Results show that the responsibility for innovation buying is expected to increase for direct purchasers. Given a wave of internationalisation, an associated need is expected for indirect purchasers to possess cultural, communication, flexibility, and agility skills. Thus, purchasing roles are not a stable phenomenon. They can be used as a concept to manage the current challenging market situation, where the global development towards digitalisation, Industry 4.0, globalisation, and attention to corporate social responsibility forces a change in the purchasing organisation. Professional roles in PSM are a good starting point to manage these changes by redefining professional profiles organised through specific competencies and responsibilities.
In the second research objective, a future industry paradigm has been developed to understand how business practices change in response to the introduction of advanced technologies. The fourth chapter addresses the research question: What are the characteristics of the future industry paradigm? The study takes a holistic perspective on Industry 4.0 and analyses its technological core, business implications, societal requirements, and people challenges. The work focuses on the interactions among these sub-domains, which jointly comprise Industry 4.0. The developed model is based on two consecutive group discussions in the form of academic world cafés. The first workshop gathered multi-disciplinary experts from academia, and the results were further validated in a subsequent workshop that included industry representatives. A voting procedure was used to capture participants' perspectives. This chapter summarises the findings as a checklist that organisations can use to discuss the implications of and prospects for Industry 4.0 individually. Rather than focusing on technology alone – which by itself is unlikely to inspire a revolution – this research integrates the entire system. The model is used to abstract future competency requirements in PSM and the need for lifelong learning in the domain.
Therefore, the third research objective identifies the future, Industry 4.0 competence requirements in purchasing. Based on the Delphi method, two separate studies address the future roles and skills in PSM. The first study tackles the research questions: What new professional roles in PSM emerge in an Industry 4.0 context? As presented in chapter 5, the internet-based real-time Delphi study with 47 PSM experts identifies and defines six new Industry 4.0 PSM roles and assesses their expected probability of occurrence, impact on the industry, the desirability of occurrence, and the level of adoption within the industry. Basing these future roles on maturing and emerging technologies in the PSM field and adopting a human-centred evolutionary approach, this chapter contributes to the wider Industry 4.0 human resource management literature and the extant PSM skills and capabilities literature.
Next, the second Delphi study defines nine future PSM skills. Therefore, the research answers the question: What skills are needed as microfoundations to enable Industry 4.0 in PSM? A multi-method approach consisting of a systematic literature review, three explorative World Café studies, and a Delphi method was used. Based on the real-time Delphi study with 45 PSM experts, an overlooked phenomenon is unveiled, demonstrating that relying only on technology skills is insufficient. Firms need employees with technology-oriented skills to succeed in digital transformation in a supply chain context. However, they will only be successful in seizing the chances if they combine these with enhanced relationship management and strategic thinking skills. Based on this research, firms can prepare their digitalisation strategy and develop their members' skill base sequentially. Furthermore, education providers, industry associates, and business organisations can use the research's outcomes to design educational and training programmes. Given the highly dynamic business environment and recent supply management challenges, the forecasting approach benefits from a comprehensive multi-method study approach.
The last research objective of this dissertation addresses the educational means to teach the roles and the skills addressed above. Therefore, first of all, a control group experiment was conducted to evaluate: how to implement game-based learning as a substitute for classical frontal teaching in higher education. Since this game substitutes existing traditional lectures, its usefulness is tested in a group comparison experiment. A group following the traditional lectures (N=103) was compared to students learning through serious game lectures (N=159). Self-rated surveys, pre-and post-survey, and exam scores were analysed for data collection. Based on the experimental methodology applied, it has been observed that students who played the game scored significantly higher in the examination. Thus, game-based learning is beneficial for teaching PSM-related skills. Furthermore, the game's design was evaluated based on various criteria – for example, competitive and collaborative elements, game design, and understandability.
The last study conducted multiple expert interviews to answer the research question: How can lifelong learning be achieved in the PSM domain? Thus, a lifelong learning model in PSM has been developed based on 14 interviews and desk research that examined the PSM-related educational environment in the Netherlands. This research provides a systematic approach to increased purchasing maturity by using specific purchasing roles, allocating responsibilities and skillsets, and identifying suitable education methods. HR professionals in PSM and education providers can use the outcome to support individuals and organisations on the journey towards Industry 4.0.