Wednesday 1 April 2020 14:30
Let's get vesicles - Tumor derived extracellular vesicles in liquid biopsies
Linda Rikkert is a PhD student in the research group Medical Cell Biophysics (MCBP). Her supervisor is prof.dr. L.W.M.M. Terstappen from the Faculty of Science and Technology.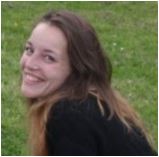 The low concentration of circulating tumor cells (CTCs) in blood limits their application as a cancer biomarker. Because tumor-derived extracellular vesicles (tdEVs) are expected to be present in a higher concentration than CTCs, measuring tdEVs is expected to increase the percentage of patients from which informative information can be obtained.
This thesis reveals the challenges to detect tdEVs in blood and urine which are outnumbered by other EVs (~1 in 106) and similar size particles (~1 in 1011). To improve isolation of EVs, we applied a model based on the Stokes equation to assess the purity of (cancer) biomarkers. This model shows that commonly used plasma cancer biomarkers are often contaminated with other biomarkers. The model was used to develop a clinically applicable centrifugation protocol to prepare essentially platelet-free plasma as a starting material for EV research. We used rate zonal centrifugation to improve the separation of platelets and EVs.
Transmission electron microscopy (TEM) is commonly used to demonstrate the presence of EVs, and we showed that the comparability and reproducibility of TEM is improved by obtaining images at predefined locations instead of obtaining images by operator selection. Finally, we showed that flow cytometry and surface plasmon resonance imaging, currently amongst the most sensitive single and bulk particle detection methods, are both unable to directly detect tdEVs present in plasma and urine samples from cancer patients.
Future research needs to focus on tdEV enrichment and/or concentration of such EVs prior to analysis to decrease the background. Furthermore, the use of a combination of parameters, like size and refractive index, and/or a combination of techniques is needed to increase the certainty that a tdEV is evaluated.