Human Resource Development (HRD) focuses on the learning and development of adults in the context of their professional work. Leadership, talent development and lifelong learning are essential.
Learning and development of employees in companies
Companies and institutions invest billions in education and training. Large companies often have their own corporate department for HR development and offer training to improve staff performance and professional development. As an HRD graduate, you will be able to develop and implement such training and to assess its quality. You might also be engaged in workplace learning or organizational change aimed at making learning an integral part of the day-to-day work environment.
Core questions 
HRD centres on a number of core questions:
How do people learn during their work?
How do people become experts?
How can workplace learning and professional development be facilitated?
What constitutes an effective training programme and how can effectiveness be evaluated?
How can team and organizational learning be facilitated?
How do organizations change, and how can HRD professionals be instrumental in this process?
What is the role of new media in workplace learning?
The skills you will acquire
HRD knowledge and research combines the disciplines of psychology, educational science, business, human resource management and sociology to answer these core questions. In addition to focusing on current HRD research, this profile also seeks to integrate research, design, advice and reflection skills. As an HRD professional you will be able to:
understand and analyse a range of HRD theories and grasp their practical implications;
design innovative and effective interventions to enhance learning and development in a company or institution;
advise companies and institutions on their employees' learning and development;
conduct research into HRD problems;
use research results to design effective learning interventions and to give solid advice;
reflect on the core issues in the field of HRD and determine your own position on these issues.
Human Resource Development: course overview
In the HRD profile, three of the elective courses each address a specific theme: Team learning at work, Regulation & facilitation of workplace learning and Leadership & organizational change. These courses all have a strong theoretical component combined with course assignments that enable you to develop and practise your research, design, advice and reflection skills. In your fourth elective, HRD design & consultancy in live context, you will work on a real-life HRD case study formulated by a company. You will visit the company and work in a group to come up with a design, recommendation or research plan that addresses the issue at hand. It is both a unique chance to apply what you have learned in the more theoretical courses and an excellent preparation for your final project.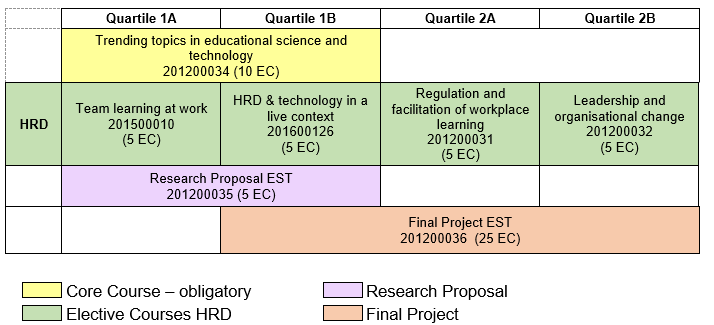 Note: This is the course overview for the academic year 2017-2018. The schedule is subject to change. No rights may be derived from the information. 
MORE INFORMATION 
More information about:
STARTING DEADLINES & APPLICATION 
Check the application deadlines or directly proceed with the application procedure.