Educational Design & Effectiveness (EDE) focuses mainly on teacher and school development, school effectiveness and IT in a variety of educational contexts.
Effective design of school learning environments
Educational design involves the planning, development, and implementation of innovative learning scenarios. Effective implementation of these processes of change at both school and classroom level requires teachers and schools that are ready for the implementation. Professional development among teachers is therefore one of the key elements that need to be addressed when designing, developing and implementing effective learning environments.
In the design of learning environments, there is a strong emphasis on IT (e.g. simulations, serious games, interactive apps). It is vital to measure not only the effectiveness of the educational innovations implemented but also the improvement in the performance of students, teachers and the school as a whole. Schools should be able to monitor the quality and results of their teaching, with a view to making improvements. This goes beyond student assessment to include the performance of the teachers and the school.
Core questions 
In this profile, you will address a number of core questions:
How can learning innovations be designed and implemented?
How can technology be used and integrated into education?
How can schools and teachers be supported in the design, development and implementation of innovations at both school and classroom level?
How can teachers be empowered in their own professional development with a view to implementing (technology-based) learning innovations?
Can school performance be improved by giving schools feedback on the level of their performance (e.g. through digital monitoring systems)?
To what degree do school leadership, school culture and the teamwork among teachers influence the effectiveness of schools?
Do schools perform better as a result of school inspections or are any improvements made only superficial?
The skills you will acquire
The EDE specialization has a strong focus on application, centring on the integration of research, design and reflection skills. As an student who focuses on Educational, Design and Effictiness, you will be able to:
understand and analyse different theories and paradigms related to learning and instruction, teacher and school development, school effectiveness and the utilization of IT in a variety of educational contexts; you will also be able to detail their practical implications;
plan, design and implement innovations to increase the quality of education and assess the effects of these innovations;
improve the performance of schools by taking school leadership, school culture and teamwork among teachers into account;
reflect on the various core issues in the field of EDE and on your own position on these issues;
critically reflect on scientific articles and their implications for practical learning situations.
Course overview Educational Design & Effectiveness
The specialization Educational Design & Effectiveness (EDE) offers you a choice of five electives or specialization courses. Three of which focus on the individual learner Designing Learning & Performance Support, Learning & instruction and Innovative Technology-Based Learning Environments. Innovative technology is central to these courses, which offer theoretical insights as well as ample hands-on experience. In the third elective, Assessing, Monitoring & Improving Student & School Performance, the emphasis is on designing and utilizing instruments to assess individual and school performance and the organizational implications at class and school level. The fourth elective, Teacher Learning & Development, looks at techniques to improve the quality of in-service teachers.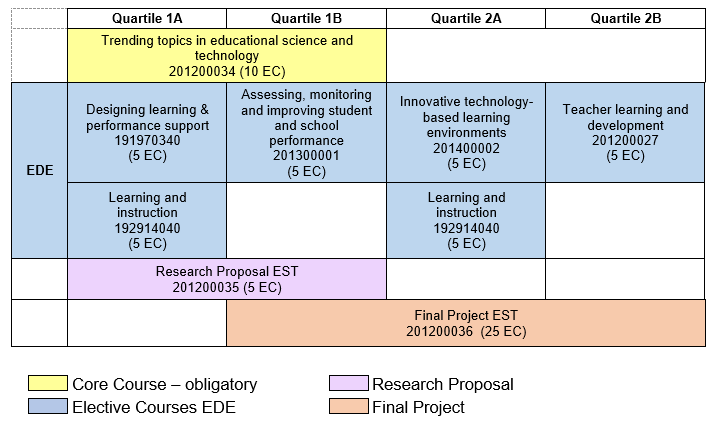 Note: This is the course overview for the academic year 2017-2018. The schedule is subject to change. No rights may be derived from the information. 
more information 
More information about:
STARTING DEADLINES & APPLICATION 
Check the application deadlines or directly proceed with the application procedure.