Wednesday 24 November 2021
Today is national change you passwords day!
Now that we are working on cyber safety trainings at the University of Twente, we also have a nice promotion: you now have the chance to win the book 'I know your password' by Daniël Verlaan.
CHANGE YOUR PASSWORDS
November 24 has been declared National Change Your Passwords Day. The initiative is supported by the Openbaar Ministerie, among others, and is unfortunately badly needed in view of recent examples.
At wachtwoordbewust.nl people can not only check which passwords are strong and which are not, but there are also some basic tips and handles are given on how people can come up with and remember a strong password.
win THE BOOK AND FREE ENTRY to the lecture
Change your UT password on November 24 and maybe you could win 1 of the 200 books and free access to the lecture by Daniël Verlaan*,
I KNOW YOUR PASSWORD
true stories about the dark side of the internet (Dutch only)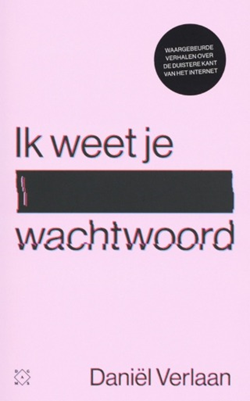 *Daniël Verlaan will come to the Univeristy of Twente. More information about this event will follow as soon as possible.
Daniël Verlaan (1989) is one of the most important tech journalists of the moment. He works for RTL Nieuws. Last year he received the Loep, the prize for the best investigative journalism, and the Tegel, the most important journalistic prize in the Netherlands.
Let us know is you have changed your password on November 24th, 2021 using this webform.
CYBER SAFETY TRAINING
Have you already completed the first cyber safety training? We are very happy with that because your cyber safety knowledge has been increased and the security of your own data and that of the University of Twente has improved.
If you have not yet done this, go to: https://securityeducation.utwente.nl and also increase your knowledge to protect us and yourself against cybercrime.