Thursday 4 May 2023
Recently, the time finally came: on April 18, the Electric Car Test Drive Day took place. On this day, UT employees were able to test drive one of the three cars made available by contract partner Munsterhuis.
UT is working with Munsterhuis to offer electric and hybrid cars for business travel. The purpose of this open day was to introduce employees to electric driving and to promote sustainable mobility options within the UT.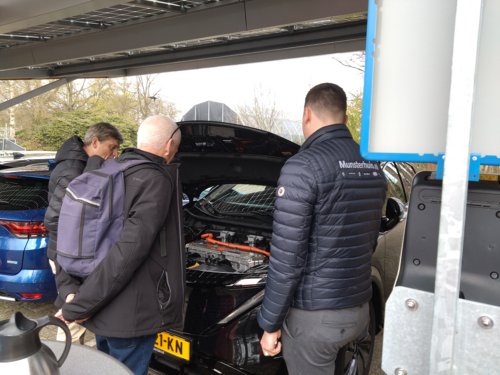 Many employees dropped by to test drive a specific model (electric or hybrid). In the parking lot near the Pavilion, eager use was made of the opportunity to take a seat in one of the other models in addition to the chosen car for a tour of the Kennispark. Everyone who tested a car was enthusiastic about the possibilities and comfort that electric driving can offer. All in all, a very successful day!
Have you become enthusiastic after reading this story, and would you like to know more about electric driving during business trips? Please contact: sustainability@utwente.nl