We welcome students from different master programs such as Mechanical Engineering (ME), BioMedical Engineering (BME), Industrial Design Engineering (IDE) and the 4TUE master systems and control (SC).
Our topics:
MODELLING & SIMULATION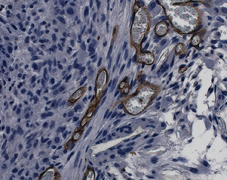 If you like modeling and computer simulations, you will find biology and medicine interesting and challenging application areas. The dynamics and structural properties of biological systems are nonlinear and time-varying, which we try to understand and predict with numerical techniques as finite element analysis, computational fluid dynamics, mechanobiological modelling.
Research
Our research ranges from models of bones, muscles, tissues, to cells.
Examples of master assignments
3D analysis of ice skating
prediction of muscle forces during human walking
analysis of failure mechanisms of hip implants
modeling of biking dynamics and stability analysis
modeling of needle tissue interaction
modeling the spine
DESIGNING & TESTING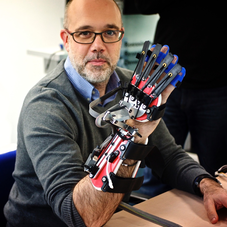 If you are interested in applying your knowledge in designing new medical devices, you have come to the right group. There is a variety of topics you can choose for your Masters Thesis.
Research
Our research ranges from surgical implants to limb replacing prostheses and from application of smart materials to medical robotics.
Examples of master assignments
design of a series elastic actuator
design of a wearable exoskeleton
design of a MRI compatible surgical robot for prostate biopsies
design of an energy storing knee-ankle prosthesis
design of an MRI compatible robot for prostate biopsy
design of a robot for transcranial magnetic stimulation
design of a wearable hand exoskeleton design of soft robotics
IDENTIFICATION & CONTROL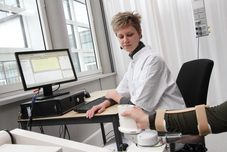 If you want to specialize in robots, control engineering, or human-machine interaction, we offer you many projects you can work on and courses in which you can deepen your understanding and improve your skills.
Research
Our research ranges from identification of human motor control, identification and control of therapeutic and surgical robots.
Examples of master assignments
control of an arm exoskeleton
iterative learning control of the robotic gait trainer LOPES
multi variable identification of balance control
model predictive control of the mindwalker
model predictive control of hand muscles by functional electrical stimulation
model based control of steerable needles
model based control of micro robotics
analysis and modeling of human balance control during gait
momentum based control of human balance