Monday 10 July 2023
Want to decide your teaching mode for your education?
Within the UT your teaching is facilitated by diverse support departments, namely CES, LISA and CFM. It depends on your educational purposes and activities which facilities you need and which teaching mode you are going to use.
Poster teaching delivery modes
Do you want see the possibilities of teaching online, hybrid or on-campus in relation to the level of complexity and your teaching goal and activities? The Teaching Delivery Modes poster will give you an overview. The aim of this product is to support teachers in making a conscious choice about the teaching mode they choose. This overview is created in collaboration by the departments, CES, LISA and CFM on behalf of the Collective Educational Facilities Programme. The programme that aims to improve the quality and quantity, availability and usage of UT facilities.
Please click on the picture to enlarge.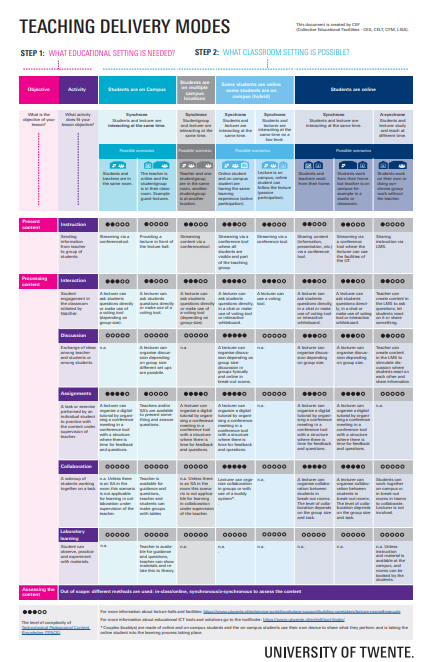 How it works?
In Step 1 you decide the educational setting that is needed for your lesson. In other words, you decide the lesson objective and activity that fits this lesson objective. In step 2 the diverse possible classroom settings are presented with an indication of the TPACK complexity level. Meaning that e.g. if your objective is processing the content by organising a discussion, and you choose for a 'full' hybrid set-up this asks more of your organisation, technical and didactical skills and knowledge. In the cells a simple explanation or example is given of the setting.
Do you want to know more about
Find here more information about Teaching Delivery modes.