Research program: Technology in Healthcare Transformations (THT)
Here we introduce the initiative (started in 2021) to develop an inter-departmental expertise community Technology in Healthcare Transformations (THT) which is embedded in the Health@BMS research theme and well-integrated in TechMed Center and UT at large. Transformations in the healthcare sector in which novel technologies play a crucial role are in full swing. We position this initiative to join the momentum and establish a community of multi-disciplinary experts of scientists, healthcare professionals, patients, learning and valorization partners, and other organizations that support the healthcare transformation processes. At the heart of this community, and especially in the initial start-up phase, we will create a truly integrated THT research program that entails a scientifically founded knowledge base which is accessible and informative for practice, brings together various research methodologies, and develops an inter-departmental research agenda with prospect for structural integration. This community will grow into a beacon of expertise for technology in healthcare transformations that is strategically embedded within the UT (e.g., Health@BMS, TechMed, School of Regional Healthcare Transformation) and the healthcare sector. With the THT research program we plan to be at the forefront of the scientific development of technology in healthcare transformations.
Mission statement
We aim to establish an expertise community on making technology-based developments in healthcare transformations efficient, effective, and sustainable. This initiative titled Technology in Healthcare Transformations (THT) brings together the expertise, knowledge, and skills of three BMS departments: Industrial Engineers, Health Scientists, and Public Administration scholars. Extending this initiative with the fourth BMS department DDS is currently being explored, as other expertise, including professional learning, is of additive value to this community. Three main goals are at the core of our interest: 1) How to develop reliable, valid, and cost-effective healthcare technologies; 2) How to create a personalised yet holistic and efficient healthcare system; and 3) How to embed these endeavours sustainably in the institutional and societal contexts. This community shall be a beacon of expertise for technology in healthcare transformations in Health@BMS, strategically embedded in close partnerships within the UT and the healthcare sector and accessible for stakeholders in the various healthcare transformation processes.
Demographic change, growing numbers of people with chronic diseases, increasing healthcare consumption and costs, and a shortage in healthcare professionals put increasing pressures on healthcare systems. These pressures form one of the most urgent societal challenges of Western societies for the coming years. Professionally managed healthcare transformations are needed to ensure an efficient, effective, and sustainable future-proof provision of healthcare. The THT research program provides a tremendously valuable opportunity to optimize the implementation of new forms of healthcare, healthcare infrastructure, and healthcare organisation that are affected by novel technologies. Examples of these are the shift of care from hospitals to primary or home care, digitized health communication and monitoring, patient-centred organisation, and care network forming. These transformations require novel forms of thinking and collaborating among a multitude of actors, integrating various stakeholder preferences, priorities, and motives to act. We are convinced that such a multi-faceted transformation processes within the healthcare system can only be adequately addressed by taking an integrated inter-disciplinary approach. This approach requires that BMS departments join forces to form a community that will extend to UT at large and beyond. The proposed THT expertise community will provide novel synergies in research collaborations between BMS disciplines that address three factors that are at the core of the transformational healthcare processes: effectiveness, efficiency, and sustainability.
Embedding within UT
The research program of the THT expertise community evidently aligns with the mission of TechMed to create an impact on healthcare. We do this by extending the technological perspective of scientific excellence and clinical application with our focus on various stakeholders, processes, and healthcare organizations. The THT research program will provide synergies with the School of Regional Healthcare Transformation (SoRHT). While THT will develop an academic knowledge foundation for SoRHT, the school itself will provide a dissemination and participation platform. This collaboration is essential to strengthen our linkage with the healthcare sector.
Organisationally, the THT expertise community leaders are embedded in the Health@BMS working group; working with, and supported by Prof. Carine Doggen, Prof. Erwin Hans (CHOIR), and Prof. René Torenvlied – thus contributing to an integrated collaboration of BMS-experts in the field of healthcare transformations.
Inter-disciplinary and challenge-based research approach
Departing from the premises of Shaping 2030 we apply an integrated inter-disciplinary and challenge-based research approach that brings together the key strengths of three BMS departments (HBE, TPS and HIB). Figure 1 visualises the three key foci of the departments and the synergies that we raise through the inter-departmental collaboration. By joining forces, we create a novel programmatic research approach within the THT expertise community that promotes the development of an innovative view on transformational processes in healthcare systems.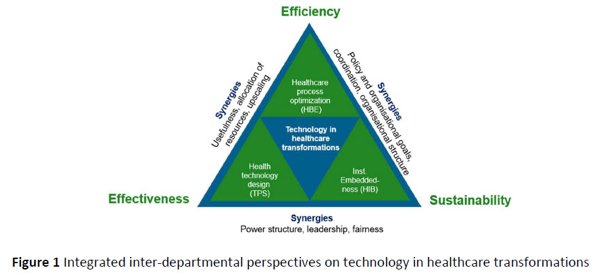 Below, we first point out the unique contributions of the three departments within this THT expertise community. Subsequently, we emphasise the synergies that our collaboration offers.
Expertise from the HBE department focuses on the efficiency of healthcare processes by designing and optimizing logistical processes and business information systems. From the Industrial Engineering perspective, the various transformational processes in the healthcare system require significant changes to the current healthcare system, healthcare supply chain, and care organizations and networks, and require the design of novel technologies, including the possibilities of digitization and data driven decision support. To support these changes adequately it is essential to design efficient organizational structures, to empower stakeholders with advanced, but interpretable, decision support, and to design mechanisms for operational excellence. Expertise from the TPS department is concerned with the effectiveness of innovative health technologies in healthcare pathways to support healthcare transformations. Clinical and economic evaluations are essential to assess the impact of innovative technologies and processes on health outcomes, quality and safety of healthcare, delivery of healthcare services and associated costs. The TPS department focusses on these evaluations and contemplation of real-life challenges of individuals, organizations and governments regarding the interactions between society and technology, with the aim to design solutions and alternative cost-effective approaches that work in practice. Expertise from the HIB department focuses on understanding the complexity of healthcare organizations and their internal and external interrelations, which is inevitable to make transformation processes sustainable. To successfully implement new technologies, it is imperative that these must be embedded in the institutional behaviors within the contexts of organizational missions and governance structures. These institutional behaviors emerge on the strategic and operational levels and impact, among others, quality and equity in service delivery to patients. Whereas novel healthcare technologies promise better healthcare provision and higher efficiency of public healthcare systems, the behavioral mechanisms that drive the (distributed) development, implementation, and governance of these technologies are essential for success and failure of healthcare transformations.
The integrated inter-disciplinary and challenge-based research approach between the three departments offers a timely opportunity for the development of unique state-of-the-art academic and professional insights into healthcare transformations. For instance, validated insights about the motives and needs of the affected actors (TPS) as well as the organizational goals, relationships and dependencies (HIB) help to tailor the optimization efforts (HBE) to the specific demands of a transformation process. Knowledge about the optimal process design (HBE) in return feeds, for instance, information about resource allocation and upscaling potential into the development of effective technologies (TPS). It further informs us how the match between governance structures, organizational goals, and structural requirements affects institutional behaviors during the implementation process (HIB). At the same time research about the effectiveness of technologies (TPS) benefits from insights about the underlying structural issues within and between the healthcare organisations that are challenged by the implementation of novel technologies – such as power structures, shifts in leadership demands or issues of fairness (HIB) and vice versa.
Agenda for the next ten years
To develop into an internationally acknowledged expertise community on technology in healthcare transformations, two main  components need our particular attention to be developed in parallel within the upcoming two years: network building and the development of scientific expertise. This of course is an ongoing process, to develop a sound foundation of the expertise community and to mobilize external resources for grant writing initiatives to financially secure our research program (see Figure 2). In the following we explain our agenda for the short (2 yr), mid (5 yr) and long term (10 yr).
Within the upcoming two years we are working on establishing our research environment and provide first scientific insights into the field. We therefore need to further develop and refine our joint research strategy, build a common scientific language, and extend our academic as well as professional networks. By now (beginning of 2021) we initiated two researcher-in-residence positions in two mProve hospitals (Isala and Rijnstate) and we already started with an inter-disciplinary group of six Master graduation students who work on pilot studies in the transformation process of administering medication at home, in close collaboration with the regional mProve hospital network. We currently aim to understand: (1) the (optimized) overall transformation process (HBE); the (inter-)organizational embeddedness of the transformation within the network of hospitals (HIB) and within the hospital administration (HBE); the patients' and caregivers' needs, experiences, and satisfaction in, as well as cost-effectiveness of, the new forms of healthcare processes (TPS). The students' graduation assignments build upon another and are inter-disciplinarily supervised by the HBE, TPS and HIB departments. All our current research activities build upon a close collaboration with the mProve-coordinating innovation managers and healthcare professionals on various clinical, process, and organisational levels – reflecting a challenge-based research approach. Overall, after finishing this piloting phase, we will have an inter-disciplinarily built body of knowledge that will substantiate our next steps on the research agenda.
To expand our THT expertise community with academic and professional networks we have already explored collaboration opportunities both within the UT, for example on healthcare professional learning (School of Regional Healthcare Transformation) and technology to measure and support professional learning (DDS department), with other research initiatives (e.g., Sustainability in Healthcare transformations), healthcare organizations (e.g., mProve and Santeon hospitals, home healthcare organizations such as Sensire and Naast), and with external (industry) partners (e.g., Health Innovation Park, FocusCura, Philips), health insurance companies (e.g., Menzis, Zilveren Kruis), and others. Within the first two years we will have built an effective working environment within our THT research team and with external partners, and we will have built a community of young scholars that share the inter-disciplinary perspective of this research program. On that basis we plan to work on the first joint grant proposal in the fall of 2021. Together with our healthcare collaboration partners (e.g., mProve hospitals, Santeon hospitals, Sensire, and Naast, which provide knowledge, data and access to conduct pilot studies on healthcare transformation processes) and industrial partners (e.g., FocusCura, which amongst others will provide financial support), we currently assess additional funding opportunities in Nationaal Groeifonds (knowledge development, research, development and innovation, infrastructure), the health cluster of Horizon Europe, and the health and care programmes of the NWO Mission Driven Calls (KIC 2020-2023). For example, to support Mission II: Care in the living environment, and the NWA-ORC grant schemes related to the programs on technology in healthcare transformations.
After establishing the foundations our next steps in the mid-term, five year-range are to stabilize this community by developing continuous collaborations with our internal and external partners. In detail this will be further securing our financial foundation by external parties such as funding organizations (Horizon Europe, NWO-ORC, etc.), healthcare insurers, and industrial partners. This will also include developing sustainable long-term collaborations with healthcare providers via researcher-in-residence and affiliated positions, the strategic development of the established networks and extending our network to other departments and disciplines (data science, lifelong learning), and making our community internationally known by sharing our knowledge and insights and discussing our THT community results at international conferences and collaborating with international colleagues. At this point we also aim to engage more actively in teaching of academic young professionals at the UT. We plan to valorise our research results in the newly found School of Regional Healthcare Transformation, to develop a multi-faculty integrated challenge-based master course on Healthcare Transformations (for amongst others IEM, PA, HS), and continue to include graduation students in our research program. After this growth phase, so by the end of the next ten years, we aim to have established a vivid open, and well-known community of experts, and an effective multi-disciplinary, integrated research program in technology in healthcare transformations. We will disseminate our cutting-edge inter-disciplinary scientific insights on effective, efficient, and sustainable healthcare transformations, together with a new generation of scholars, raised and equipped by us, to take on the challenges of the transformations in healthcare in research and practice. Furthermore, we aim to continuously contribute to professional learning, for example through the School of Regional Healthcare Transformation. With our integrated multi-disciplinary strategy, we maximize our impact on society, to successfully master the challenges of the technology-based transformations in the healthcare sector.
Contribution to strategic UT goals
We are convinced that integrating previously separated research approaches to healthcare transformations within BMS is strongly aligned with the missions of UT and BMS. Our holistic, yet patient-centred approach, puts the UT's people first-value at the core of our research. We focus on the needs, resources, limitations, and relationships of (individual) patients, healthcare professionals, as well as external healthcare providers within complex healthcare transformation processes. All addressed questions reflect the challenge-based UT research and education approach. Our research output will empower various stakeholders in healthcare transformation processes. Our accumulated and scientifically validated inter-disciplinary knowledge will benefit the professional healthcare community by providing best practices and contextualize it to specific healthcare pathways and case-specific requirements. Importantly, our research output will enrich the education of regional healthcare personnel, managers, and administrators, creating a community of new scholars.