VIBRANT, INSPIRING AND SUSTAINABLE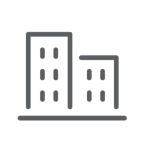 The buildings of the University of Twente need to be vibrant and inspiring meeting places for students, staff, companies and other visitors. However, most of the energy that our university uses is used in our buildings. Therefore, we work to optimize the energy efficiency of our existing buildings, while ensuring that new buildings are sustainable. The goal is to reduce our building emissions by at least 49% in 2030, and 95% in 2050. At the same time, we try to use sustainably sourced materials in our buildings where possible.
PLANNING
Click to zoom in
MORE ABOUT BUILDINGS
ROADMAP TOWARDS 2050
One outcome of the Dutch climate agreement is a tailor-made roadmap that will be developed for social real estate, such as buildings of educational institutions. The UT has drawn up a UT specific energy roadmap for its buildings. This energy roadmap shows the state of all buildings: which measures can still be taken to improve energy usage, what energy savings can be achieved and what the associated costs are. This way, a roadmap is created that indicates the steps the UT can take to achieve the goals set out in the climate agreement.
Heat network and COLD CIRCULATION SYSTEM
Most buildings on the campus of the University of Twente are connected to the regional heat network of Twence. Through this heat network these buildings are heated in a sustainable manner with residual heat from waste processing.
The cold circulation system is a large basin measuring 10 meters deep and 36 meters wide that holds 10 million litres of cold water, which is used during the day to cool the connected buildings and research equipment. The chillers mainly cool the water at night, because the water temperature is naturally colder then, which saves a lot of energy.