Friday 9 September 2022
At the Sport Party (26 August) and the Kick-Out Party (31 August) during the Kick-in, the UT held a pilot with recyclable cups. Partygoers could collect and hand in their used cups: if they handed in 10 cups, they got 1 coin for free. The collected cups are then taken for high-quality recycling. The pilot was organised by the SEE programme of CFM, Green Hub Twente and the Kick-In organisation itself. 'A good step towards a waste-free campus', says Birgit Dragtstra, environment & sustainability officer at the SEE programme.
Reducing residual waste
Recycling cups fits in with the UT objective of reducing residual waste on campus by 75%. 'It's actually a simple system, but it was new to us,' says Dragtstra. 'A pilot project is always exciting, you never know how it will turn out.' During the final party, over 10,000 cups were collected out of a total of 17,600 drinks sold. At the smaller Sports Festival, more than 70% of the cups were returned: 4770 out of a total of 6600 drinks. 'A good result, but we want to make sure that the number of cups returned next time is even higher.' Points of improvement include the need for more visibility and more return points at larger events. 'From 2024 onwards, by law, at least 75% of the cups handed in will have to be recycled. That fits in nicely with our own ambitions. However, we hope to achieve this earlier and would prefer to recycle 100% of the used cups'.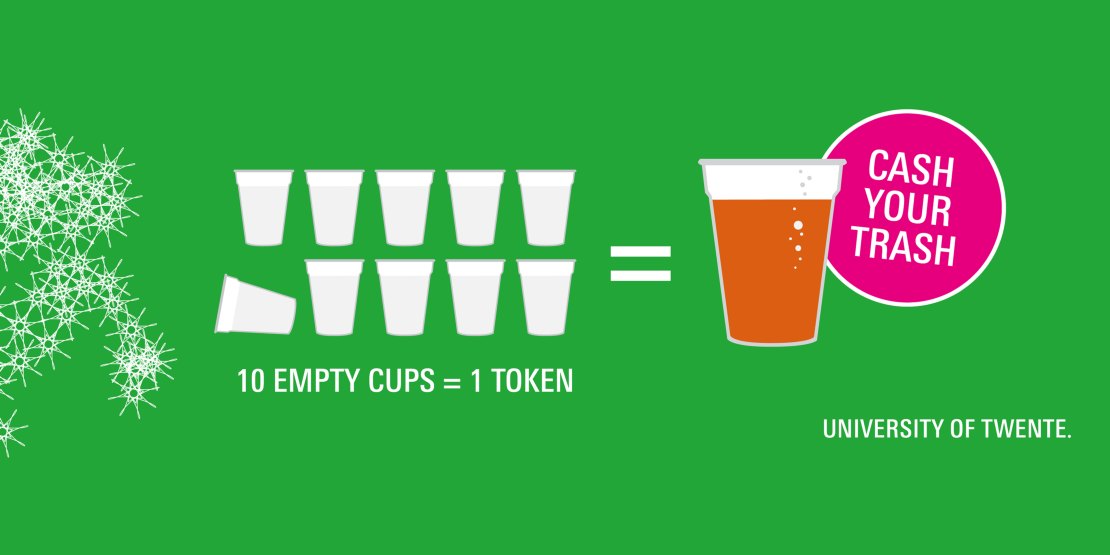 Guinea pig
'We are thankful that the organisation of the Kick-In wanted to be the guinea pig for this pilot project. The reactions of the students and bar staff were very enthusiastic, which was great to see. After the party this year, there was very little waste on the grounds, a nice compliment for our new students.'