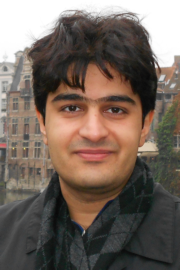 Morteza Shirazi, PhD student at the Elastomer Technology & Engineering group at CTW, won the Best Presentation Award in the Technology area at the Dutch Polymer Days, held in Lunteren, the Netherlands, on March 12 &13, 2012.
Morteza Shirazi got the prize for this lecture on "Viscoelastic properties of short aramid fibers reinforced rubbers"
The Dutch Polymer Days is a yearly event organized by the National Dutch Graduate School of Polymer Science and Technology (PTN), the NWO-CW study group Macromolecules and the KNCV-section Macromolecules, and researchers working in different polymer fields participate in this conference. This year 284 participants attended the conference, of which more than one fifth is doing research at the UT. The other main universities represented at this meeting are TUD and TU/e.