We welcome all UT-researchers to participate in our online monthly thematic sessions. If you subscribe to the DCC newsletter we will inform you about the subjects of upcoming sessions, software carpentry workshops and our news.
Comming up October's Thematic session.
The DCC's monthly sessions are organized in close collaboration with the Open Science Community Twente and 4TU.ResearchData. Do you want to contribute on a topic or do you have a topic you would like to learn more about during a thematic meeting? Please let us know.  
Have a look at the recordings and presentations of the previous sessions
OPEN SCIENCE WEEK 2022, JUNE 20-23RD
UT's very first Open Science Week was organized last June by UT's Digital Competence Centre and Open Science Community Twente in collaboration with UT partners such as UT's PhD network P-NUT.
During the week, researchers, academic staff and as well as support staff presented on the three important pillars of Open Science; Citizen Science, Open Access and FAIR Data.
Below you can find the presentations of the week and you can reuse the presentations as long as you comply with the specified license(s) for reuse.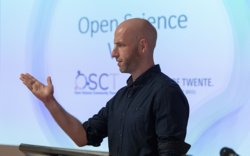 June 20th GEO CITIZEN SCIENCE
June 21st YOUNG RESEARCHERS (supported by P-NUT)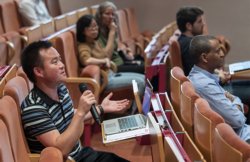 June 22nd FAIR Data
June 23rd Recognition Rewards