We welcome all UT-researchers to participate in our online monthly thematic sessions. If you subscribe to the DCC newsletter we will inform you about the subjects of upcoming sessions, software carpentry workshops and our news.
The DCC's monthly sessions are organized in close collaboration with the Open Science Community Twente and 4TU.ResearchData. Do you want to contribute on a topic or do you have a topic you would like to learn more about during a thematic meeting? Please let us know.  
Have a look at the recordings and presentations of the previous sessions
APRIL
This past April, Dr. Ing. Serkan Girgin from the Faculty of Geo-Information Science and Earth Observation (ITC) of the University of Twente's Centre of Expertise in Big Geodata, presented on "How to create and publish FAIR research datasets directly from your research environment?" In this talk, Dr. Girgin introduced the open-source FAIRly toolset, which aims to bridge the gap between virtual research environments and research data repositories, enabling easy research data publication directly from the research environment.
If you missed out on this event, don't worry: you can download the slides from the presentation underneath.
March
 'Recognition & Rewards' March 2023
This past March, together with the Open Science Community Twente (OSCT), we organized our second joint OSCT-DCC event of the year. During this event, we discussed the topic of "Recognition & Rewards". Guest speaker Sander Bosch, Open Science coordinator at the VU Amsterdam, reflected on how Open Science and Recognition & Rewards relate to each other in the context of a university, drawing from his experiences at the Vrije Universiteit and national Open Science programmes and Recognition & Rewards initiatives.
"There is a lot of momentum for both a more transparent and inclusive way of working in academia through Open Science and a more fairly balanced system of Recognition & Rewards that does justice to the multitude of roles and tasks in academia." Says Sander Bosch!
If you missed out on this event, don't worry: you can view the recording of the presentation session underneath and download the slides here.
Februari
'SHAPING OPEN SCIENCE' FEBRUARY 2023 
On the 23rd of February, the Open Science Community Twente and the Digital Competence Centre hosted their first joint event of 2023, "Shaping Open Science". Open Science will play an even more important role in education and research and will inevitably impact the way we teach and do research. The Shaping Open Science event aimed to highlight the national Open Science movement, as well as how Open Science will shape the landscape of research and education.
During the event, Raúl Zurita Milla, Wendy van Ginkel, Michiel de Boer, and Maria Cruz shared their valuable insights on Open Science from different perspectives, namely; an introduction on Open Science and the importance and role of the international Open Science Communities, the role of the Digital Competence Centre during our shared journey towards Open Science, reproducibility and reliability in scientific research and the role of the Dutch Reproducibility Network (NLRN), and, last but not least, Open Science from the perspective of NWO (Nederlandse Organisatie voor Wetenschappelijk Onderzoek).
If you missed out on this event, don't worry: you can view the recording of the presentation session underneath.
RECORDING of the PRESENTATIONS (see below and the order)
OPEN SCIENCE WEEK 2022, JUNE 20-23RD
UT's very first Open Science Week was organized last June by UT's Digital Competence Centre and Open Science Community Twente in collaboration with UT partners such as UT's PhD network P-NUT.
During the week, researchers, academic staff and as well as support staff presented on the three important pillars of Open Science; Citizen Science, Open Access and FAIR Data.
Below you can find the presentations of the week and you can reuse the presentations as long as you comply with the specified license(s) for reuse.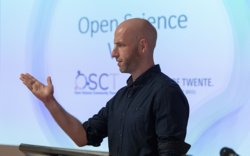 June 20th GEO CITIZEN SCIENCE
June 21st YOUNG RESEARCHERS (supported by P-NUT)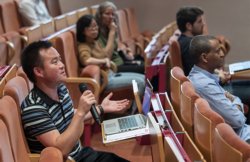 June 22nd FAIR Data
June 23rd Recognition Rewards