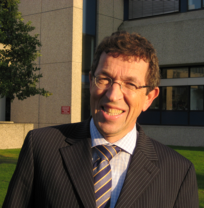 Multiskillness and health care process types
Frits van Merode
The applicability of multiskillness models varies very much to the extent that processes are of a job shop or a production line type. Increasingly health care processes are of a mix type. Multiskillness models, their algorithms and the way they can be integrated into production control models will be discussed. As examples we will present the design of hospitals laboratories and high turnover specialized hospitals.
Biography: Frits van Merode (1958) studied economics and philosophy at Erasmus University in Rotterdam and earned his PhD in operational research at Maastricht University, The Netherlands. He specialised in the modelling of health care systems using multi-agent system techniques in which technical and behavioural aspects are combined. Since 2001 Frits van Merode has been full professor in logistics and operations management at the Maastricht University. He was Dean of the Faculty of Health Sciences (2004-2006) Since 2008 he has been a member of the Executive Board of the Maastricht University Medical Centre.
His main research projects are directed to the design of the layout of hospital buildings, intelligent workflow management systems and real-time scheduling systems. He has extensive experience and expertise in leading projects in this field both in the Netherlands and abroad. Most recently Frits van Merode established a research group in Operations Management and Operations Research in India; Bangalore & Madurai. This research group concentrates on the design and development of intelligent patient tracing, tracking and scheduling systems. The ultimate goal is to make health care much more patient friendly and much less expensive.
The ambition and philosophy of Frits van Merode is that health care should be available to all, worldwide. Therefore the challenge is to (re-)design global health care and develop technology which makes this possible. Frits van Merode's ambition is to develop technology which is capable to fulfil this ambition and to prove this in innovative health care settings around the world.