The TechMed Innovation Hub offers a broad range of services to partners inside and outside our existing network. These services include, but are not limited to, innovation brokerage, shared research projects, facility sharing, knowledge transfer and funding programs.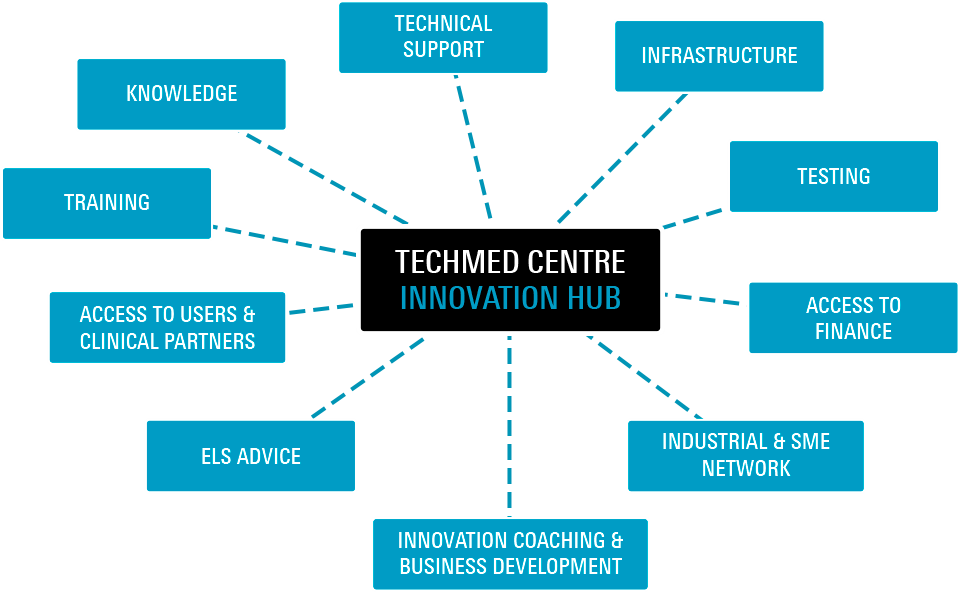 Innovation brokerage
Finding the right expertise or professional to collaborate with can be challenging. As we are well connected to many researchers, companies and healthcare professionals, we can help you find the right partner by free innovation brokerage. Please contact us with your questions, and we can help you finding the right answers.
Collaborative research opportunities
Are you looking for the expertise of our researchers or research facilities to support the development and evaluation of your innovation? We welcome healthcare professionals, MedTech companies, research institutes, health foundations and other healthcare related organizations to contact us with their research questions. Together we explore the joint interests for collaborative research and the formats of collaboration. Collaborative projects typically range from student projects (low cost, short term, no outcome guarantees), to externally funded (subsidized, risk of long throughput time and dismissals) and contract research projects (quick start, science-based answer to your questions, tailored IP agreements).
Knowledge & Technology Transfer
Creating impact based on the results of research by bringing them to the market can be accomplished through the creation of a spin-off or through licensing and collaborating with existing companies, both large and small. The Novel-T Knowledge Transfer Office (KTO) supports researchers of the University of Twente throughout the entire process: from scouting & screening to the protection of results, building a business case and starting a spin-off or contacting companies for licensing. The business developers of the KTO can provide all necessary support. Visit the website of Novel-T to contact or learn more.
Events
Together with our network partners we invest in the TechMed ecosystem by organizing symposia, workshops, thematic events, medical tours and trade missions. We also actively facilitate matchmaking and innovation brokerage. For our latest event updates and registration, visit the event page.
Contact us