PRESERVING THE EQUILIBRIUM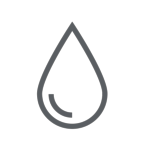 Water is important: it's important for you as a person, for nature and for the university, too. We believe it is important to treat water well in order to preserve the equilibrium of the ecosystem. At the University of Twente, we think about our consumption of drinking water as well as how we deal with rainwater and wastewater.
PLANNING
MORE ABOUT WATER
RAINWATER ON CAMPUS
Precipitation intensity is increasing, and the current water drainage system may not always be able to cope. The UT focuses on collecting rainwater and facilitating infiltration into the soil. Three brooks flow through the campus: the Roombeek, Bolhaarsbeek and Drienerbeek. These flow through several ponds that have an important function in the collection of rainwater, both for the UT and for the surrounding area. On top of that, the UT takes several measures to facilitate the processing of rainwater.
REDUCING THE USE OF DRINKING WATER
The University of Twente takes measures to reduce the use of drinking water. The goal is to become a water neutral campus in 2030.
WASTEWATER

The wastewater passes through the pumping station on the UT campus to the Water Board's water treatment plant in Enschede. The Vechtstromen Water Board (Dutch only) is responsible for treating the wastewater, after which it flows to Kristalbad (Dutch only). The Vechtstromen Water Board also monitors the wastewater at the UT, taking quarterly samples from the UT's pumping station, which are then tested at a laboratory. On top of that, the amount of wastewater, the flow rate, is recorded and the concentration levels of heavy metals and oxygen-binding susbtances in the wastewater are measured. These parameters are used to determine the number of pollution units on which the levy charged to the UT is based (Water Boards Act (Dutch only)).
There are strict procedures in place in laboratories to limit the concentration levels of chemicals in wastewater. Used glassware is rinsed 3 times with a small amount of water, as 3 rinses with a small amount are considerably more effective and environmentally friendly than a single rinse with more water. Chemical concentration levels will still be too high in the water used for the first 2 rinses, and this water must be collected and disposed of as hazardous waste. When cleaning chemically contaminated glassware, only the water used for the 3rd rinse can be flushed down the sewer.