Thursday 13 July 2023
Sustainability is an increasingly hot topic at UT. Our laboratories use a lot of energy and also produce a lot of waste. This can be done differently, according to Rolf Slaats. He has been full-time sustainable labs coordinator at the TNW faculty for some time now. "My ultimate goal is that we can carry out the same research here at UT in the future as we do now, but without the negative impact on the environment."
Rolf arrived at UT after studying biomedical sciences in Utrecht for a PhD in Applied Stem Cell Technologies. Seven years of working in and around laboratories provided him with the necessary practical knowledge. In those years, Rolf saw with his own eyes the positive, but also the negative impact that research has on our planet. This can and must change, he believes. After consultation with the university's SEE-programme, he started a Green Team within the Zuidhorst.
Rolf explains: "That was the first step. I quickly found out that I was actually running out of time if I had to do it in addition to my research work. I thought: if I want to do it well, I have to go all the way. So I started looking for a department within the UT that was willing to hire me full-time." Fortunately, the TNW faculty proved enthusiastic. Rolf: "It is great to see that the faculty board wants to take steps towards achieving this goal. TNW has the most 'wet labs' of all the faculties, which means that a lot of disposable materials have to be used. So there is a lot of potential gain."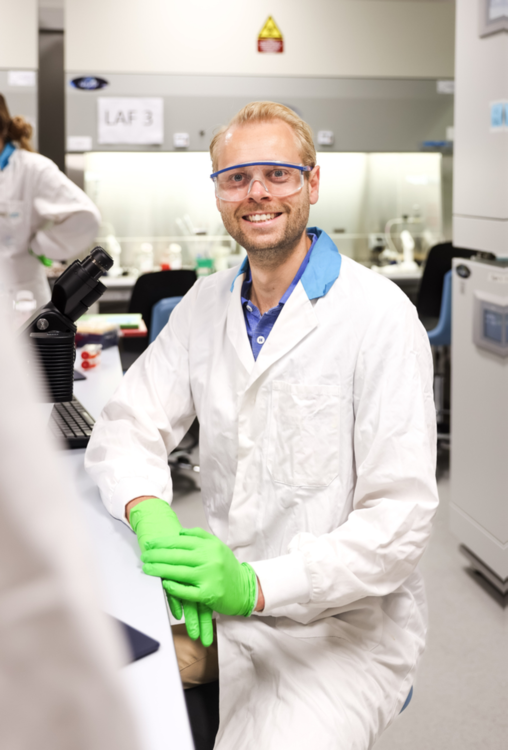 gradually reducing negative impact
Rolf had to get used to his new role at UT. "I come from a practical field. In research, you come up with your own project, which you subsequently carry out yourself. As sustainable labs coordinator, I try to change behavior and processes in others. Good collaboration is very important here. Our ultimate goal is to be able to conduct research here without negative impact on the environment. That is very ambitious, we cannot get around the fact that we need energy and produce waste. However, we can gradually reduce our impact together." 

Right now, for example, Rolf is working on reducing the ventilation of lab spaces when people are not working. "A step that can save a lot of energy. In addition, we have installed multiple waste bins. This is to ensure that plastic packaging no longer ends up in the residual waste, which is something that was occasionally neglected before. Simple measures like these can also have a great impact."
In addition, Rolf works with procurement to reduce the use of Substances of Very High Concern (SVHC). "Many times, researchers are unaware of the fact that less harmful alternatives are already available. For our own health, it is also important to reduce the use of these SVHC. So we are working together to become more sustainable in many different ways."
Ultimately, working sustainably must become part of the common process. Rolf: "We already have a Green Hub here at UT, where administrators, researchers and students discuss sustainability together, and of course the SEE program. I'm also part of Green Labs NL, a foundation in which people from different research institutes (Radboud MC, Erasmus MC) talk on a national level about how we can make labs 'greener.'"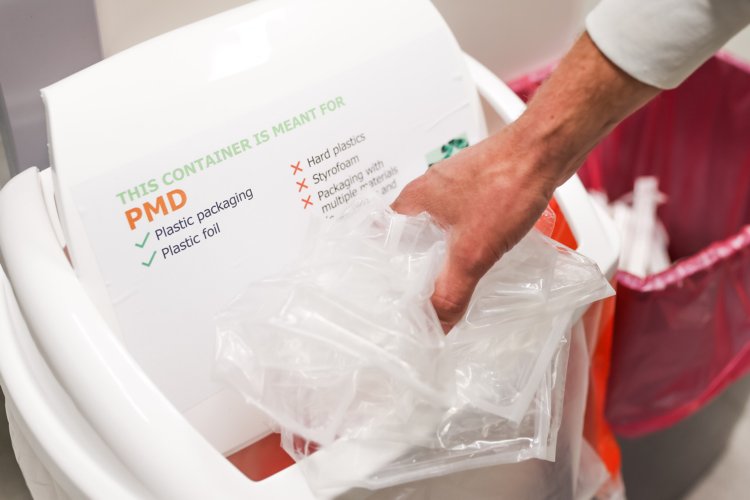 a powerful combination
As sustainable labs coordinator, Rolf is primarily concerned with creating awareness. He notices that it is not yet a given that sustainability is considered within laboratories. "Research is still mainly looked at in a practical way: what do I need? Too little thought is given to the negative impact of research on our planet," said Rolf. "I believe that my passion for sustainability combined with my practical knowledge of laboratories is a powerful combination, and that this is precisely where I can make the difference. In the end, the users are the ones who have to want to implement the change. I can only help them with that. For this reason, it is important that I work for the faculty itself, so it is easier for me to make contact with the right people within TNW. Together we can implement various plans in a nice practical way."
UT community as a helping hand
Rolf does not have to think long about what UT employees themselves can do to contribute to this goal: "The best way to help is to find out within your own lab how you can work more sustainable. Ask yourself questions like: what do we want to improve, what is not going well in our lab? There is often a lot of 'low-hanging fruit' which you can do something about immediately."
And then: "I can't be everywhere, so I don't have insight into everything, but I'm very eager to help. It would be great if UT employees themselves took the lead in this and thought about opportunities to make their own lab environment more sustainable. If you have any ideas or questions: please contact me! My door is open to everyone inside and outside of TNW. We can achieve more together than you think."


Sustainability at UT
Sustainability is an important priority area of Shaping2030, the University of Twente's strategic plan. In addition to finding sustainable solutions for societal issues, the UT wants to set a good example of what it means to be a sustainable organisation. To reach this goal, the ambitions of Shaping2030 need to be put into practice. Many members of the UT community are hard at work translating the sustainability objectives into our work on campus – transforming the way we work, teach, learn, travel, build and more. In this series, we invite them to talk about what motivates them, what the role of sustainability is in their day-to-day work, and what they would like to achieve at our university.
Want to find out more about sustainability at UT? Please visit utwente.nl/sustainability.
Written by Stef Meilink