Friday 21 May 2021
The yearly Carbon Footprint Report of the University of Twente is available for the year 2020. The report can be found on the sustainability website. In the report, that the UT publicizes every year since 2014, information can be found on the total CO2-emissions of the university through 2020. This includes the emissions caused by external suppliers, commuting and business travel.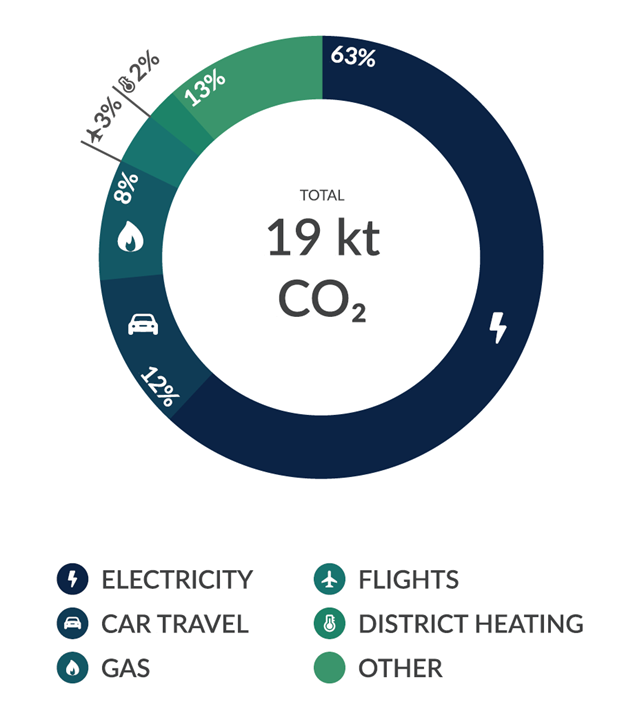 Extraordinary year
Immediately notable is that emissions in 2020 are down by almost a third compared to 2019: from 28 kilotons to 19 kilotons of CO2. This is explained by the sharp decrease in campus use, commuting to campus and business travel due to COVID-19 measures. Therefore, this large decrease is not representative of longer-term changes in emissions.
But positive steps have also been taken in 2020: two UT buildings (the ITC hotel and Drienerburght) are no longer heated by natural gas, but are now heated by district heating. In addition, the generation of energy on the campus itself has risen sharply thanks to the commissioning of 585 solar panels on the Technohal. Furthermore, the ITC faculty is offsetting emissions for all its business air travel in 2020.
15% reduction in 2023
By reporting its CO2 footprint annually, the University of Twente aims to promote transparency and provide inspiration for measures to reduce emissions. The reports are also used to help achieve the goal of emitting 15% less CO2 by 2023. Unfortunately, due to the effects of the COVID-19 pandemic, 2020 is not usable as a reference year as was planned in the policy.