Alfred Stein is an expert on spatial statistics
Research & education
Alfred Stein is professor of Spatial Statistics and Image Analysis. 'Spatial statistics is a deep science, that involves quite some mathematics and models, but it is also very applied and specific research,' he explains. In the broadest sense, professor Stein's research covers 'anything with time and space elements, where quantitative data can be used'. He works on projects related to GeoHealth, earthquakes, bush fires, air quality and even archeology. Much of his work is related to remote sensing images from a broad range of satellites.
'The field of spatial statistics is critically important,' says the scientist. 'As we sadly know, the climate is changing, the ice caps are melting. To come up with the right course of action, we need to be able to assess the risk and quantify it. That is possible thanks to spatial statistics. It allows us to search for patterns and changes in those patterns.'
To illustrate the many uses of his field of expertise, professor Stein mentions a few of his research projects. 'With a PhD candidate we are looking for sinkholes. Sinkholes are devastating and can cause problems for buildings and people. They occur unexpectedly and an early warning system is therefore very important. We use the latest radar satellites to do so and have built that into a sinkhole scanner.' Another problem that he worked on in the past are earthquakes. 'Earthquakes is one of the topics that I have explored together with scientists at the CWI in Amsterdam. We studied a big earthquake in Pakistan in 2005. It came with a lot of aftershocks, which allowed us to establish patterns and model them. Thanks to that, we saw that there was not only one big earthquake but two big earthquakes shortly after each other. This is an important piece of information. When you need to take measures after an earthquake, in order to keep people safe you need to be aware that another big shock might occur shortly.'
Alfred Stein also studied the recent bush fires in Australia with the goal to follow and analyze the risk of their occurrence, the spread, and therefore helping to determine how the fires would develop. The UT professor has also worked on a study of air quality in Eindhoven, aiming to assess the risk of contaminants in various places (and times) in the Dutch city. More recently, in his role as the editor-in-chief of Spatial Statistics, he has considered the Covid-19 pandemic, searching for patterns of when and where government measures are effective. 'This can help us see the impact of specific measures and improve decision making for the future. Satellites are now providing increasingly better information. You see, this field has so much to offer. I'd like to see it even better accepted and further combined with other disciplines. I also see opportunities to further integrate it with deep learning.'
Professor Stein also stresses the usefulness of the expertise when teaching Spatial Statistics at the ITC Faculty. 'Students of course need to understand the general concepts, they need to know how to make a probability map, for instance, but they also need to connect the concepts to real-life applications. They need to understand the importance of statistics in any field they choose to focus on. A challenge is to combine spatial statistics with model making for instance in hydrological and agricultural studies. Spatial uncertainty is often disregarded, but it is so important. Properly dealing with uncertainty is crucial for decision making. I try to emphasize this impact to my students. With spatial statistics, you work on topics that truly matter.'
About Alfred Stein
Alfred Stein is professor in Spatial Statistics and Image Analysis at the department of Earth Observation Science of the Faculty of Geo-Information Science and Earth Observation (ITC), University of Twente. He received his MSc in mathematics and information science, with a specialization in applied statistics from Eindhoven University of Technology and his PhD at Wageningen University. He started his career at the soil science and geology department of Wageningen university, leading to a professorship at the chair of mathematical and statistical models in 2000. In 1995 he was appointed as a visiting professor at the - then - Institute of ITC where in 2002 he became professor at the new department of Earth Observation Science, which he has headed for more than 10 years. From 2008 until 2020 he has been a member of the faculty board alternating with the portfolios of research and education. Professor Stein is the editor-in-chief of Spatial Statistics, the leading platform in the domain of spatial statistics.
Press photos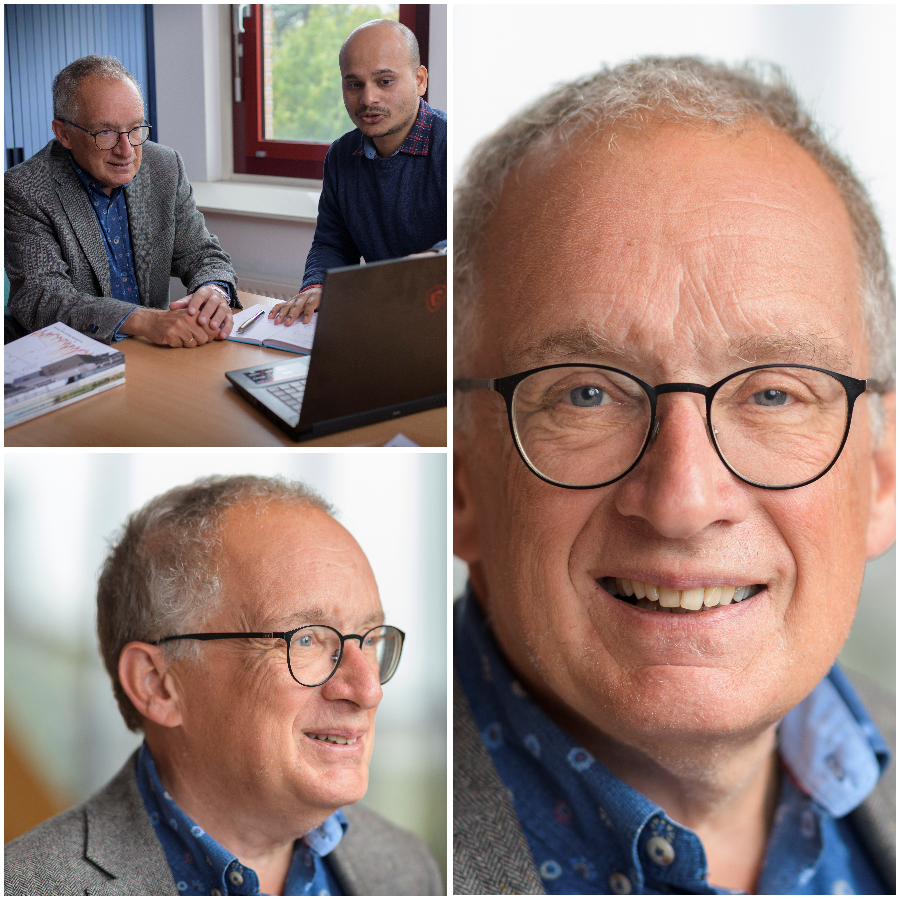 These Press Photos can be used with no copyright restrictions. Please mention photographer Fokke Eenhoorn.