The beauty of guiding light
"Creating beautiful waveguides", that is what Sonia García Blanco replies, asked about her dreams for the future. A waveguide is a tiny structure on a chip that is able to transport and manipulate light. Why 'beautiful' then? "That is because beautiful designs, smooth and with few irregularities, show the best performance, with low losses." Apart from that, the photonic integrated circuits Sonia is working on, always look attractive, like pieces of jewellery. In fact, this fascination for small structures determined Sonia's career, in both microelectronics and photonics. In electronic chip design, as well, esthetically attractive designs say something about the functionality of the chip.
Coronavirus detection
She is now working on a photonic chip that can detect tumour markers in a urine sample, in an early stage. It could also detect diabetes. But when the pandemic started, she started thinking. "At the moment the corona pandemic broke out, I read about the properties of the virus and I thought: my chip will be able to detect this virus as well. We immediately started writing a research proposal for a European project. We didn't succeed, but we did receive some seed funding for working out our ideas." Basically, the chip should be capable of detecting not only the virus itself but also the IgM antibodies and the IL6 cytokines that play a role in disease development. Finding the best solution is, of course, a race against the clock. Chips should be accurate, at minimum cost. Sonia: "I am optimistic about that. Together with companies like LioniX and PHiX, both UT spin-offs, we can work on this. We can benefit from some of the large markets that photonics had now opened up: this lowers the cost per chip for other applications as well."
The photonic chips, designed by her group, typically have several light-guiding channels, but also sensors, light amplifiers, an integrated laser and other components that can 'bend' light in the right way. For biomarker detection, fluidic components should be added as well. The number of applications is rapidly growing: "We recently started a project for LIDAR, the laser detection system of autonomous vehicles. I really like contributing to things that improve our life."
Space exploration
Although as a young girl, Sonia dreamt of becoming an astronaut, she didn't go into space herself. An infrared sensor she and her coworkers designed, however, did go into space. She is still proud of that achievement. This was during her work as a staff scientist at the Institut National d'Optique (INO), in Québec, Canada.
The real turning point in her career came during her Master's assignment, which she carried out at the IBM Almaden Research Center, in Silicon Valley, in 1998. By the time, she was a student at the Universidad Politécnica in Madrid and she was fascinated by the work that was done at IBM, and in particular by the research climate. "What would I need to do to work in an environment like this", she asked her colleagues. "Do a PhD first", was simple advice, and thus she did her PhD research at the University of Glasgow, Scotland. She finished it in 2003. The next stop was Canada, at first as a post-doc at the University of Toronto, later as a scientific staff member at INO, a large expertise centre for photonics and optics in Québec. And then, in 2010, the vacancy in Twente came along. Flying back to Canada, after having spoken to Professor Pollnau and his team, she already got the news that she was selected before she even got home.
Press Photos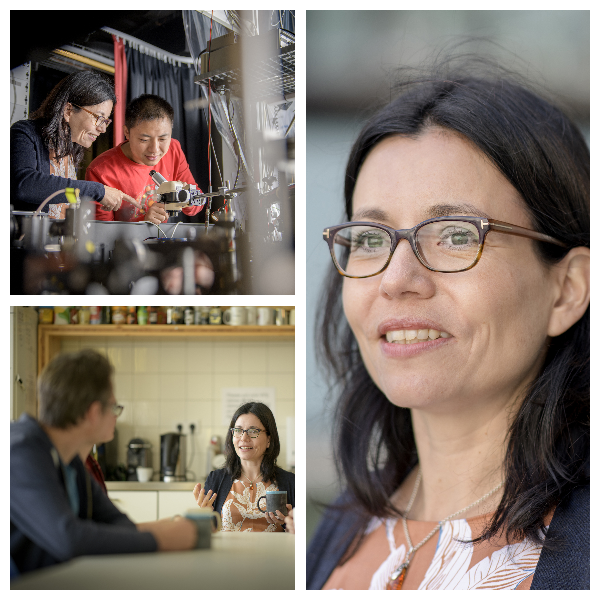 Click on the image to get to the photo folder. These press photos may be used free of copyright limitations.