"THERE IS A NEED FOR NEW TREATMENT OF LIVER DISEASES"
Ruchi Bansal is Assistant Professor in the Department of Medical Cell BioPhysicsm, and leading her research group Translational Liver Research. Her research focuses on understanding and treating liver diseases. "Globally, 25% of people suffer from alcoholic and non-alcoholic fatty liver diseases. That's one in four people," Bansal stresses. "I want to make people aware of this."
My research goal is to understand the disease, and to design and develop targeted (nano)therapeutics for the resolution of inflammatory and fibrotic liver diseases including fibrosis or inflammation driven liver tumors. The main focus of my research is to target different key cell types involved in the initiation and development of liver diseases e.g. myofibroblasts and macrophages. I am also actively working on identifying new biomarkers and therapeutic targets for an efficient disease diagnosis/treatment."
"One of my main goals is to raise public awareness of the magnitude of the problem and warn them that they should take care of their liver,' says Bansal. She has reached out to the media and has made several public appearances to highlight the issue, offer preliminary predictive tests to the visitors and provide them with advice on how to keep their liver healthy. "It's all about lifestyle. The liver is a self-healing organ, but it is so often damaged due to unhealthy lifestyle: fatty diet, excessive alcohol intake and lack of exercise. With a change of lifestyle, the liver can recover."
The researcher explains: "The liver is the biggest organ in our body and it performs an array of important bodily functions: detoxifying the blood, synthesizing and manufacturing of proteins, metabolizing drugs and secreting the bile that is necessary for digestion. It regulates sugar, fat and protein amounts that enter our bloodstream. Moreover, liver diseases are a starting point for many other health issues, such as diabetes or cardiovascular problems. Unfortunately, many people are not aware of this, because liver diseases are silent diseases.'
Bansal is, however, very aware of the problem and sees a huge need for new treatment of liver diseases. She is developing novel targeted therapies, some of which are already tested on animals – with promising results. These therapeutic approaches halt and reverse the disease process using drug encapsulated in nanocarriers that reach only specific cells.
To be specific, Bansal and her team have designed liposomes that specifically target inflammatory macrophages, thereby regulating liver inflammation and fibrosis. "This technology is patented and clinicians are very excited about the prospect of using it. It offers many great possibilities," says the researcher. "This technology can be applied in other inflammatory and fibrotic diseases, for instance, lung fibrosis, kidney fibrosis, bowel diseases and inflammation-driven cancers."
Following additional preclinical studies, Ruchi Bansal plans to start a company to develop these therapies for clinical application. "These therapies are highly innovative and there is nothing of this kind on the market. There is a huge potential and big market for these therapies, but what's most important for me is to treat patients suffering from these devastating diseases," she says. However, it will take a few more years before the therapy can reach clinical practice.
Education
Bansal's research group consists of bachelor-, master- and PhD-students. A conscious choice, the assistant professor explains: "I aim to stimulate young researchers in all stages of their development. I don't use them to conduct my research specifically, they are free to choose their own research area, as long as it is aimed at understanding and treatment of liver diseases. I do use my research in my master courses, in which I elaborate on my work to showcase the quality and enthuse the students."
When students work in her research group, Bansal stimulates them to work together and aim at publication of their results. "This boosts their confidence and motivation. When they leave, they have the knowledge and understanding of the criteria for good publications. This makes them well-prepared for their thesis. Passing on knowledge and developing new professionals is the most fulfilling part of working with the students. Especially when they succeed and do well," smiles Bansal.
About Ruchi Bansal
Ruchi Bansal is an Assistant professor at University of Twente, The Netherlands. She obtained her Bachelor's and Master's degree in Biochemistry from Delhi University, India. In 2012, She obtained her PhD from Pharmacokinetics, Toxicology and Targeting, University of Groningen, Groningen, The Netherlands. Her PhD project was focused on designing of novel strategies to target interferon gamma and its signaling domain to the target pathogenic cells in the chronic diseases (liver fibrosis and cancer). During the last stages of her PhD, she received two prestigious grants; the Sheila Sherlock research fellowship (from European association for the study of liver diseases, EASL) and The Ruth and Richard Julin's Foundation Swedish research grant for Postdoctoral research/visiting scientist at Karolinska Institute, Stockholm, Sweden. Her research project was focused on "Pathogenesis of Hepatitis C virus (HCV)-induced and alcohol-induced liver diseases".
In October 2012, she started as a senior Postdoctoral researcher at the Department of Biomaterials Science and Technology at University of Twente. In 2014, she received a prestigious VENI grant (from NWO, ZonMw) to pursue her research on "Development of novel targeted nano-therapeutics for the treatment of liver diseases". She has received several awards/honors for her pioneering work and several research grants for pursuing her research. Bansal has established her independent research team "Translational Liver Research" at the University of Twente, The Netherlands focused on Liver diseases: from pathogenesis to nanotherapeutics. She is also a faculty council member and a Young Academy member at the University of Twente. The researcher aims to translate basic science to clinical advancements by developing emerging diagnostics and targeted therapeutics against liver diseases.
Press Photos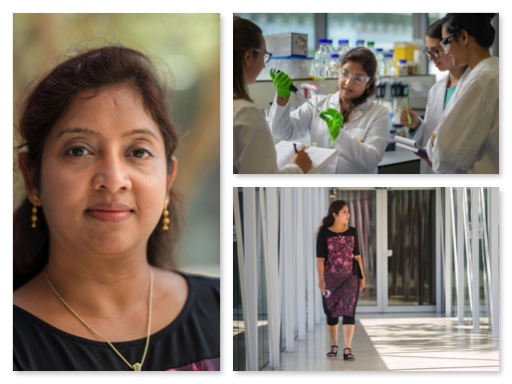 Click on thumbnails to open picture folder. These press photos can be used without copyright restrictions.