ABOUT THE SHAPING EXPERT GROUP ON 'DIGITALISATION'
The University of Twente strategy document Shaping2030 sets out many goals with respect to digitalisation at the University of Twente, such as strengthening digital skills across the organisation, designing digital education, digital mobility in terms of time and space, setting up a challenge platform and much more.
Digitalisation is an integral part of the university's ecosystem. The coronavirus pandemic has demonstrated the importance of integrating digital resources into the work that we do.
The shaping expert group on digitalisation is a group of experts in the field of digitalisation, the aim of which is to accelerate and bolster our education and research, as well as the university's operational ecosystem, through digitalisation.
DIGITISE, DIGITALISE AND DIGITALLY TRANSFORM
To help explain digitalisation, the Shaping Expert Group Digitalisation follows a classification by Reinitz:
We digitise information. Digitisation is the transition from an analogue to a digital form. For example, we digitise courses by recording lectures and placing them online, by making digital variants of exams, etc.
We digitalise operations. Digitalisation describes using digital technologies and information to transform individual institutional operations (such as payroll, procurement, research administration, and course delivery). The missing piece in digitalization, the thing that keeps it from being a digital transformation, is when the original operation is fundamentally changed in order to increase the effect, in whatever way, of digitalisation.
We digitally transform (institutional) processes. Digital transformation takes place when we change existing processes (and thus ways of working) in order to attain a high degree of effectiveness of digitalisation. An example is changing a complete course setup to scale in the number of online students while making use of digital technology.
Overall we state that digitalisation is the process of the technologically-induced change by simultaneously aligning operations, strategy, business processes, and organizational and IT structures to technological advancements. We do not make a strict distinction between digitalization and digital transformation, but assume that proper and effective digitalization simply implies digital transformation.
Digitalisation thus encompasses a "process of change by aligning many things to digital technological advancements." Such a process of change has a major impact that goes way beyond the application of digital technology. Effective digitalisation generally implies a change in our way of working, and with that the support needed by digital technology. At the same time, digital technology is also an enabler for new and better ways of working.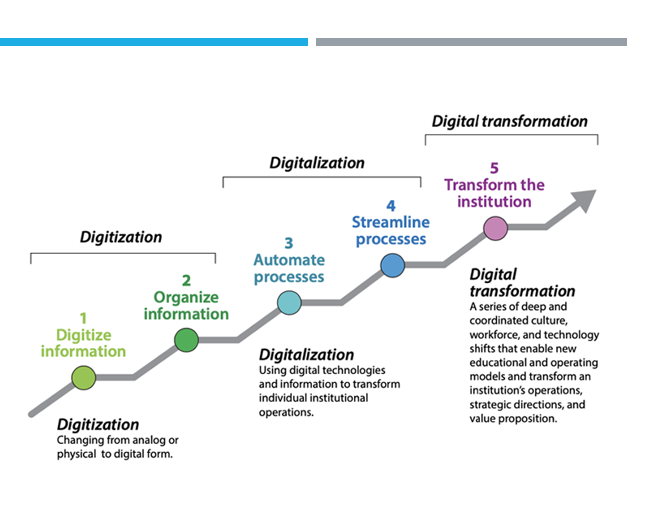 Source: Reinitz, Betsy. "Consider the Three Ds When Talking about Digital Transformation.
GOALS FOR 2021
In 2021 we will work on three urgent challenges in terms of their digitalisation requirements. With teachers, researchers and students we will work to enhance the digital capabilities of the UT. Also, we will work on a concise and concrete vision on digitalisation, explicating what is necessary to reach the strategic goals of the UT. Furthermore, with various people throughout our university, we will define what we mean by a digitally skilled organisation and set up an action plan for that purpose.
In three years from now, we will focus on how digitalisation can and must help realise our most urgent challenges and ambitions in our 'traditional programmes', in lifelong learning and In research.
At the same time, we will facilitate development of the organisation's capacity to experiment, expand & operate new digital ways of working. We need to further develop good ways of prioritising and assigning scarce resources. We will explore how and where EdTech partnerships add value to the UT and realise them where feasible. 
SEG DIGITALISATION TEAM
RELEVANT LINKS