Citizen science; strengthening ties with society
As the societal relevance of our research should be tangible, one could argue it is rather strange that often, we only have citizens take part in the latter stages of a research project. Early involvement and close collaboration in all stages of scientific education and research may well benefit the societal impact of our work.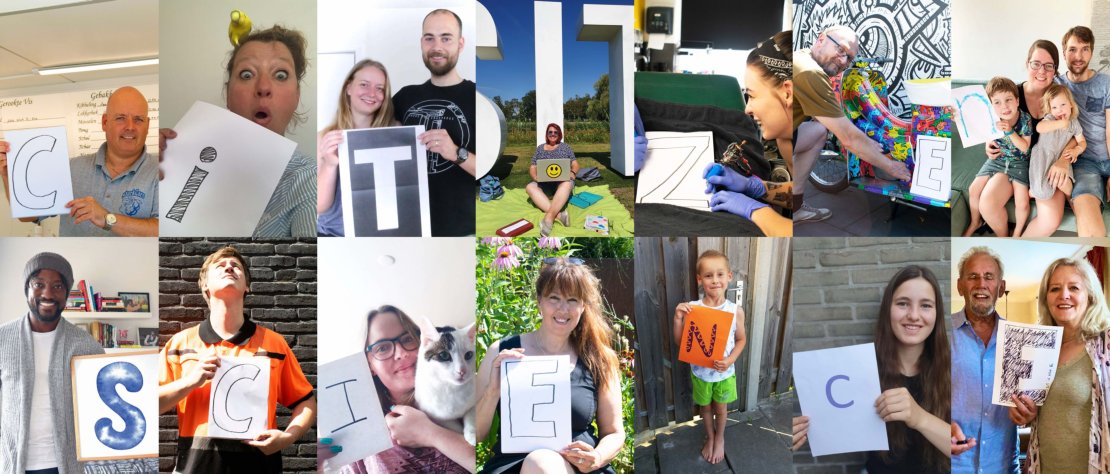 NOT A GOAL, BUT A MEANS
Citizen science in itself is never a goal. The term citizen science refers to an equal basis for collaboration in tackling societal challenges using scientific methods. It is something that can evolve either bottom-up (from within society) or top-down (initiated by scientists). Citizen Science may be supportive as it forces new questions to be asked, new insights to be brought to the table and, at the same time, increases the self-learning ability of our society. Even in academic fields where you least expect it, the involvement of citizens can be of great value. Together, we would like to explore these opportunities, as it helps us bridge the gap between science and society.
TOWARDS AN EQUAL COLLABORATION SETTING
In a way, citizen science is not a new phenomenon: various principles of citizen science are being deployed in existing research projects. Sometimes, we might not always recognise them. What is new, is the fact that citizen science is in the spotlight of the latest developments, in particular for the fact that citizens and their expertise are genuinely considered equal and take their share within the research project. There is also more attention to the role of citizens in various stages of research and to ensure the added value for both.
This video was shown at Impact2021, organised on 20 January 2021 by the Association of Universities in the Netherlands (VSNU), the Netherlands Federation of University Medical Centres (NFU), the Ministry of Education, Culture and Science and the Ministry of Economic Affairs and Climate, to showcase the broad impact of Dutch science on society.
SEG Citizen Science Team
The Shaping Expert Group will be connecting initiatives, sharing knowledge within the organisation and supporting new projects to arise. The team consists of: 
Join our journey
As a Shaping Expert Group, we find it important to encourage people from a wide variety of scientific disciplines to join. Citizen Science is an upcoming discipline that may prove its added value in the broad range of expertise currently present at the UT. In the coming period, we will start shaping UT's journey in finding these opportunities. If you have ideas to share or would like to join our journey, please reach out and send us an email.
Relevant links