ACADEMIC EXCELLENCE TO CREATE IMPACT FOR SOCIETY 
This website highlights the research projects funded by the sector plan Engineering en put the spotlight on researchers and their scientific contribution to support strengthen the fundamental basis in the engineering disciplines. 
WHY GOVERNMENT SUPPORT THROUGH SECTOR PLANS?
The increasing importance of science and engineering to tackle the problems society is facing today is also reflected in growing student numbers. This has put much pressure on the sector. Staff numbers have been lagging behind and universities are struggling to keep fundamental research in their core areas at an even pace.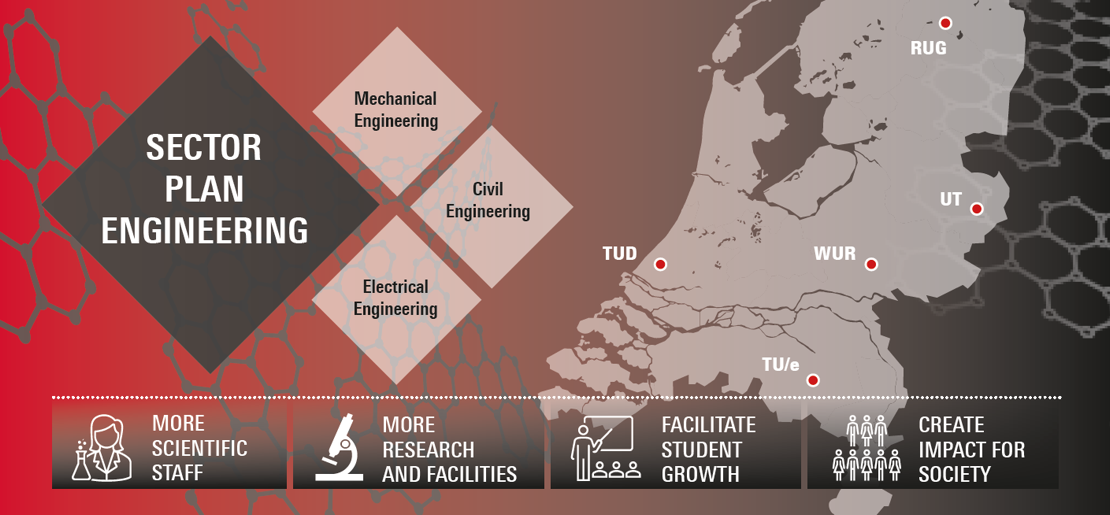 In recognition of these problems Dutch government has made extra funding of 60 million euro a year available and asked the 4TU universities in co-operation (Delft, Twente, Eindhoven and Wageningen) to come up with plans aimed at strengthening the basis of beta and engineering research in the sector.  
The investment in sector plans is part of a broader reinforcement of the science and engineering sector, that the Dutch government aims to achieve. Through these sector plans, scientific research in the Netherlands is given a boost, and the ties between higher education and research in the engineering sector are strengthened. 
The focus in Engineering is on:
o   Civil Engineering
o   Electrical Engineering
o   Mechanical Engineering
See here what the Sector Plan funding means for the University of Twente