Research in the Production Technology group addresses the technical issues of new products and new processes. The group focuses on the optimisation of both the manufacturing process and the performance of lightweight materials in structural applications.
RECent Developments
Graduation of amin zaami and mohammed Hosseini
This January 21st, not one, but two of our PhD students will defend their thesis. Both Amin and Mohammed have been working on the laser-assisted tape winding (or placement) process, as part of the EU funded ambliFibre project. Unfortunately, due to Covid-related regulations, the defenses will be online only and are accessible via this link.
Amin Zaami's defense of his thesis: "Development of fast local analysis tool for optimized laser assisted tape winding" will take place Thursday January 21st at 12:30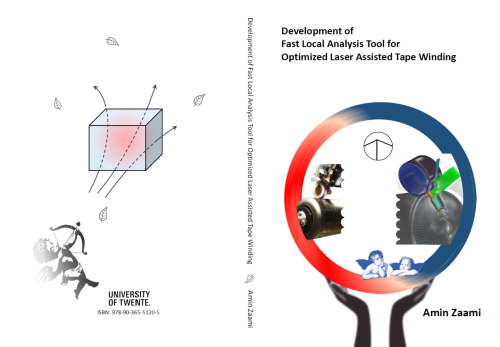 Mohammed Hosseini's thesis: "Towards an accurate process design tool for laser-assisted tape winding"  will take place Thursday January 21st at 16:30.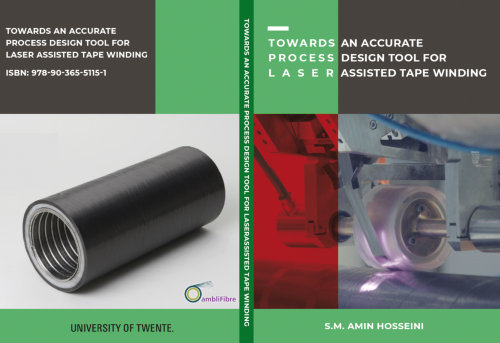 Graduation of Ozan Erartsin
On May 15th, our valued PT-member Ozan defended his PhD thesis on the 'Time-dependent, matrix-dominated failure of continuous fiber-reinforced thermoplastic composites'. In a unique online-only session, Ozan sucesfully defended his work performed in the past four years. A party was promised to take place at a later moment, so we stick around to learn more. Congratulations!
new staff member Li Pei
As of May 1st, Pei Li started as an Assistant Professor in the PT and Elastomer Technology & Engineering (ETE) group. Pei's background in mechanical performance of polymeric foams will come to good use working on the micromechanics of different composite materials studied both in PT and ETE groups. Due to the unique circumstances surrounding the Covid-19 virus, Pei will remain to work from home, China, for the coming period. We hope to welcome you soon to Twente!


thesis defense of logendra dilli
Next February 14th there is scheduled the PDEng defense of L.K. Dilli, a.k.a. Logan! The work is entitled 'Design and Development of a Tailored Blank Manufacturing system for Stamp Forming Process. You are invited for the following program:
12:45 Public introduction, NH115
13:30 Machine demo, WH123


Ton bor has meeting with abraham
Our dear colleague dr. Bor had a brief meeting with Abraham (content not disclosed). We congratulate Ton with reaching the fantastic age of 50 and wish him many more and wise years to come!
Upcoming: thesis defense of Guillaume Vincent
For the past years, PhD student Guillaume Vincent has been shredding and mixing thermoplastic composite material. He will present his work on Recycling of Thermoplastic Composites Laminates; the role of processing, on Thursday October 3rd. Start of the ceremony is at 10.30 in Waaier building, be there!
new staff member martin luckabauer
New group member Martin started April 1st as an Assistant Professor and will be responsible for Material Science teaching as part of the recent UT-VU collaboration. Martin has wide international experience and his main expertiese lies in various types of metals. Welcome aboard!
Upcoming: thesis defense of Tjitse Slange
Our TPRC stationed PhD student Tjitse Slange will present and defend his work on Rapid Manufacturing of Tailored Thermoplastic Composites on Friday March 8. Start of the ceremony is at 14.30 in Waaier building.
recent publications