Research in the Production Technology group addresses the technical issues of new products and new processes. The group focuses on the optimisation of both the manufacturing process and the performance of lightweight materials in structural applications.
RECent Developments
graduation of Ramona Sitohang
January 27th at 14:30 Ramona Sithang will have her promotion at the UT as a digital event. During her PhD she investigated the 'Effect of in-plane waviness defects on compressive failure of thermoplastic composite laminates'. You are all welcome to support Ramona during this online defense!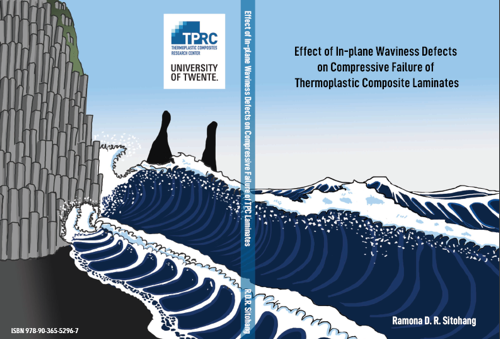 Graduation of Erik Krämer
November 4th is the day our valued collegeau Erik will defend his PhD thesis entitled: 'The formation of fiber waviness during thermoplastic composite laminate consolidation'. We are happy to announce that it is once again possible to attend the defense as a 'real' live audience in the 'Berkhoff-zaal', Waaier Building at 16:45, be there!
research program 'enlighten' awarded
The research project ENLIGHTEN (Enabling Integrated Lightweight Structures In High Volumes) aims at 'Reducing CO2 emissions by making vehicles lighter'. Production Technology Chair prof. Remko Akkerman is launching this new research programme as part of the Perspective programme and has been awarded a grant of over €6 million.
The lighter a vehicle is, the less fuel it consumes and the less CO2 is emitted. Lightweight materials that are strong enough to ensure passenger safety are also popular among manufacturers of cars and aircraft. Thermoplastic composites – fibre-reinforced plastics that soften when heated – are light, strong, easy to work with and easy to recycle. Certain components in aircraft fuselages and wings are already being made from this relatively new material. However, they are not yet in wider use.
The aim of ENLIGHTEN is to find a way to produce reliable entire structures using this material (in a predictable, reproducible and cost-effective way).
Perspective is a programme that challenges scientists to establish innovative new lines of research that can have a genuine economic and societal impact. Consortia are then formed that involve partnerships with the business community and social organisations. The programme has been set up by the Dutch Research Council (NWO), and the Ministry of Economic Affairs and Climate has made €22 million in funding available for it. A total of six consortia are being set up in the Netherlands, with 138 companies and social organisations contributing a total of €10 million of their own funding
Enlighten Participants: Airborne, Airbus, Aniform, Autodesk, Boeing, Boikon, Bosch, Cato, Composites NL, DSM, DTC, Engel, e‐Xstream, GKN/Fokker, HAN University of Applied Sciences, Saxion University of Applied Sciences, JLR, KVE, M2i, Province of Overijssel, SAM|XL, SET Europe, Solvay, Delft University of Technology, Eindhoven University of Technology, TNO‐BMC, Toray Advanced Composites, TPRC, University of Twente, University of Warwick, Victrex. 
Graduation of amin zaami and mohammed Hosseini
This January 21st, not one, but two of our PhD students will defend their thesis. Both Amin and Mohammed have been working on the laser-assisted tape winding (or placement) process, as part of the EU funded ambliFibre project. Unfortunately, due to Covid-related regulations, the defenses will be online only and are accessible via this link.
Amin Zaami's defense of his thesis: "Development of fast local analysis tool for optimized laser assisted tape winding" will take place Thursday January 21st at 12:30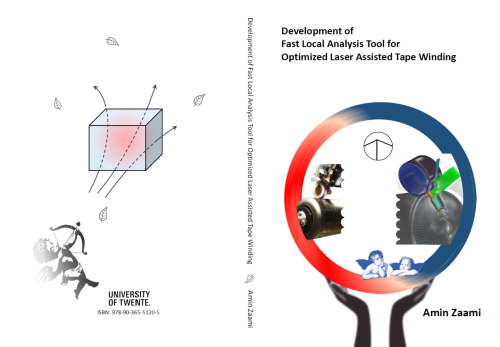 Mohammed Hosseini's thesis: "Towards an accurate process design tool for laser-assisted tape winding"  will take place Thursday January 21st at 16:30.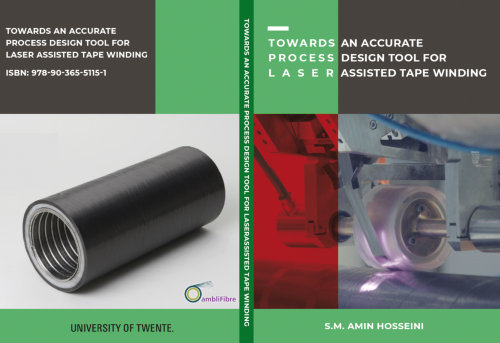 Graduation of Ozan Erartsin
On May 15th, our valued PT-member Ozan defended his PhD thesis on the 'Time-dependent, matrix-dominated failure of continuous fiber-reinforced thermoplastic composites'. In a unique online-only session, Ozan sucesfully defended his work performed in the past four years. A party was promised to take place at a later moment, so we stick around to learn more. Congratulations!
new staff member Li Pei
As of May 1st, Pei Li started as an Assistant Professor in the PT and Elastomer Technology & Engineering (ETE) group. Pei's background in mechanical performance of polymeric foams will come to good use working on the micromechanics of different composite materials studied both in PT and ETE groups. Due to the unique circumstances surrounding the Covid-19 virus, Pei will remain to work from home, China, for the coming period. We hope to welcome you soon to Twente!


recent publications