Duration
Start: 01-09-2014
End: 01-09-2019
Partners
Universiteit Twente, Technische Universiteit Eindhoven, Additive Industries, Fokker Services, Ministerie van Defensie, Nationaal Lucht- en Ruimtevaartlaboratorium, Thales Netherlands, Dinalog & NWO
project website
Staff
Laura Cordova Gonzalez, Tiedo Tinga,
Nils Knofius, Matthieu van der Heijden, Bram Westerweel, Rob Basten
Description
3D printing (also referred to as additive manufacturing) offers a huge potential to increase the sustainability of after sales service supply chains for assets like defence systems or airplanes.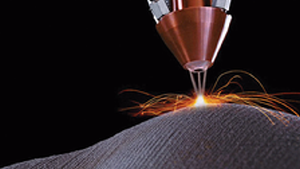 Instead of stocking a large variety of slow moving spare parts with high demand uncertainty, these parts may be printed on demand, or repaired downstream the supply chain using printed components. This project aims to identify how 3D printing can be deployed, for which types of parts and in which part of the assets' life cycle. We will show, using mathematical models, applied in case studies, the sustainability impact on design and planning of service supply chains. We expect lower system downtime and lower inventory levels of spare parts, leading to lower holding costs and strongly reduced numbers of scrapped components. Sustainability is further improved by de-stressing the supply chain: less emergency supplies in case of stock outs are needed, which typically require air transportation. Also, forward flows of specific parts are replaced by distribution of a limited diversity of raw materials that can be sourced at many locations.
Within the SINTAS project (Sustainability Impact of New Technology on After sales Service supply chains), we study the impact of additive manufacturing on spare part supply chains for advanced capital goods. The project is a collaboration of Industrial Engineering and Mechanical Engineering at UT, and Industrial Engineering at TU/e. The project consists of three work packages with one PhD student each:
impact of AM on failure behavior and maintainability,
impact of AM on network design,
impact of AM on spare part inventory policies at various stages of the life cycle.