Wednesday 25 January 2023
Surgical Robotics Laboratory (SRL) is thrilled to announce that we have won two Pioneers in Healthcare grants (PiHC). The PIHC Innovation Fund aims to facilitate the introduction of innovative technology into the clinic. The proposals, worth €60000 each, were submitted in collaboration with clinicians from Medisch Spectrum Twente. They will further strengthen the translational aspect of the research within SRL, bringing our pioneering technology further towards clinical practice. The projects are:
AMILA – an AngioplastyMultipurpose Intravenous Laser-Atherectormy Catheter – a novel revascularization tool based on laser angioplasty.
URGENT – Ultrasound-driven micro-Robots for GastroEsophageal caNcer Therapy – revolutionizing chemotherapy with wirelessly driven microrobots.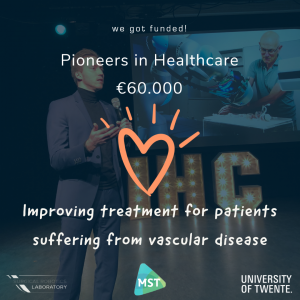 AMILA, led by SRL post-doctoral fellow, Dr. Christoff Heunis, has the potential to effectively reach and treat blocked arteries, even in small and tortuous vessels, and present a new, safe, and feasible approach to addressing calcified chronic total occlusions (cCTOs).
AMILA members :Prof. Bob Geelkerken, Prof. Sarthak Misra, Giulia Sereni, Bryan Wermelink, and Dr. Theo Menting.
URGENT, is led by SRL post-doctoral fellow, Dr. Sumit Mohanty, is a project that targets an aggressive type of cancer occurring at the junction of stomach and oesophagus, and is thus inaccessible to conventional methods like endoscopy. URGENT aims to provide targeted cancer treatment using focused ultrasound that remotely deploy chemotherapy drugs using microrobots.
URGENT members: Dr. Henri Braat, Prof. Sarthak Misra and Dr. Sumit Mohanty
The grants, which are promoted by a collaboration of the University of Twente, Saxion University of Applied Sciences, Medisch Spectrum Twente, ZGT,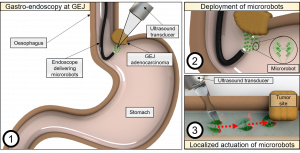 and Deventer Ziekenhuis, supports the development of promising ideas in the field of healthcare technology. A big cheers to the other participants and winners! Thank you to the Pioneers in Healthcare program for supporting these projects and to the University of Twente for providing a platform for such innovative ideas! This project is a collaboration between the Surgical Robotics Lab and Medisch Spectrum Twente, with team members:
The list of awarded projects are here.