Monday 17 January 2022
As of Tuesday 18 January roadworks will be carried out on the intersection for cyclists at the Boerderijweg by Lansink Wegenbouw. This message provides a brief explanation of the works. 
Explanation activities
The intersection will be converted into a plateau. This means that the entire structure will be broken up and new yellow paving materials will be applied. The plateau is raised to increase the safety. The activities will start on Tuesday, 18 January for a period of three weeks.
There are some buildings situatied at the Boerderijweg such as; U Parkhotel, Camelot, Boerderij and Schuur. These buildings will remain accessible from the Drienerlolaan and the Boerderijweg. Our working area (shaded red) and the approach route (blue line) are shown in the below mentioned figure: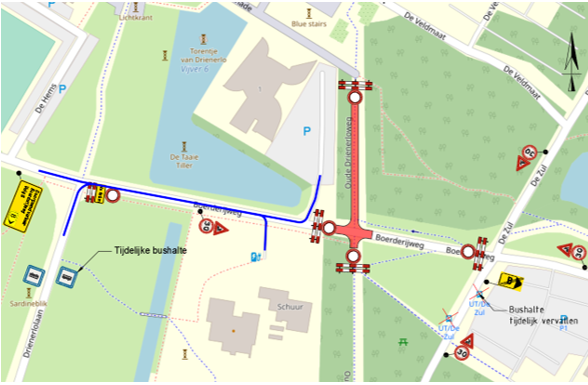 Parking route on campus
If you use the parking areas P1, P2, P2 and P4, please turn left at the ovonde when you enter the campus via the main entrance at the Spiegel building.
Questions
If you have any questions regarding this message, please contact Andre de Brouwer.