In these interviews you read in what ways DCC specialists have helped UT researchers to make their research data FAIR and/ or open, or with questions about Open Science, Open Access or ICT for Research. Learn how our experts can help you and do not hesitate to ask your questions.
OPEN SCIENCE IS AN INTEGRAL PART OF THE EO AFRICA R&D FACILITY'S PHILOSOPHY
The European Commission has proposed an exciting partnership between Africa and Europe to digitally transform Africa. Part of this effort is the EO AFRICA R&D Facility, led by the Faculty of Geo-Information Science and Earth Observation (ITC), which seeks to create a thriving research community based on Open Science principles and foster innovation in EO (Earth Observation) capabilities in Africa.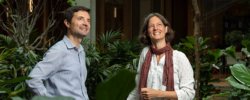 Together with Serkan Girgin, Head of the Center of Expertise in Big Geodata Science (CRIB) and Associate Professor at the Geo-Information Processing Department of the Faculty of Geo-Information Science and Earth Observation (ITC), and Marloes Penning de Vries, Assistant Professor Water, Climate and Health Interactions at the Water Resources Department, we explore how the facility promotes Open Science practices and how the expertise and services of the Digital Competence Centre are of value in this.
Open Science Community Twente advocates 'slow and solid science'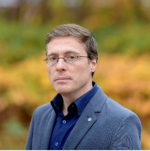 Professor Raul Zurita-Milla, one of the founders of the Open Science Community Twente (OSCT), believes that 'science should move from fast to slow and solid science.' In 2023 the OSCT and UT's Digital Competence Centre will jointly organize a new series of monthly Open Science meetings. 'For the first one in February we plan to sketch the national Open Science landscape and will continue inviting UT colleagues to tell us what OS-practices they want to learn about.'
Open Science teaching for UT Health Care Technology & Management Students: why and how?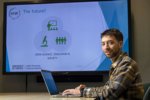 The call for open and transparent research is getting louder, but researchers have often not been trained to do open research, says Assistant Professor Xavier Pouwels. 'In my field, health economics, we use simulation models to calculate the costs and benefits of medical technology. The outcomes contribute to the development of healthcare policy. It is important that those models are described transparently.' Pouwels wants to teach students, the future researchers and professionals, an Open Science Mindset and Skills. How does he go about that?
The many benefits of UT-JupyterLab for your research and teaching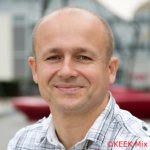 Using UT-JupyterLab for your research and teaching has many benefits, says associate professor of Data Science Maurice van Keulen. 'The platform offers considerable computing power and saves me a lot of time, as many programming languages, such as Python and R, as well as applications have already been installed in it.
Why it is important to make your research data FAIR: watch the video
Good, FAIR data management is very important for UT's network data scientist Doina Bucur. Her data describes indigenous astronomies from all over the world. It has a historical and cultural nature. She has collected data objects that describe for example the way different people saw constellations in the sky.
'Research data should be open, so researchers can build upon each other's work'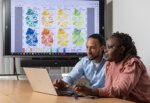 Research data should be findable, understandable and open for others to use for new research', says Mostafa Daoud, who is a PhD candidate in the Water Resources department at ITC. When his Master's thesis was published as an article he published the underlying data in the national DANS data repository. The data can now be found, verified and downloaded by others. ITC Data Steward, Alice Nikuze, advised Daoud during the preparations and did a final check before he uploaded the data to DANS. What were the lessons learnt?
'We make all of our article data accessible to the public via 4TUResearchData'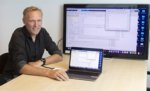 Professor Rob Lammertink, head of the Soft Matter, Fluidics and Interfaces (SFI) department, believes that research-data management is an important skill for young researchers to learn. He is working on standardising and streamlining data-management processes. To gain a better sense of what is needed to ensure that archived data can be reused by others, his department participated in the pilot programme for the UT archive for research data: Areda.
'What the BMS Data Steward told me about making data FAIR was highly enlightening'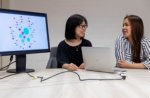 Le Anh Long Assistant Professor in the Public Administration Section of BMS (UT) recently works with human subjects and sensitive data in quite a number of her research projects. When she was preparing a NWO research proposal she asked her faculty's data steward, Qian Zhang, for advice on the Data Management paragraph and plan. Zhang has been a great help to her and she finds UT's Research Support service portal a very valuable resource. How has the data steward helped and what has Long learnt?
UT publishes a Diamond Open Access journal 'in-house': what does that require?
In 2023, the first edition of the 'Journal of Human-Technology Relations' will be published by UT. This journal will be a Diamond Open Access journal, meaning researchers and students can publish articles for free and everyone can read it free of charge. In this article, Distinguished Professor of Philosophy and Human-Technology Relations Peter-Paul Verbeek and Society & Technology Project Manager Michelle de Boer explain why they are setting up this journal and what it will involve.
'Pre-ethics tool' makes Ethics Assessment of research proposals less time-consuming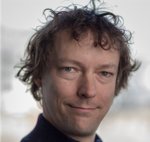 The Ethics Assessment of research proposals now takes a great deal of time. To change this, Dennis Reidsma, chair (and previously member) of the Computer & Information Science Ethics Committee, designed the 'pre-ethics tool'. Soon, you will be able to receive tailor-made advice before submitting your proposal simply by completing a questionnaire. "This means that the plans that we receive will be more complete, the quality will be higher, and everyone will save a lot of time."
Are citizen-scientists willing to share research data and if so, how?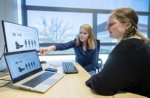 To what extent can the health data gathered through Citizen Science research be made available for reuse? UT researchers Ria Wolkorte, Michelle Kip and Lieke Heesink ran up against this question as they sought to make their data 'FAIR'. They conducted focus group sessions with patients, a data steward, an ethicist, and a Citizen Science researcher in search of the answer. Patients support the re-use of data, providing there is a legitimate research question, Wolkorte explains. The researchers are currently working with the BMS data steward to develop a 'Citizen Science for Health' guideline.
What is the Faculty of Behavioural, Management and Social Sciences doing in terms of Open Science?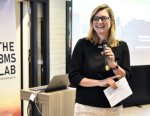 Open Science is a key priority at the Faculty of Behavioural, Management and Social Sciences (BMS). BMS introduced a faculty Open Access Fund back in 2019. This OA fund was substantially expanded for 2022 due to its resounding success. The Faculty Board is also sponsoring the Diamond Open Access Journal currently being established by the Philosophy of Technology department. So, what does this mean for BMS researchers, and what is driving the faculty's efforts? Ellen Giebels, professor of psychology and vice-dean at BMS, explains.
How the UT's Open Access Team can help you

As a UT author you have many possibilities to publish Open Access (OA) in high-quality journals at no cost. You can do so in about 12000 OA journals that don't charge costs, and in almost 10000 journals that offer submitting UT authors a 100% discount on the cost of OA publishing. The workflow for those discounts might seem a bit confusing at first glance, but that is why the Open Access Team has created tools and guidelines. Still in doubt? Contact the information specialist of your faculty or UT's Open Access Team for support. UT's Open Access Specialist Nicole Loorbach explains how the OA Team can help you.
'Good and rapid advice from the FAIR Data Steward for our data management plan for NWO'
'If you receive funding from NOW you have to make a research data management plan that shows how the data will be made FAIR: Findable, Accessible, Interoperable, Reusable. Daniel Saakes tells what this involves and how DCC's Fair Data Steward helped him: from metadata, and interoperable file formats to anonymization.'
What can UT's FAIR Data Steward do for UT researchers?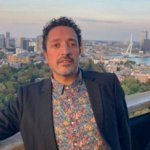 Making your data FAIR can sometimes be complex. In that case, you can ask UT's FAIR Data Steward, Zafer Öztürk, for advice and support. Find out how he can help.
'FAIR data accelerate research and enable validation'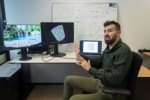 Kianoosh Taghizadeh, UT-Postdoc in Multiscale Mechanics, is one of the recipients of a FAIR Data Fund grant. Why and how is he making his data better Findable, Accessible, Interoperable, and Re-usable? And how did DCC's FAIR Data Steward help him?