"DEVELOPING COUNTRIES AS TARGET AND SUSTAINABLE DEVELOPMENT AS CHALLENGE"


WHAT IS A MINOR?
A minor is a structured and coherent package of courses, totaling at least 20 European credits (EC). At the University of Twente, bachelor students of all faculties have to select a minor on a subject outside their own specialization. The main objective of the minor is to broaden the spectrum of academic competencies a student develops.

The Sustainable Development in Developing Countries minor offers different combinations of modules which allow students to choose one of two versions.

PURPOSE
The aim of the minor Sustainable Development in Developing Countries is to help students to develop a critical understanding of 'sustainable development', and to gain experience of sustainable development issues through either a period of field work in a developing country or elaboration of a paper. The minor looks at present and past links between Northern and Southern countries, creating understanding of the history, trends and future developments of issues related to environment, technology and sustainable development. Educational aspects receive particular attention in Module 3 for those students interested in learning how to enhance education in developing countries.

TARGET GROUP
The minor is meant for students from all educational backgrounds who are interested in sustainable development issues. The fieldwork component (Module 5) offers a unique opportunity to experience such issues hands-on.

THE PROGRAMME
The minor consists of a combination of modules. In total there are five modules and students can select one of the following versions when they want to receive a Minor Certificate.

Version A (20 EC): This version of the minor consists of modules 1, 2, 3 & 4

Version B (25EC): This version of the minor consists of modules 1, 2 & 5.

Modules 1, 2, and 3 involve taught classes and group work. They will be given during the first semester of the academic year. These modules can be taken as elective courses. The fourth module is writing a paper. The fifth module is the fieldwork module: it involves preparation for fieldwork, doing fieldwork in a developing country, and report writing. All modules are taught in English.

MODULE 1: FUNDAMENTALS OF SUSTAINABLE DEVELOPMENT (first and second quartiles) 5 EC
This module involves regular classes, guest lectures and discussions on fundamental issues related to development, such as: the nature of development; perceptions and images of 'poor' countries vis-à-vis the reality of poverty in different countries (north and south), the role of NGO's and the State, and the features of aid in a changing world. The course aims to create an understanding of such issues. During this course, we also translate this understanding into current practice through case studies and discussions. For the examination students have the option to take an exam or to write an article. Students will study/work within a highly diverse group of students of different backgrounds and disciplines. Prior knowledge is not required.

MODULE 2: THE PRACTICE OF PROJECT WORK (first and second quartiles) 5 EC
The second module consists of two elements:
• lectures and workshops with a focus on preparation of a project proposal that will be carried out in a developing country. Topics cover: methodology, data collection and project planning tools, and also working with cultural differences.
• multi-disciplinary group work developing a project proposal for a real situation in a developing country.

MODULE 3: EDUCATION IN DEVELOPING COUNTRIES: POLITICS AND POLICY (second quartile) 5 EC
Knowledge, as a product of education and research, is a critical ingredient for the development of societies. This module will focus on the contemporary educational challenges and dilemmas faced by developing and transition countries in their efforts to catch up with the wealthier nations in the world. The role of education, research and technology in their growth and poverty reduction strategies will be discussed. What support can national governments, international organisations (World Bank, UNESCO, etc) and donor agencies provide to improve basic, vocational and higher education in developing/transition countries? Through a combination of theoretical and practical insights, students will be prepared for field work and individual research on the role of education in development.

MODULE 4: WRITING A PAPER (second semester or summary period/flexible) 5 EC
Students enrolled to version A of this minor end their minor with a written paper. The student has to write a paper based on any of the topics covered by the previous modules in this Minor.

MODULE 5: FIELD STUDY: (second semester/flexible) 15 EC
This module corresponds to version B of this minor. This entails an internship (stage) of at least 10 weeks in a developing country, where the student works in a development project or with an organization that is concerned with development activities. The nature of the work varies greatly depending on the interest of the student, and is determined through consultation between the student, his/her tutor, and the host organization for the fieldwork. Whatever the situation, the purpose of the field study is to experience working in projects in a developing country and to reflect on what this experience can tell you about the nature of development and about the way development is being tackled in practice. It is possible to do this field study individually or in a pair.

A condition for performing the fieldwork is that the modules 1 and 2 have been completed and passed.

The field study is normally during the second semester but can be scheduled at the convenience of the student but keep in mind that final reports should be handed in before December 31st.

PRACTICAL INFORMATION
There is no limitation on the number of students for any of the Modules.

COMBINATION OF THIS MINOR WITH BACHELOR, MAJOR OR MASTER.
It is also possible in some cases to combine the field study with the Bachelor's or Master's assignment or internship (stage).



Assisting small business development in Matsimbe by Barry Vree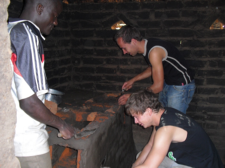 CONTACT INFORMATION
Minor coordinator
Dr. L. Franco-Garcia (Laura)
T: 053 489 4234
E: m.l.francogarcia@utwente.nl
For general information
www.utwente.nl/majorminor


This minor is offered by CSTM - Twente Centre for Studies in Technology and Sustainable Development at the School of Management and Governance (Faculteit Management en Bestuur).

For more detailed information see the Frequently Asked Questions (FAQ) on the site for this minor: http://www.utwente.nl/majorminor/geinstitutionaliseerde_minors/themaminors/

For academic year 2013-2014, the coordinator is Dr. Laura Franco Garcia (m.l.francogarcia@utwente.nl / 053 489 4234).

CSTM is located at building Ravelijn (nr. 10) room 3101.

Brochure
The brochure can be downloaded here.
More information about subscribing to our minor, you can find on:
http://www.utwente.nl/majorminor/en/registration/