Tuesday 30 March 2021
Buddy system for employees
To help newcomers find their way at the UT, Industrial Focus Group XUV Optics (Science and Technology Faculty) has established a buddy system for its employees. It has been in place since the corona crisis started and, after being evaluated, it is here to stay.
For over a year now, every new employee of the group XUV Optics at the University of Twente has been assigned a 'buddy', a colleague who has worked at the UT for a longer time and can therefore offer advice. The buddies are in touch before the new employee even arrives in the Netherlands and then for at least the first three months on the job.
Accommodation and corona rules
'I, of course, don't know how the employment process would have been without the system, but I've found it very useful to have a buddy,' says Adele Valpreda, PhD candidate from Italy who arrived at the UT in February 2021. 'It can be very stressful to start a new job, especially in another country and during the pandemic. It was very nice to have someone who you can ask questions, knowing you are not bothering them. It helped me figure out the Dutch corona rules, because those are different in every country now and I had troubles finding an overview. And the buddy gave me tips on accommodation.'
'Tips for accommodation is definitely the most common question I get,' says postdoc researcher Parikshit Phadke, who serves as a buddy. 'I started at the UT in 2015 and I remember I had to bother the secretary quite a lot to find suitable accommodation. Once I was here, information on where to get a bike or groceries came from talks with colleagues, but that is much more difficult now during the lockdown. So it's definitely handy to have a buddy. It can be quite daunting for people who've never been to the Netherlands before. Just knowing that you'll have to install your own floors in your new apartment can save a lot of trouble. I remember that was a surprise for me.'
'I didn't know about the floors either. Until now actually,' says PhD researcher Fedor Akhmetov. He arrived in Twente only a couple of weeks before the first lockdown in 2020, just before the buddy system was put in place. 'It was quite easy at first because I could go to the office and ask my colleagues, but then that wasn't an option. It was tricky to find a proper bike, for example. Buddy system is surely useful, a buddy can help introduce you to a normal life in the Netherlands.'
Social group
All of the above are the reasons why the group decided to introduce the buddy programme, according to the group's secretary Carin Krijnen-Smid. 'People could end up feeling lonely otherwise. Contacting the supervisor can be more difficult, it can feel like a barrier for some people. Having a dedicated person whom you know already before you start your job, especially now in corona time, makes it a bit easier to create a social group.'
The XUV Optics group has recently evaluated the system. 'We weighed the benefits against the costs and we see it is definitely worth a while to keep the buddy system,' says Phadke. 'I enjoy being a buddy. It's nice to have an opportunity to help someone out. You know the stress involved in the process because you went through it yourself, and so you know how you can help.'
BUDDY SYSTEM FOR THE WHOLE UT? 
Laura Vargas LLona, lead of the Shaping Expert Group Inclusion, believes a UT-wide buddy system for new employees would be beneficial for inclusion at the university. 'As the Inclusion expert group, we see the lack of structural support for new employees as an issue and we will address this in our final advice,' she says. 'There is currently no structural system that we know of. The support offered depends on the specific group and the people in it. There are several forms of support possible.  You could even think of several different "buddies", each one for a different aspect. There could be a mentor who helps you with all work related issues. And there could be buddies that help you get adjusted socially and culturally. Because if you come as a new employee, you might need help with getting to know the city, finding a house, buying a washing machine, getting kids to school. It would be nice to have a proper structure and protocol for newcomers, both students and employees.'
The HR International office at the UT has tried to establish a university-wide buddy system in the past, informs HR officer Maureen Melisie. 'The HR departments have decided to stop the buddy programme some time ago. One of the reasons is that there were not many applications for the programme.'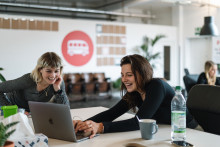 Utoday article, 29 / 03 / 2021 | Michaela Nesvarova