Wednesday 29 - Thursday 30 August 2018
On August 29 and 30 2018, the COST action on Wearable Robots for Augmentation, Assistance or Substitution of Human Motor Functions will organize a meeting in conjunction with BioRob 2018 and the Cybathlon experience. Below you can find the information for each of these days.
Wednesday 29 August
Time: 14.30-16.00
What
Integrated in the program of Biorob 2018, the COST Action will co-organize a special Cybathlon session. During this session, the Cybathlon Exoskeleton teams will provide a short demonstration, the exoskeleton pilots will share their experiences using exoskeletons and there will be a panel discussion with the users, clinicians and engineers about the priorities in exoskeleton development and research. Additionally, the results will be presented from the survey on the User involvement in exoskeleton design that has been conducted by the COST Action (see https://wearablerobots.questionpro.com if you would like to participate). 
Program
| | |
| --- | --- |
| 14:30   | General introduction   |
| 14:35   | Robert Riener and Lukas Jäger: Introduction Cybathlon |
| 14:45   | Demonstration Cybathlon exoskeleton teams, Project March and Symbitron+ |
| 15:00 | Interview and interactive Q&A with exoskeleton pilots |
| 15:15 | Anna Lára Ármannsdóttir: Presentation results of survey on priorities and user involvement in exoskeleton design |
| 15:25 | Panel discussion involving exoskeleton users, rehabilitation physicians, engineers on setting priorities in exoskeleton development and appropriate evaluation methods |
| 15:55 | Closing remarks |
Where
Grolsch Veste (See here for all relevant locations for this event)
Registration Cybathlon session
All COST Action participants: please sign the COST Action attendance list at the conference registration desk.
COST Action participants that did not register for the full BioRob2018 conference: there is no registration fee for this session. You are welcome to pick up your badge at the conference registration desk from 12.15, so you can also enjoy the lunch and attend the afternoon keynote lecture.
If you are not a BioRob attendant or got an invitation from the COST Action, but still would like to attend this special session, please send a mail to Edwin van Asseldonk.
Thursday August 30
Time: 9.00-17.30
Together with the Department of Biomechanical Engineering of the University of Twente, the COST Action has put together a program with two plenary lectures, parallel sessions for the different Working Groups and lab demos.
9.00-9.25




Introduction

Location Carré 2M




9.25-10.05

Elliott Rouse: The hidden mechanics of locomotion: implications of mechanical impedance in the design and control of wearable robots

Location Carré 2M

Read the bio of Eliott Rouse (PDF)  




10.05-10.45

Levi Hargrove: Intuitive Control of Powered Legs

Location Carré 2M

Read the bio of Levi Hargrove (PDF)  




10.45-11.00

Coffee break

 

Working Group 1: foundational Sciences

 

 

 

 

Working Group 2:

Key enabling Technologies and tools

 

 

Working Group 3: Application domain &

 

 

 

Working Group 4: Ethical, legal & societal aspects

 

 

 

Location: Carré 2M

Location: Carré 2L

Location: Carré 2N

Location: Carré 2G

11.00-12.30

Brain computer interfaces and neural correlates of adaptation in WR

 

Fundamentals in motion intention

Katrina Pastra presents:

Katerina Pastra et al (2012) The Minimalist Grammar of Action, in Philosophical Transactions of the Royal Society of London B: Biological Sciences, 367, 103–117.

 

Brain computer interfaces

Andres Ubeda presents

Úbeda A et al. Estimation of Neuromuscular Primitives from EEG Slow Cortical Potentials in Incomplete Spinal Cord Injury Individuals for a New Class of Brain-Machine Interfaces. Front Comput Neurosci. 2018 Jan 25;12:3.

+ related work

 

Noël Keijsers presents

García-Cossio, et al (2015). Decoding Sensorimotor Rhythms during Robotic-Assisted Treadmill Walking for Brain Computer Interface (BCI) Applications. PLoS ONE, 10(12), e0137910.

+ related work

 

Presentations on selected topics in Key Enabling Technologies for Wearable Robots

 

Presenters:

Brian Andrews

Kevin Langlois

Stefano Toxiri

 

Workshop on Wearable Robot safety, considering the differences and relations between regulated product safety and user safety, standardization and testing methods with a focus on medical applications.

 

Presentations by representatives of selected SMEs, and European funded initiatives related to the topic.

 

Leadership discussion on the future activities of WG 4.

 

12.30-13.45

Lunch

13.45-15.15

Continued

 

Joel Glover presents:

Schwarz A, et al. Decoding natural reach-and-grasp actions from human EEG. J Neural Eng. 2018 Feb;15(1):016005.

+ related work

 

Alkinoos Athanasiou presents:

Donati, A. R. C., et al (2016). Long-Term Training with a Brain-Machine Interface-Based Gait Protocol Induces Partial Neurological Recovery in Paraplegic Patients. Scientific Reports, 6(1), 30383.

 

Neural correlates of motor adaptation in WR

Juan Moreno presents:

Jacobs, D.A., et al , (2018). Motor modules during adaptation to walking in a powered ankle exoskeleton. J. Neuroeng. Rehabil. 15, 2.

+ related work




Interactive workshop on future work of Working Group 2: Key Enabling Technologies and Tools

Working Group 3 & 4

Location: Carré 2N

 

Interactive discussion session on needs and gaps and maximizing the relevance of the European initiatives in this field.

15.15-15.30

Coffee Break

15.30-16.30

Lab demos

16.30-17.30

Plenary wrap up and discussion
Where
University of Twente in the Carré Building (CR, building nr. 15). (See here for all relevant locations for this event).
Please go to the main entrance of Hal B as indicated on the map and use the map below to find your way to the meeting rooms.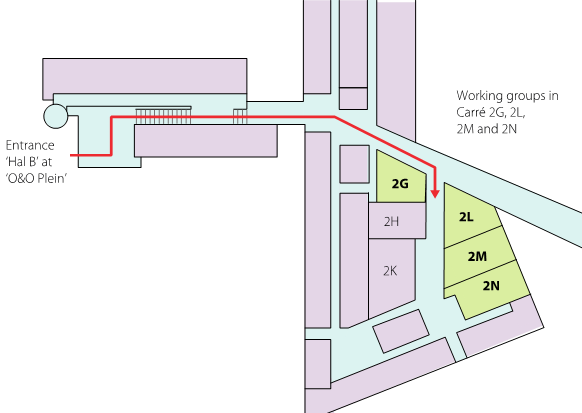 Registration
COST Action participant: please accept the COST Action invitation so we know who to expect.
If you are not a COST Action participant but would like to attend this meeting, you are welcome to come and attend the sessions/parts that are of interest to you. There is no need to register. Only if you want to attend the lunch we ask you to register via this link.
About the Cost Action
Wearable Robots (WRs) is an emerging field of personal devices that are integrated parts of human functioning, and that are constructed of typical robotic components such as actuators, sensors and control algorithms. Where conventional robots were typically intended for use in industrial environments to help in tedious and repetitive tasks and tasks requiring high precision, the situation is currently evolving to one where there is an increasing direct physical interaction between robot and human operator. The interaction with humans in WRs is not only physical, but also includes cognitive aspects, as in the interaction, control of functions is typically shared by human and machine. WRs can be used either to augment, train or supplement motor functions or to replace them completely. Wearable Robots operate alongside human limbs, as is the case in orthotic robots, exoskeletons or robotic suits. WRs are expected to find applications in Medical, Industrial and Consumer Domains, such as neuro-rehabilitation, worker support, or general augmentation. As WRs continuously interact with humans in multiple situations, Human Robot Interaction, Ergonomics, and Ethical, Legal and Societal (ELS) considerations, as well as early involvement of stakeholders are of essential interest. This Action focuses on the European integration of different underlying disciplines in science and engineering, as well as on engaging of stakeholders to improve WR technology and its societal impact.
Our Objective is to integrate and develop diverse expertise and trans-domain competences essential to the development of a new generation of Wearable Robots, characterized by better adjustment to the human users, as well as to specific domains of application, thus allowing it to become a mainstream technology with potential for greatly expanded socio-economical impact.