Sarthak Misra develops novel techniques to reach challenging locations within the body
Since 2009, Professor Sarthak Misra leads the Surgical Robotics Laboratory (SRL) at the University of Twente. When he started, the laboratory comprised merely 1 bachelor's student from Advanced Technology and 1 master's student from Mechanical Engineering. Today, in addition to 2 faculty members and 4 support staff, SRL has 30 members involved in a range of different research projects. The story which led to this point is shared by more than 120 SRL alumni: post-doctoral fellows, doctoral candidates and undergraduate students, not just from the UT but from all around the world.  The rapidly evolving field of surgical robotics is attracting a lot of attention and the SRL is a clear example of that.

Professor Misra explains: "There are currently three research areas on which we at the SRL focus. These are Needle Steering, Continuum Robotics and Medical Microrobotics. Flexible needle steering is important the diagnosis and treatment of patients through biopsies and localized injections. It also finds applications in fetal procedures, where flexible needles can be used to treat disorders while the child is still in the womb. In all these interventions, the needle must reach very specific locations in the organ. To this end, we have developed robotic techniques to control flexible needles. In doing so, we can avoid obstacles, take into account the movement of organs and also control needles puncturing through irregular structures. We are now ready for pre-clinical testing of our systems, an important step for SRL. Over the years we have developed a range magnetic resonance (MR) compatible, and computed tomography (CT-), and ultrasound-guided needle steering robots."
Continuum Robotics is all about developing safe and reliable surgical 'tools' that are able to reach locations deeper in the body. Think of long snake-like robots with amazing dexterity and unlimited steerabilty. SRL focuses on using magnetic fields to remotely actuate highly flexible continuum robots (e.g., advanced endoscopes, catheters, etc.). Furthermore, research on shape sensing, and modelling of continuum devices involves advanced use of ultrasound to map the surgical tool and surrounding tissues. Together, magnetic actuation and ultrasound guidance enable precise navigation of a continuum robot to perform complex interventions deep within the body.

Once the flexible needle or snake-like continuum robot arrives at one of these difficult to reach locations within the body, it requires capabilities to perform a procedure. Unfortunately, current surgical tools allow only for very basic tasks. The third research area within SRL - Medical Microrobotics – strives to change that, by providing a set of tools, which operate at the remote location, treating the patient on cellular level. "At SRL we develop magnetically-controlled, miniaturized bio-inspired robotic systems, the so-called micro- or nano-robots. We have already done numerous studies, long before the media became interested in microrobotics in recent years. Despite all the medical advances, surgery is still a traumatic experience for many people. Our goal is to develop microrobots that can perform personalized, targeted treatments. And we are not far from where we can essentially swallow our surgeon. Medical microrobots can then diagnose and treat diseases from the inside of the body. These devices have enormous potential in the field of precision surgery, disease screening, detoxification and targeted administration of medication. In this respect, we are on the eve of exciting times, the applications are endless!"
Research and education
In addition to his research at the SRL, where he also supervises students, Prof. Misra gives lectures within the Biomedical Engineering and Systems & Control educational programs. "I see myself as a researcher who also teaches. This combination is important; a complete professor is in contact with his students and also gets his hands dirty when necessary. I learn a lot from students and involve them in all aspects of our research. I help them formulate relevant research questions, which I really enjoy. The enthusiasm and mindset of the students is refreshing and all the students in my research teams have taught me something. They keep surprising me."

About Sarthak Misra
Sarthak Misra joined the University of Twente in 2009. He is currently a Full Professor in the Department of Biomechanical Engineering at the University of Twente, Netherlands. He is also affiliated with the Department of Biomedical Engineering, University of Groningen and University Medical Center Groningen, Netherlands. He leads the Surgical Robotics Laboratory, and has laboratories both at Twente and Groningen.

Sarthak obtained his doctoral degree in the Department of Mechanical Engineering at the Johns Hopkins University, Baltimore, USA. Prior to commencing his studies at Johns Hopkins, he worked for three years as a dynamics and controls analyst at MacDonald Dettwiler and Associates on the International Space Station Program. Sarthak received his Master of Engineering degree in Mechanical Engineering from McGill University, Montreal, Canada. He is the recipient of the European Research Council (ERC) Starting and Proof-of-Concept grants, Netherlands Organisation for Scientific Research (NWO) VENI and VIDI awards, Link Foundation fellowship, McGill Major fellowship, and NASA Space Flight Awareness award. He is the co-chair of the IEEE Robotics and Automation Society Technical Committee on Surgical Robotics, and area co-chair of the IFAC Technical Committee on Biological and Medical Systems.

Sarthak's broad research interests are primarily in the area of applied mechanics at both macro and micro scales. He is interested in the modeling and control of electro-mechanical systems with applications to medical robotics. Further details on these research topics are available at the Surgical Robotics Laboratory website.
Press Photos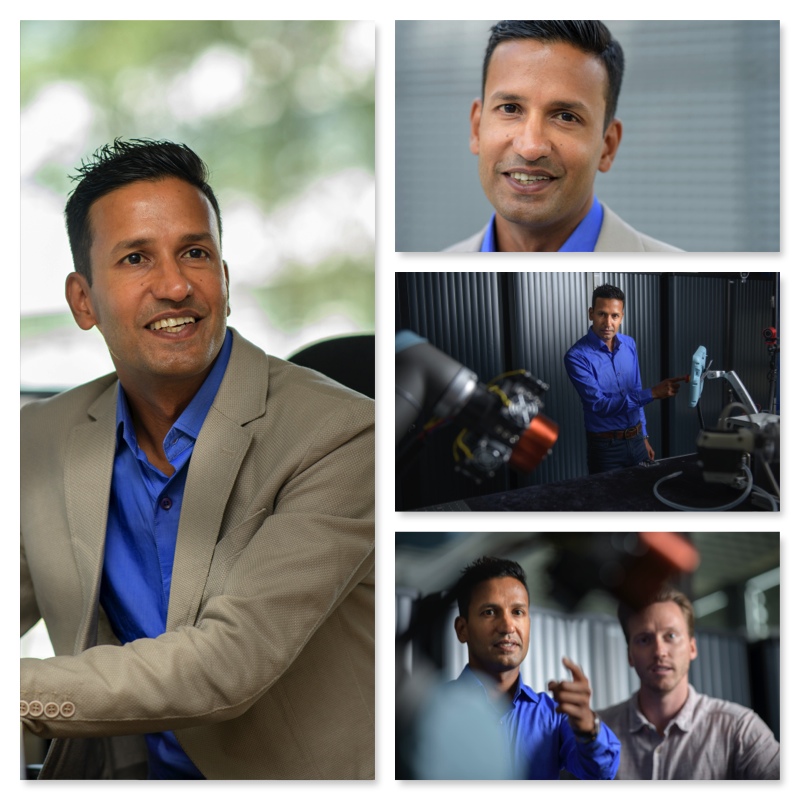 These press photos may be published without copyright limitations.