Light in the fight against breast cancer
Prof. Dr. Srirang Manohar uses harmless light to visualise breast cancer earlier and painlessly. His 'dream machine' is closer than ever and could become a game-changer for women.
For eighteen years Manohar has been developing the PAM, the Twente Photoacoustic Mammoscope. The device could well bring about a minor revolution in breast cancer research. The technique behind the machine uses short pulses of light that cause ultrasound in places where there is a lot of blood, such as areas around tumours.
With conventional techniques (X-ray mammography, ultrasound, MRI) it is difficult to distinguish a malignant from a benign tumour. The PAM is potentially better able to do that, without damaging tissues. "We have built up the technique of photoacoustic imaging from scratch. When I started in 2002, there was nothing at all. Now we are in the phase of the first clinical trials with a third-generation system. We can finally image patients. That is an exciting moment for me."
Golden triangle
The PAMMOTH consortium, led by Manohar, consists of nine partners from seven countries. Contributions of more than 5 million euros from European grants should take research to a decisive phase. "As a university, we have a good reputation in our field worldwide. But we can't do it alone. The engineers at PA Imaging, a start-up of the University of Twente, are very important. There is also close cooperation with clinical practice, in this case, the hospitals in the area (Medisch Spectrum Twente and Ziekenhuisgroep Twente)".
The development of photoacoustic technology for breast imaging has opened up a new world for Manohar: the world outside the lab. "The application of technology has become more important to me. I love working in a laboratory because that's where you have the chance to find something new. It offers the intellectual and academic challenge that makes me happy. But implementing technology also gives me a lot of satisfaction, I've noticed. You need access to the clinic for that, and you also need good engineers. In Twente, we are doing a good job on that. University, clinic and business: they form a golden triangle together".
Reduced mortality
Around 500,000 women worldwide die of breast cancer every year. It is well known that many women refrain from breast screening because it is painful due to the compression of the breasts during mammography. Photoacoustic imaging does not use breast compression and can thus increase women's willingness to participate in biennial screening. The better and earlier the tumour is visualized, the more effective the treatment can be. This increases the chances of breast cancer survival.
According to Manohar, the photoacoustic technique offers even more advantages: "The PAM uses harmless non-ionizing light. It is also cheaper than the existing equipment for breast examination. The device is smaller and can be used earlier in hospitals. We will also research how the treatment of the tumour with medication works in the pre-surgical phase. But first, we need to be sure that the technique is working with patients".
The path to other applications is open, such as rheumatoid arthritis, which other colleagues are working on. Manohar is also researching the integration of the technique into minimally-invasive surgery (with a needle or catheter). This may be applied for monitoring the treatment of liver cancer, for example.
The next dream
As a scientist, Manohar has already another dream. He would like to give research in the preclinical phase a boost with a new generation of imaging phantoms. These objects should be capable of accurately imitating the pathophysiological properties of organs of the human body, such as an artificial breast with blood vessels, with which you can tune the oxygen saturation. It offers researchers the opportunity to optimize new techniques in the laboratory phase so that innovations can find their way faster into clinical practice.
Manohar: "My dream is to create a centre in Twente which brings together all knowledge and facilities in the field of imaging phantoms. A place for printing, testing and improving these materials in 3D. I see a kind of open-source centre for companies and fellow scientists in and outside Twente. A unique centre in the world".
Education
Although the available time is limited due to his many research activities, Srirang Manohar does not forget the students. He likes building microscopes together with freshmen and enjoys discussions with master students Biomedical Optics. "Both groups have their charms. I will never give up teaching, no matter how busy I am. It's great to train the new generation".
When the coronavirus made physical encounters with students impossible, Manohar decided to build a recording studio for his lectures at home. A lightboard studio in which he writes as a teacher with light on a glass plate while looking into the camera. "Students need contact with the teacher and education should be fun. Especially in these days", says Manohar. "This studio is not only a nice gimmick, but it's also a living demo of optics".
About Srirang Manohar
Srirang Manohar (1969) began his scientific career as a PhD student at the Institute of Science in Bangalore, in his native India. In 2001 he came to the University of Twente to do further research on photoacoustic imaging. He received a VENI grant for this.
Manohar has been Professor of the Multi-Modality Medical Imaging since 2019. He is the coordinator of the international PAMMOTH project, which focuses on the detection of breast cancer by photoacoustic imaging. In addition, he leads the international consortium Imaging Needles, which develops minimally-invasive instruments for needle imaging. Manohar is also a member of the editorial staff of magazine Photoacoustics. 
Press photos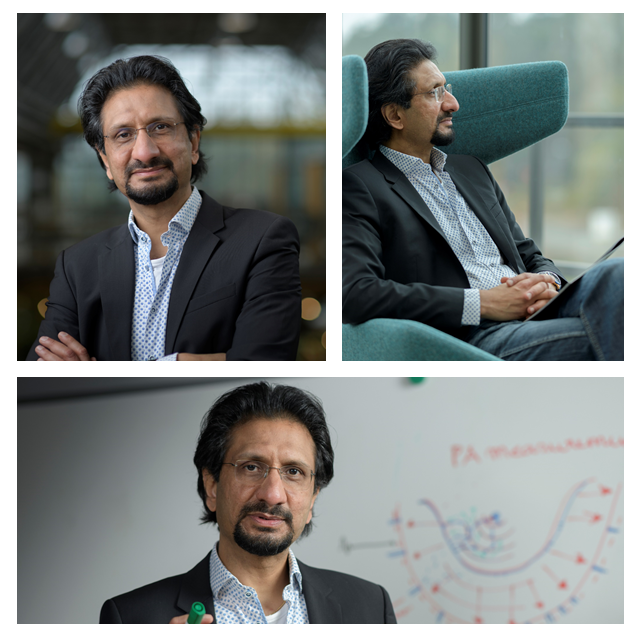 These press photos can be used without copyright restrictions.