Mark Huijben enhances energy storage in current and future battery generations
Mark Huijben is a professor in the Faculty of Science and Technology at the University of Twente and has his own research group. "Within my group, we explore materials for energy applications, with a strong focus on battery research. In my role, I focus on starting up projects with both companies and other research groups within our university and other universities. In recent years this has been quite successful, I am constantly looking for new collaborations and projects".
Most of these collaborations are within our university, but sometimes specific knowledge of external partners is required. Huijben explains: "You can't do everything yourself. In Münster, for example, there is the renowned battery institute MEET and at the research institute FZ Jülich work 6000 people. I also have an appointment there as a visiting scientist, which makes the relationship easier. There are also several scientists from Jülich working at the University of Twente, which enables us to benefit from each other's knowledge."
However, this does not mean that all knowledge is shared, the professor explains. "There is competition in research. But as far as our facilities in the lab are concerned, we are very open; we are happy to share them with other universities and research institutes. Researchers from all over the world regularly come to Twente to learn specific knowledge and skills, for example in the field of research methods and analysis. For that matter, we are an educational organisation that is training people. Once a year we also organise a one-week workshop in cooperation with companies for post-docs, researchers and PhD students. Furthermore, we also give lectures and training sessions to share our knowledge and make the field stronger as a whole".
According to Huijben, knowledge on the use of thin coatings in batteries has been in great demand lately. "This is attracting international attention. ALISTORE-ERI, a large European research institute with a focus on battery research, recently invited us because of our specific knowledge in this field. I also notice that in our collaborations, the combination of high-level research facilities and knowledge produces great results".
The professor is surprised that in the Netherlands there is a perception that battery research is not important. "We get these signals from several sectors, including the government. Because the Netherlands has no production companies in this field, the idea is often that we don't need to do any research into this. That is now slowly shifting because there are so many companies that use battery cells, assemble them into battery modules and make beautiful products from them. These companies are now realising that they need more knowledge of batteries so that they can continue to innovate. We are now in talks with the government, which we have initiated ourselves in collaboration with TNO and the Technical University Delft. There are major European initiatives in this area where a great deal of money is being invested in battery development. The Netherlands must join in, from the government, the business community and in terms of research".
Huijben contributes to this development by exerting influence in various networks. "This is part of my role, the aim is to ensure that we can set up new initiatives and research projects. We are really lagging behind in the Netherlands in terms of innovative energy development. That's now slowly getting underway, but there's still room for improvement. In Münster, for example, a new lab is being set up where you can test the latest battery technology in a pilot plant. The German government has made half a billion euros available to build this facility. Years ago, they already acknowledged that attention and money should be devoted to this. 10 to 15 years ago, they didn't do any battery research at all, but since then, they have put a lot of effort into this, which has made them a major player. Various large-scale production facilities are now being built."
Potentially there is still a lot of progress to be made with batteries, Huijben knows. "Together with companies, we want to do fundamental and applied research into 'next-generation batteries'. There are several variants of these that have a lot of potential. New batteries should be possible that are at least 10 times better than current products. Theoretically, they should be able to contain ten times more capacity and never break down. Continuously charging your laptop with a cable or recharging your phone every day will then be a thing of the past".
The size of batteries will also change, according to the professor. "We are now investigating the possibility of making the liquid in batteries superfluous. A large proportion of today's batteries consist of packaging material that must prevent them from leaking. That's why we want to replace the liquid with a thin layer of solid material to eliminate the need for the packaging material and make the battery much more stable. These are called solid-state batteries. This is a direction in which we do a lot of research and which is also receiving a lot of attention worldwide because of the great potential of this technology. In the coming years, we will first see it in smaller products, such as mobile phones and IoT-products. This will be followed by larger electronics and other sectors".
Research and education
As far as Huijben is concerned, the relationship between education and research is actually very simple: "We do research in order to provide the best possible education. My research area of materials science is part of many educational programs at the UT, although with differences in focus. In my own lessons, I often use examples from my own research, for example on the use of batteries or solar cells. I show my students things they understand, practical examples work best. I also use this way of teaching in lectures and demonstrations outside the UT, for example at the Zwarte Cross Festival, where UT scientists have been present the last few years to educate a wider audience about our research. This form of popular science education also applies to Bachelor's and Master's students, and I also use it during open days when I present the university to students who likely want to study here for a Master's degree". The professor emphasizes the importance of the link between research and education. "There are countless possibilities for this and that's what makes it fun. I also ask students about their interests. That interaction makes the lectures both relevant and interesting".
About Mark Huijben
Mark Huijben started interface engineering for oxide electronics during his MSc and PhD at the University of Twente with a stay at Stanford University (USA). During his postdoc at the University of California, Berkeley (USA), his research was broadened to the field of multiferroic applications to study the magnetic and electrical interactions on different oxide interfaces. In 2009 he started his research group at the University of Twente as Tenure Track Assistant Professor. At the same time, Huijben became programme director of the strategic research direction 'Nanomaterials for Energy' within the MESA+ Institute of Nanotechnology in order to exploit and expand the current expertise in nano-related energy research.
In these positions, he has been successful in obtaining financial support (e.g. EU FP7 projects and national personal VENI grant) in the field of thermoelectrics, photovoltaics and artificial photosynthesis, where high-performance oxide interfaces were crucial. In 2013 he became a Tenure Track Associate Professor and Huijben shifted the focus of his research group to solid-state batteries, for which he received the national personal VIDI grant. In 2016 he obtained a permanent position as Adjunct Professor with 'ius promovendi'. Furthermore, since 2018 he has also been appointed as a visiting scientist in the IEK-1 Electrochemical Storage department of the Forschungszentrum Jülich (Germany). Since January 2022 he is Full Professor of the chair 'Nanomaterials for Energy Conversion and Storage'.
Press Photos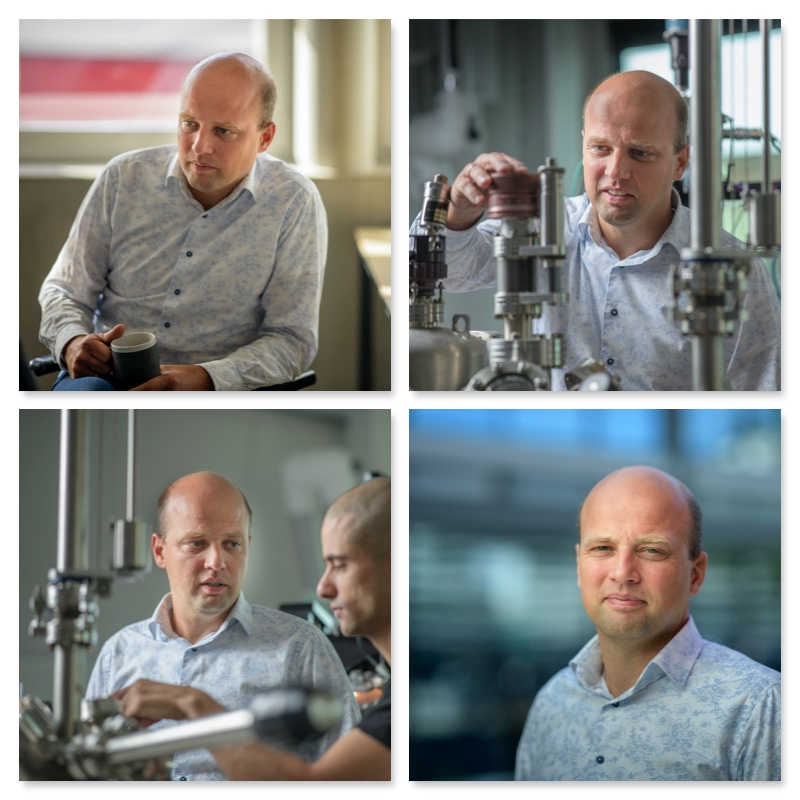 Click on thumbnails to open picture folder. These press photos can be used without copyright restrictions.