the next generation of flexure joints
Dannis Brouwer is a professor chairing the Precision Engineering group of the Faculty Engineering Technology. He lectures Design Principles for Precision Mechanisms in the Mechanical Engineering programme, and researches flexure mechanisms that can make a much larger stroke (rotation angle) than existing elastic hinges.
The professor sees applications in ultra-precision machines as well as in professionally printed robot hands, orthoses and flexible implants, for example. "Unlike other bearings, flexure joints move by elastic material deformation of slender segments. As a result they have excellent repeatable motion (no friction, no backlash, low hysteresis) which makes them popular in high-precision applications. In addition, their monolithic nature potentially eliminates maintenance and assembly, and strongly reduces part count and mass."
However, in spite of all above mentioned advantages over traditional bearings, the applicability of flexure joints has been hampered by a restricted load capacity. Brouwer explains: "If significant load capacity and stiffness in the support direction are required, the range of motion is typically less than 5 degrees. Consequently, state-of-the-art positioning mechanisms require large total mechanism volumes. This greatly impedes wide-spread application of otherwise superior flexure joints."
The research group of Brouwers focuses at increasing the range of motion, support stiffness and load capacity of flexure joints. "We were amongst the first combine large motion with high support stiffness, and we have shown several beyond state-of-the–art demonstrators. If we can mitigate the restricted load capacity of the otherwise excellent characteristics of flexure joints, they will become keystone elements and disrupt generic mechanical design paradigms. It will push them from specialised precision applications towards mainstream utilisation, opening new horizons and applications not possible until now."
The research group is also developing a "topology synthesis method" to achieve a deep understanding of how the advantages of elastic deformation can be used to systematically obtain unprecedented loads combined with large motions.
This work responds to the upcoming need for flexible implants, more compact vacuum and cryogenic precision stages, space deployment mechanisms, and complex robotic applications providing load ranges far beyond the current state of the art. 'This is only possible now thanks to the recent developments in my group on: the insight in the design of large range of motion flexure, and the fast and efficient multibody modelling of those.'
Finally, the latest developments in additive manufacturing technology permit a previously unavailable geometric design freedom at low cost, to produce these keystone flexure elements.  
Education
The basic knowledge transfer of flexure mechanisms to the new generation of engineering professionals already starts in the Bachelor of Mechanical Engineering. Detailed design and optimization of flexure joints is part of a strongly attended profile course within the master of Mechanical Engineering, with more than 100 university students and an additional 5-10 industrial 'students' each year. Brouwer also lectures parts of this course at various conferences and twice a year at an industrial academy. 
About Dannis Brouwer
Dannis M. Brouwer received the MSc degrees in mechanical engineering and mechatronic design from the Eindhoven University of Technology, Eindhoven, The Netherlands, in 1998 and 2001, respectively, and the PhD degree from the University of Twente, Enschede, in 2007. From 2001 to 2004, he was with the Philips Centre for Industrial Technology, Eindhoven, as a Mechatronics System Designer. From 2007 to 2009, he was with Demcon Advanced Mechatronics, Enschede, as a Senior Applied Research Engineer.
He is currently a Professor with the Faculty of Engineering Technology at the University of Twente. He is specialised in the design and modeling of complex mechatronic systems, such as flexure-based mechanisms and microelectromechanical systems. He serves as an Associate Editor of Precision Engineering, and has been the Director-at-Large of the American Society for Precision Engineering from 2015 to 2017. He has been granted 14 research projects (participated budget 5.5M€), with 11 PhD students, 7 PostDoc positions & 2 EngD.
Press Photos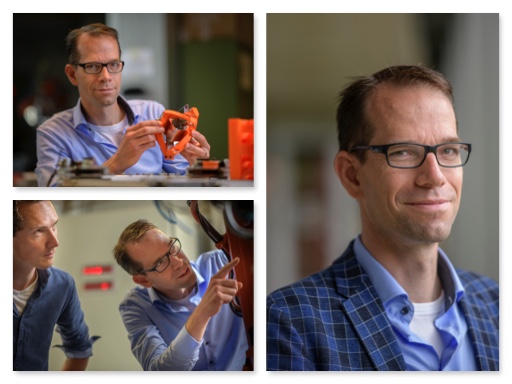 These press photos can be used with no copyright restrictions.