Monday 16 November 2020
In November 2020, the PERSIST group starts inviting professionals to join the online real-time Delphi study to collect data for the project's third intellectual output (IO3). The Dlphi will be conducted from 07.12.2020-31.01.2021.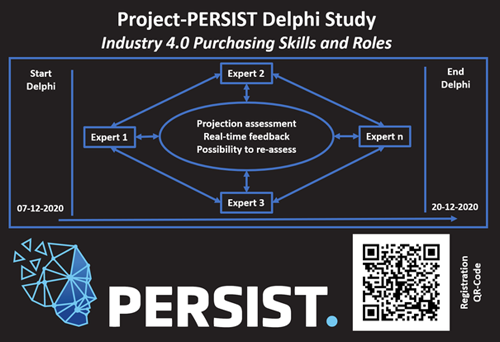 The purchasing world largely agrees that increasing digitization in Industry 4.0 presents growing competence challenges for buyers. But what new roles and competencies do buyers need to be prepared for, and how?
To answer this question, we would like to invite you to our Delphi-Study, in which we address Industry 4.0 skills and roles within purchasing. The Delphi will take place as a real-time Delphi within the timeframe from 07.12.2020-31.01.2021 using the online environment of Calibrum Surveylet. This environment allows an expert discussion, in which you are able to discuss with experts from industry and academia.
If you want to participate, please provide us with your contact details and your background.
In total, we will address eight Industry 4.0 roles and eight Industry 4.0 skills. As the first impression to our study, the roles that will be addressed are the Robotic Process Automation Manager, the Ramp-up Manager, and the Chief Disruption Manager in purchasing. Industry 4.0 skills include Data Analytical skills, E-Procurement Technology skills, and Holistic Supply Chain Thinking skills.