Friday 17 March 2023
On 16 March 2023, the key to the transformed Langezijds building was officially handed over to the University of Twente (UT). Construction combination Dura Vermeer Bouw Hengelo/Trebbe and Croonwolter&dros delivered the building to UT by handing over a large wooden key. With this handover, the ITC faculty can start using this unique building from mid-April.
"I am immensely pleased with the wonderful result of this renovation of Langezijds. It will give our students and staff members an excellent place to study and work at the heart of the campus on the O&O Square. It is with due pride that I look forward to our relocation here in April," said David Korringa.
About Langezijds
The Langezijds building is located on the UT campus in Enschede and, at 220 metres long, it is one of the longest buildings in the Netherlands. Just over a year and a half ago, the construction consortium started the transformation of this building. From April 2023, the 13,783 m2 building will house about 700 students and staff of UT's Faculty of Geo-Information Science and Earth Observation (ITC). The move to the O&O Square is the ultimate capstone of ITC's integration at UT.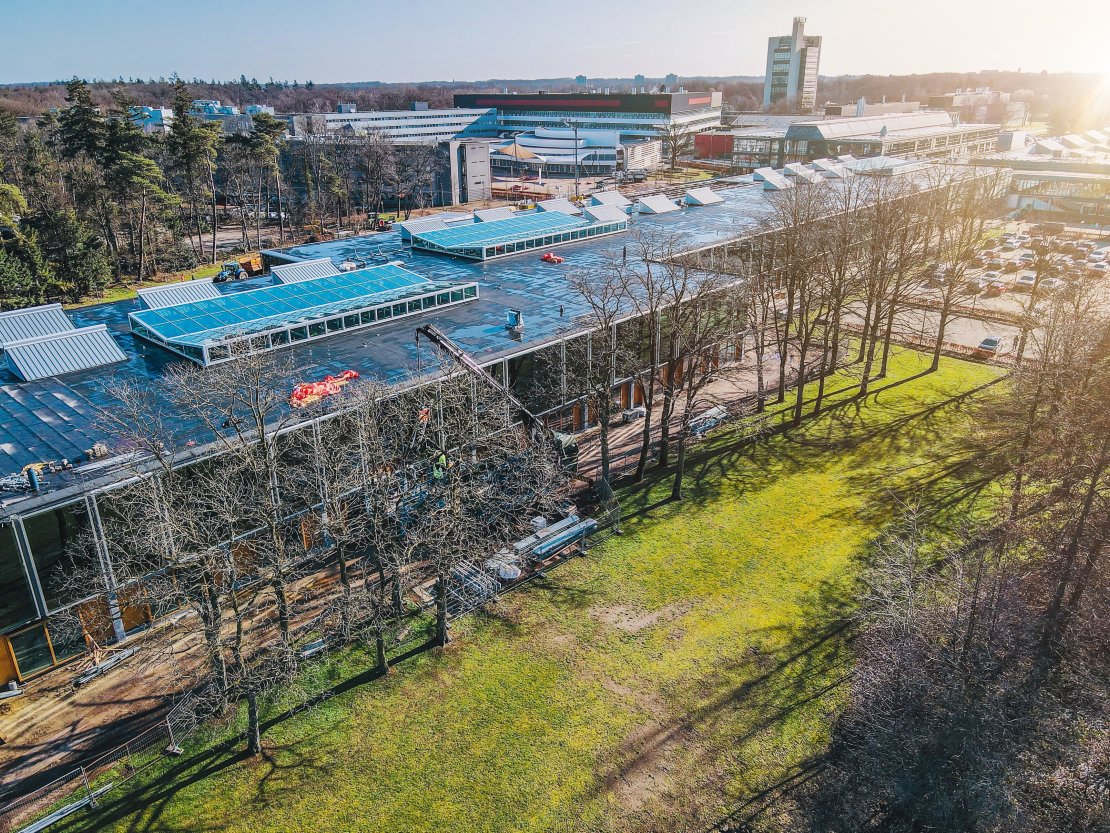 transformation in sustainability while retaining character
Langezijds is one of the most sustainable buildings on campus. Besides going from energy label G to A+++, it is a transparent and future-proof building that houses teaching spaces, laboratories, a large study centre, offices and a food-work café in the social heart of Langezijds. Around 1,000 solar panels have been installed on the roof. The former engineering hall is still recognizable thanks to the visible preservation of the raw concrete and steel construction, lots of glass and hundreds of laminated oak window frames. There has been one crucial intervention: through large cuts, three brand-new atriums provide greenery, daylight, fresh air and form a biotope for flora and fauna. The design is by Civic Architects, VDNDP and Studio Groen+Schild. Flora Nova landscaped the indoor gardens.
Rob Nengerman, building project manager at Campus & Facility Management University of Twente: "After an intensive construction period in which many people involved worked hard with heart and soul to sustainably renovate Langezijds, I am proud of the result and of everyone who worked on it. A beautiful characteristic building made suitable to house ITC."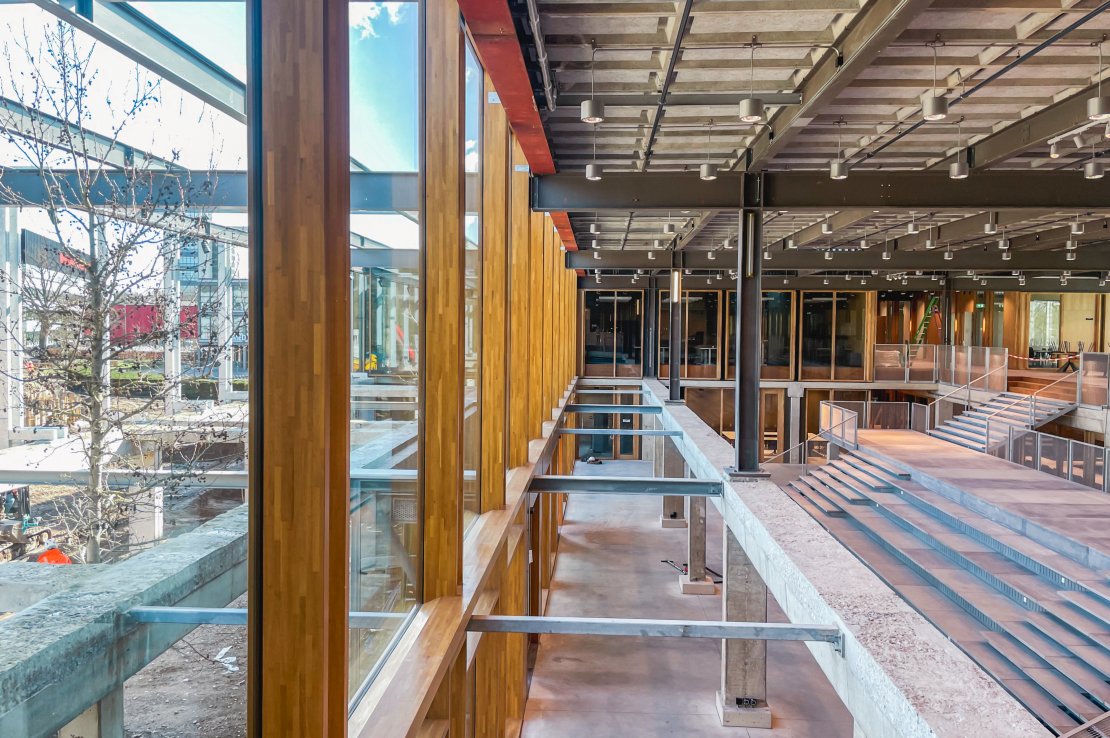 The social heart with two 'green lungs'
Langezijds has been given a 'social heart', thanks to three atriums with courtyard gardens. These are connected to two 'green lungs'. Remarkably, almost every room looks out onto the greenery. Langezijds has become a striking building that encourages encounters and inspiration. It fits in perfectly with the approximately 700 students and staff of the ITC faculty who form a close-knit international community.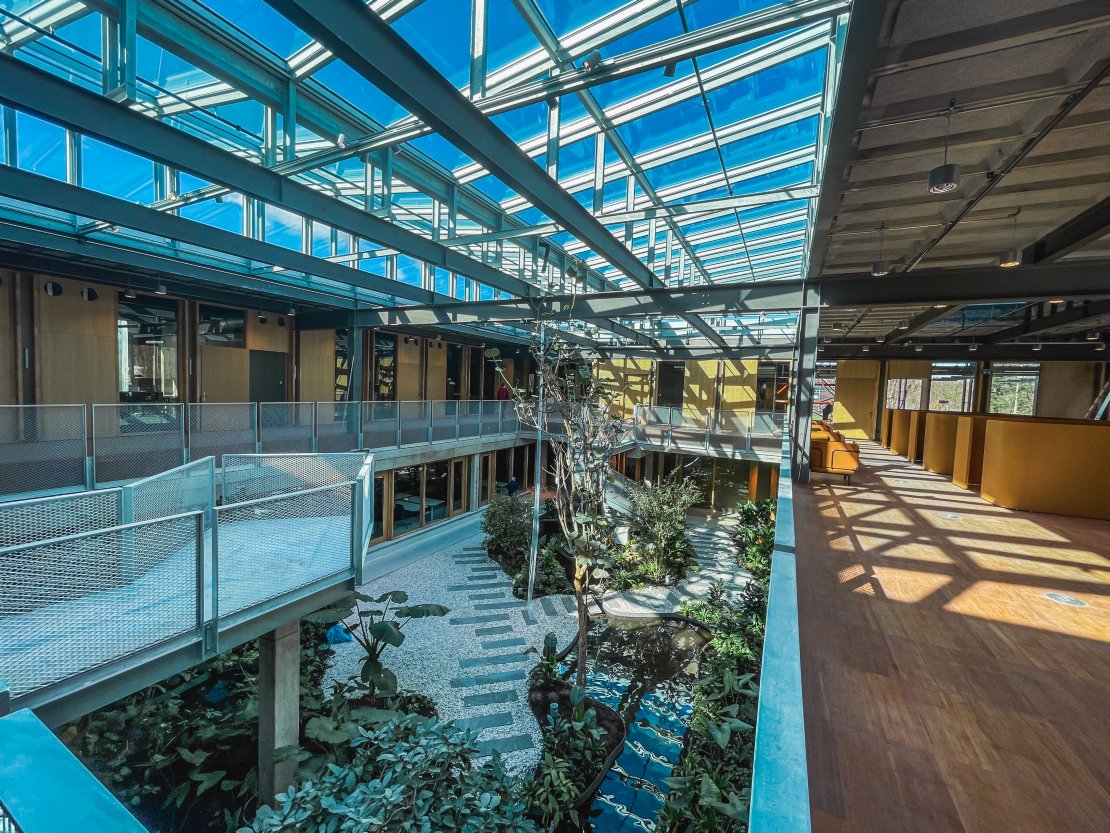 About the University of Twente
The University of Twente is a pioneer in connecting technology, science and engineering with social sciences to make a difference in the world around us. What characterises its scientists, teachers and students is a curious, entrepreneurial mindset and a strong connection with others who also embrace this mindset. Geo-Information Science and Earth Observation (ITC) is one of the five faculties of the University of Twente. Go to utwente.nl/ltsh for more information on housing projects at the University of Twente.