Tuesday 19 April 2022
Strukton Simulator Training at SOMA
On the 21st of March, the ASPARi team was invited by Frank Bijleveld at the Strukton Asphalt Day which took place at the SOMA College in Harderwijk. During this day around 50 Strukton staff members  made up of managers, engineers, asphalt construction crews and laboratory staff, had the chance to get familiar with the research done in the ASPARi group. Given that many of the attendees were not familiar with our research, Seirgei Miller presented an overview of the research activities of the unit and explained the importance of data and science in road construction quality improvement initiatives. The use of new technologies such as GPS and other sensors in particular, generated quite a bit of discussion given Strukton's goals relating to digitalization. Whilst most attendees appeared willing to embrace digitalization and the perceived benefits it could bring in terms of quality improvement, some shared concerns about potential job losses and data usage especially if the industry were to move towards semi-automating or fully automating tasks such as paving and compaction. Several attendees stressed the urgent need to attract more younger people to road construction especially for tasks such as roller compaction, screed- and paver operators.   
In parallel sessions, the Roller Simulator hosted at the SOMA College, developed by the former ASPARi PDEng candidate Sajad Mowlaei, was presented to the trainees. During a workshop, supervised by Farid Vahdatikhaki and Inga Maria Giorgadze, three groups had the chance to try out the simulator. Initially, the different modes of the simulator were explained to the participants and then they were given the assignment to compact a virtual part of pavement. Interestingly enough, participants from all groups scored higher in the assisted mode of roller navigation rather than developing their own compaction strategy. A discussion session followed  next, during which the participants shared their feedback and advice for improving the simulation experience. More specifically, most people agreed that in order to increase the feeling of realism while driving the simulator, a dynamic approach regarding the movements of the driver's seat should be adopted (they need to feel the vibration). They claimed that information like the slope and the displacement of the asphalt layer is something that their body intuitively perceives from the movements of the roller. Overall, everyone enjoyed the experience and left with a good impression.
Here is what some of the participants had to say:
"The simulator felt harder than the roller in real life. It does not consider all the parameters, for example, in real life if the asphalt is too hot we wait before we start rolling. In real life, it depends a lot on the feeling experience."
 Jaap
"It was an interesting experience. It was nice to try this out."
Hans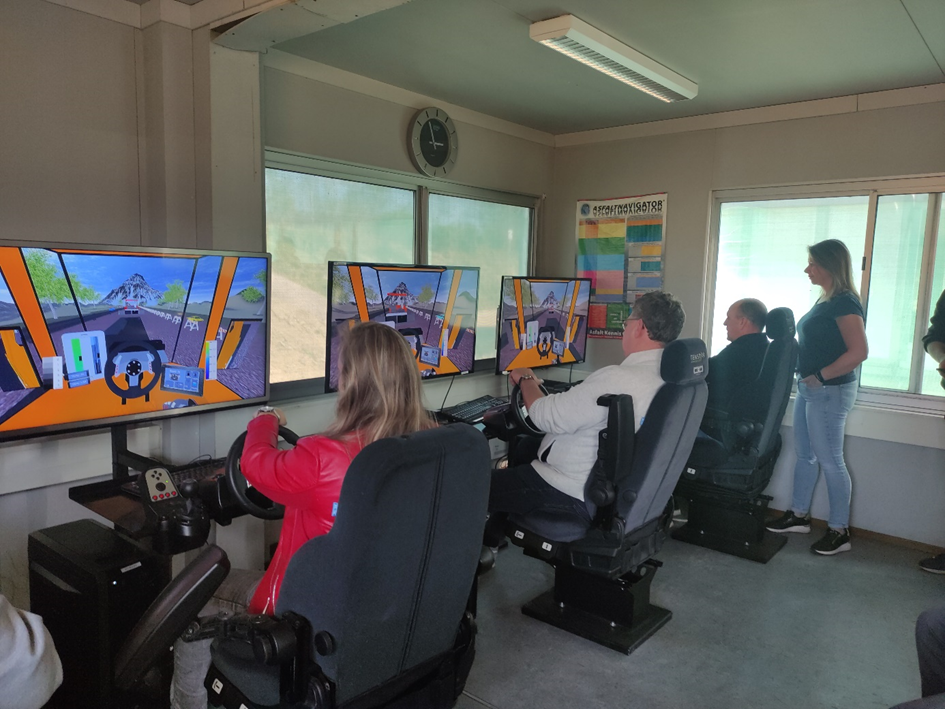 Nederlandse versie
Strukton Simulator Training bij SOMA
Op 21 maart is het ASPARi-team uitgenodigd door Frank Bijleveld op de Strukton Asfaltdag die plaatsvond op het SOMA College in Harderwijk. Zo'n 50 Strukton-medewerkers, bestaande uit managers, monteurs, asfaltbouwers en laboratoriummedewerkers, hebben deze dag kennis kunnen maken met het onderzoek dat in de ASPARi-groep is gedaan. Aangezien veel van de aanwezigen niet bekend waren met ons onderzoek, presenteerde Seirgei Miller een overzicht van de onderzoeksactiviteiten van de eenheid en legde hij het belang uit van gegevens en wetenschap bij initiatieven voor kwaliteitsverbetering van de wegenbouw. Vooral het gebruik van nieuwe technologieën, zoals gps en andere sensoren, zorgde voor veel discussie gezien de doelen van Strukton op het gebied van digitalisering. Hoewel de meeste aanwezigen bereid leken om digitalisering te omarmen en de waargenomen voordelen die dit zou kunnen opleveren in termen van kwaliteitsverbetering, deelden sommigen hun zorgen over mogelijk banenverlies en datagebruik, vooral als de industrie zou overgaan op semi- of volledig automatisering van taken zoals bestrating en verdichting. Verschillende aanwezigen benadrukten de dringende noodzaak om meer jongere mensen aan te trekken voor de wegenbouw, met name voor taken als walsverdichting, dekvloer- en asfalteermachines.
Tijdens parallelle sessies werd de Roller Simulator gepresenteerd aan het SOMA College, ontwikkeld door de voormalige ASPARi PDEng-kandidaat Sajad Mowlaei, aan de stagiairs. Tijdens een workshop onder leiding van Farid Vahdatikhaki en Inga Maria Giorgadze kregen drie groepen de kans om een eerste versie van de simulator uit te proberen. Eerst werden de verschillende modi van de simulator aan de deelnemers uitgelegd en daarna kregen ze de opdracht om een virtueel deel van de bestrating te verdichten. Interessant genoeg scoorden deelnemers uit alle groepen hoger in de geassisteerde modus van rolnavigatie in plaats van hun eigen verdichtingsstrategie te ontwikkelen. Daarna volgde een discussiesessie, waarin de deelnemers hun feedback en advies deelden om de simulatie-ervaring te verbeteren. Meer specifiek waren de meeste mensen het erover eens dat om het gevoel van realisme tijdens het besturen van de simulator te vergroten, een dynamische benadering met betrekking tot de bewegingen van de bestuurdersstoel moet worden aangenomen (ze moeten de trilling voelen). Ze beweerden dat informatie zoals de helling en de verplaatsing van de asfaltlaag iets is dat hun lichaam intuïtief waarneemt aan de hand van de bewegingen van de rol. Over het algemeen heeft iedereen genoten van de ervaring en vertrokken met een goede indruk.
Dit is wat enkele deelnemers te zeggen hadden:
"De simulator voelde in het echte leven harder aan dan de roller. Het houdt niet rekening met alle parameters, bijvoorbeeld in het echte leven als het asfalt te heet is, wachten we voordat we beginnen te rollen. In het echte leven hangt het erg af van de gevoelservaring."
 Jaap
"Het was een interessante ervaring. Het was leuk om dit eens uit te proberen."
Hans