DEVELOPMENT OF 'CLICK-ON-AND-PLAY' 3D AMBULATORY MOTION MONITORING AND FEEDBACK
('Click-on-and-play' ambulante 3D bewegingsmonitoring en feedback)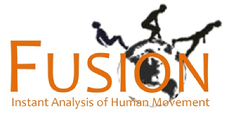 STAFF MEMBERS INVOLVED IN FUSION:
Prof. Dr. Bart Koopman
Dr. Marjolein van der Krogt
C.T.M. Baten (RRD)
PHD STUDENTS
BACKGROUND
The amount of musculoskeletal disorders is growing. Simultaneously, the need for objective assessment of results of rehabilitation and physical therapy is increasing. Current ambulatory systems, like inertial motion capturing systems using inertial and magnetic measurement units (IMMU's), could fulfill this need. However, there are still in a stage of development where they can only be utilized by specialized early-adapters or researchers.
Project partners of FUSION target the development of 3D instant ambulatory monitoring and feedback of motor function applicable by each therapist / ergonomist / professional athlete without needing specific a priori knowledge.
Such a monitoring system comprises of a set of wireless motion sensors that can randomly be attached to multiple body parts. Applications developed in FUSION also include a PC or handheld computer with software receiving data from the sensors and processing this data to accurate (real time) visualizations of posture, movement, coordination patterns or other data relevant to the situation.
Including the recently developed instrumented force shoes, enables a dynamic analysis that includes evaluation of joint moments or even muscle activation patterns based on musculoskeletal analysis.
However, currently the accuracy of the inertial motion capturing systems is limited due to different kinds of disturbances that negatively influence the sensor's fusion algorithms, such as the presence of ferromagnetic materials or soft tissue artifacts (i.e. motion of the sensor with respect to the bones). This affects both the kinematics, as well as biomechanical analysis based on the ambulatory experiments.
The FUSION project is a follow-up of the FreeMotion project:
GOAL
The role of the Laboratory of Biomechanical Engineering is to use our knowledge of the human musculoskeletal system to improve both the validity and usability of inertial motion capturing systems in biomechanical analysis. Including accurate and subject specific biomechanical models and (kinematic) optimization methods used in musculoskeletal analysis can help to improve the accuracy of both orientation and position estimates as well as evaluation of the validity of biomechanical (dynamic) analysis based on ambulatory measurements.
During this research, the focus will be on speed skating. It's a challenging, but typical, example of an application of human movement analysis in sports, where coordination plays a vital role. For application of motion capturing in this field costs, time-efficiency and independency of lab environments are not only relevant, but essential. Its lower extremity kinematics shows great RoM in all directions, so if the validity of the IMC system can be proven for this complex 3D task it opens up a wide variability of potential applications in sports environments.
PROGRESS AND MILSTONES
2009

Start of project within Laboratory of Biomechanical Engineering




2010

Pilot experiments on the IJsbaan Twente.

Master thesis:
Wilco Kleine

2010

First comparison optical and inertial motion capturing systems.

Master thesis:
Sten van de Stadt

2010

Experiments for validation current system using slideboard.

Master thesis:
Aniek Even

2011

Sensitivity of musculoskeletal simulation outcomes to motion capturing method

Conference contribution:
Dutch BME 2011

2011

Optimizing inertial motion captured motion using holonomic constraints (pilot calibration optimization)

Conference contribution:
iCAMPAM 2012
EXAMPLES OF ONGOING RESEARCH
Results from the pilot studies of Wilco Kleine (MSc) in 2010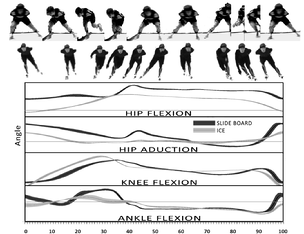 Comparison of lower extremity kinematics between speed skating on ice and slideboard speed skating emulation.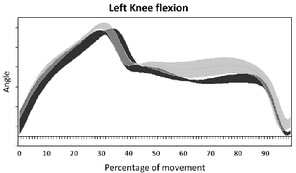 Effect of posture feedback by the coach; "Relax" (dark) vs "Deep squatting position" (light) on knee flexion.

Software used for biomechanical modelling
(AnyBody Technology, Aalborg, Danmark)
MEDIA AND PUBLICATIONS
In the press
Pilot schaatsmeting in Twentsche Courant Tubantia (24-03-2011)
Conference contributions
Koning, B.H.W., Stadt, S.R. van de, Baten, C.T.M. & Koopman, H.F.J.M. (2011). Sensitivity of musculoskeletal simulation outcomes to motion capturing method. In 3rd Dutch Conference on Bio-Medical Engineering Dutch Conference on Bio-Medical Engineering (pp. 163-163).
Koning, B.H.W., Baten, C.T.M. & Koopman, H.F.J.M. (2011). Inertial motion caption motion using holonomic constraints. 2nd International Conference on Ambulatory Monitoring of Physical Activity and Movement: Glasgow, United Kingdom.
COLLABORATION
Project partners





ACKNOWLEDGEMENTS
Funding



LINKS