The main goal of this project is the development of an interactive tool which allows clinicians to learn from if-then scenarios with respect to treatment methods of gait disorders (figure 1). The interactive tool will consist of both an inverse and a forward 3D musculoskeletal computer model of the lower extremity. Measured data of a walking pattern can be processed in order to determine walking parameters of pre- and postoperative gait (i.e. calculated vs. simulated). Especially obtaining a fast and stable forward simulation is one of the main technical challenges. The project will focus on problems in the ankle-foot region.

Figure 1: Combination of motion capturing with computational models of the body and muscles allows a fast analysis of gait and pre-treatment prediction of the effects of alternative interventions. Biomechanical measures are presented using 3D animation techniques to clarify complex relations between impairments or interventions and the gait pattern.
Five sub-goals are defined:
G1: Determination attachment model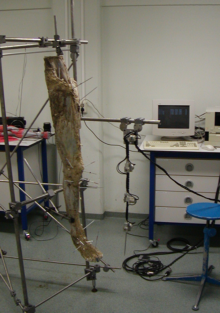 Objective
The outcome of the musculoskeletal model is strongly dependent on the muscle attachment model used. Therefore an accurate description of the anatomy of the muscles is needed. In the current anatomical datasets present at our group, muscle line of action is modelled as straight lines between origo and insertion. Because in reality some muscles curve around bony contours, this is a poor representation of the muscle morphology.
This goal is a more accurate modelling of muscle lines of action. This can be achieved by defining bony contours as geometric shapes which allows wrapping of muscles round these shapes and dividing muscles with large attachment sites in different muscle lines of action.
Result
Data set of muscle parts described by muscle attachment coordinates and wrapping geometries of body segments of the lower extremity.
G2: Collection of macroscopic and microscopic muscle parameters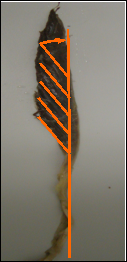 Objective
For each muscle line described in G1, muscle data have to be collected to define a muscle model. These data consist of fiber length, tendon length, pennation angle, muscle mass and sarcomere length, to calculate the optimal fiber length, muscle PCSA and tendon PCSA for the determination of elastic properties of the muscle.
Result
Data set with macroscopic and microscopic muscle parameters needed for muscle modeling.
G3: Development of a multi-segment model of the foot
Objective
In the current model the foot consists of one segment, the model lacks in the deformation that takes place in the foot during walking. This is especially important in forward dynamical modelling. The goal is the definition of a multi segment model of the foot that allows rotation and/or translation within the foot so that the centre of pressure and the magnitude and direction of the ground reaction force can be estimated with the accuracy needed for stable forward dynamic simulations.
Results
Definition of a multi-segment foot model.
Foot segment kinematics during gait.
G4: Inverse/Forward dynamic optimisation using the new collected data
Objective
Data collected as described in G1, G2, G3 are implemented in the inverse/ forward dynamic model. Muscle forces are estimated using an inverse forward dynamic optimization. The model is tested on healthy subjects.
Results
Muscle forces/activation.
Forward simulation model.
G5: Virtual interventions in the ankle-foot region
Objective
Since every model is as good as its validation, validation is a very important part of the project. Patients who undergo split tibial transfer will be measured pre- and postoperatively and the obtained data will be used to validate the combination of the inverse and forward model.
Results
Validation of the model based on comparison with measured and simulated data of split tibial patients.
Staff members involved:
Dr.ir. Bart Koopman (coördinator)
Prof.dr. Frans van der Helm
Ir. Martijn Klein Horsman (PhD student)
Cooperations

 
DEPARTMENT OF REHABILITATION OF THE FREE UNIVERSITY MEDICAL CENTRE, AMSTERDAM
DR.IR. JAAP HARLAAR


FACULTEIT BEWEGINGSWETENSCHAPPEN, VRIJE UNIVERSITEIT, AMSTERDAM
DR. DIRKJAN VEEGER

Related links
http://www.ambulab.nl/freemotion/