Friday 17 June 2022
For four weeks the EEMCS faculty organised the second edition of the Month of Education. From 17 May to 9 June colleagues discussed the future of education. There were presentations, workshops and panel discussions on a wide range of subjects. The participants were on the whole very enthusiastic and found it valuable to exchange ideas in this way. Of course, there are also points for improvement, but as organisation we look back with satisfaction. We therefore hope that the event will be continued next year by another faculty.
In the last week, the theme was 'Stakeholder Perspective'. The sessions of the student advisors and a guest speaker of UNL (Universities of the Netherlands) were very interesting, but so directly after Whitsun there was a little less interest. 
Challenge
On the last day, under the header "Design the Future!", two groups tackled the following challenge: "How to create a personal learning experience that is also of value and valued, and in which quality is safeguarded." Under the inspiring leadership of Eduardo Hermsen and Olga Karageorgiou, the broad context was explored and its relationship to personal experience and background. Clearly, one day of brainstorming on such a challenging topic is bound to be insufficient to come to a draft plan, but at the end of the day the participants presented what they believed to be necessary ingredients.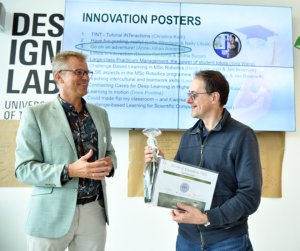 Winner: Go on an adventure!
Before the Month of Education ended with drinks, we announced the winner of the Best Poster Award. That was for Anne-Johan Annema with his poster 'Go on an adventure! Through this poster, Anne-Johan expressed his conviction that a more personalised approach to learning, with the right blend of learning activities, is not only an effective, but also a scalable way to organise our education.
Thank you all for your interest and for attending, and we hope to see you next year!